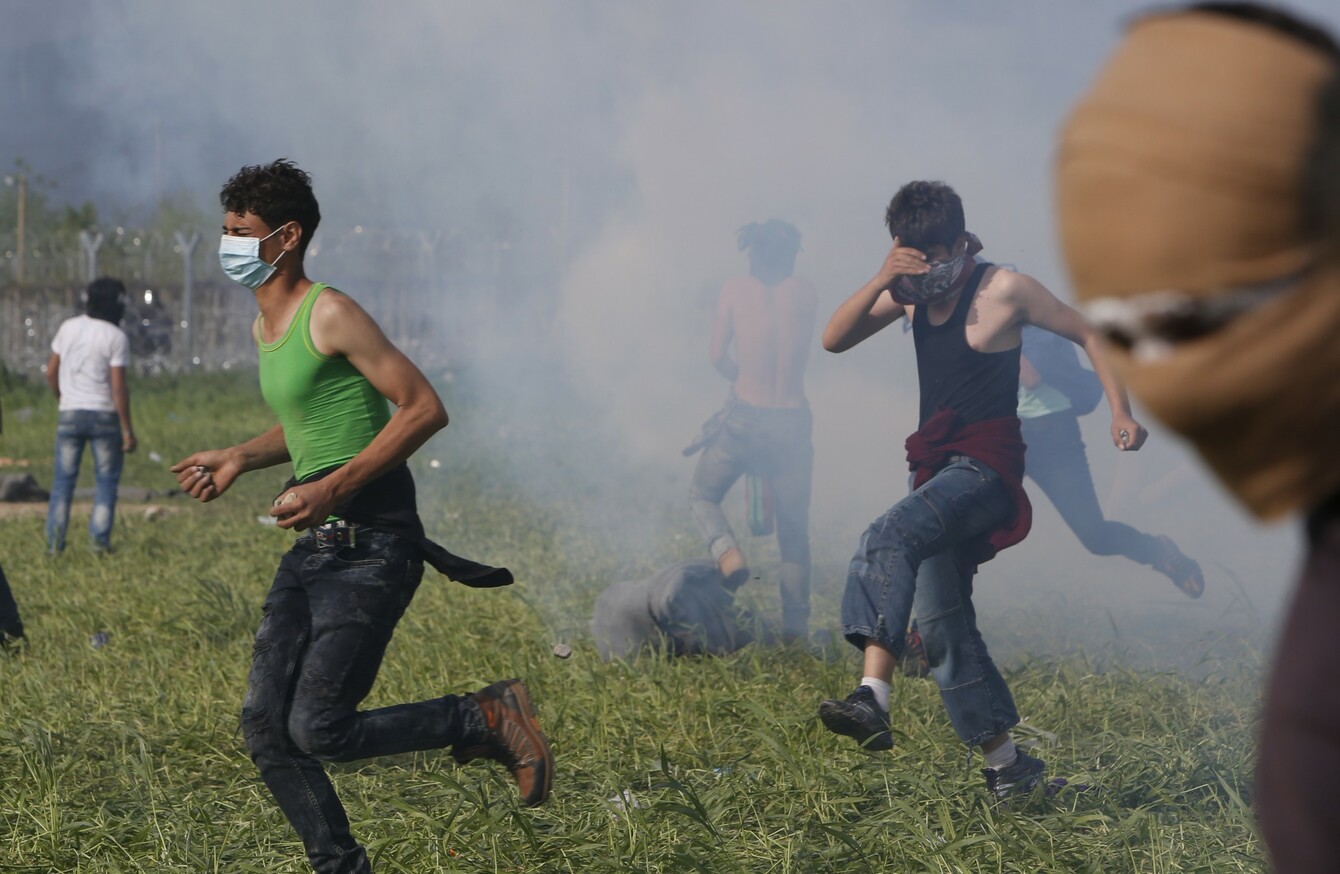 Migrant men coming under fire with tear gas at the Macedonian border
Image: AP Photo/Amel Emric
Migrant men coming under fire with tear gas at the Macedonian border
Image: AP Photo/Amel Emric
AT LEAST 260 people needed medical attention yesterday after police fired tear gas at migrants as they tried to break through the Greek-Macedonia border, where over 11,000 people are stranded, a charity said.
It was the latest violence to erupt at the flashpoint Idomeni crossing, where huge numbers of migrants and refugees – many fleeing conflict in Syria, Iraq and beyond – have been camped out since mid-February after Balkan states closed their borders, cutting off access to northern Europe.
Macedonian police accused the crowds of hurling stones and other objects at them in a bid to break down the fence, saying they had used tear gas to protect themselves.
"Two hundred people were treated by our medical unit for breathing problems, 30 for wounds caused by plastic bullets and 30 for other injuries," Achilleas Tzemos of French medical charity Doctors Without Borders told AFP.
The incident, amid the EU's worst migration crisis since World War II, was sparked by fresh rumours that the Idomeni border crossing into Macedonia, largely closed since mid-February, was about to open.
According to a Greek police source, hundreds of migrants had gathered by the fence to demand the border be opened. When they tried to force the barrier, Macedonian police began firing tear gas.
The clashes came as an EU delegation visited Turkey and urged the country to carefully implement a deal under which all migrants arriving at the bloc's borders from Turkey now face being returned there.
At the scene, protestors with their faces covered with scarves or smeared with toothpaste as a makeshift protection against tear gas could be seen hurling rocks at the fence, an AFP correspondent said, adding that some fainted in the suffocating atmosphere.
Part of the fence appeared to have been torn down.
Others ran for cover as tear gas grenades exploded nearby, sending clouds of gas wafting into the air.
Macedonian police, however, denied that anyone had been injured by plastic bullets.
'Not using bullets' 
"We are not using any kind of bullets as they are forbidden by law in Macedonia. We are not using batons as we are on the other side of the fence," spokeswoman Liza Bendevska told AFP.
"We are using all allowed chemical means."
Giorgos Kyritsis, a spokesman for Greece's migration coordination agency, however, condemned what he called the "dangerous" and "reprehensible" tactic of using "plastic bullets, tear gas and stun grenades".
Earlier, another Macedonian police spokesman said the mob had hurled stones and other objects at police, injuring three of them, and that they had used tear gas to try and break up the protest.