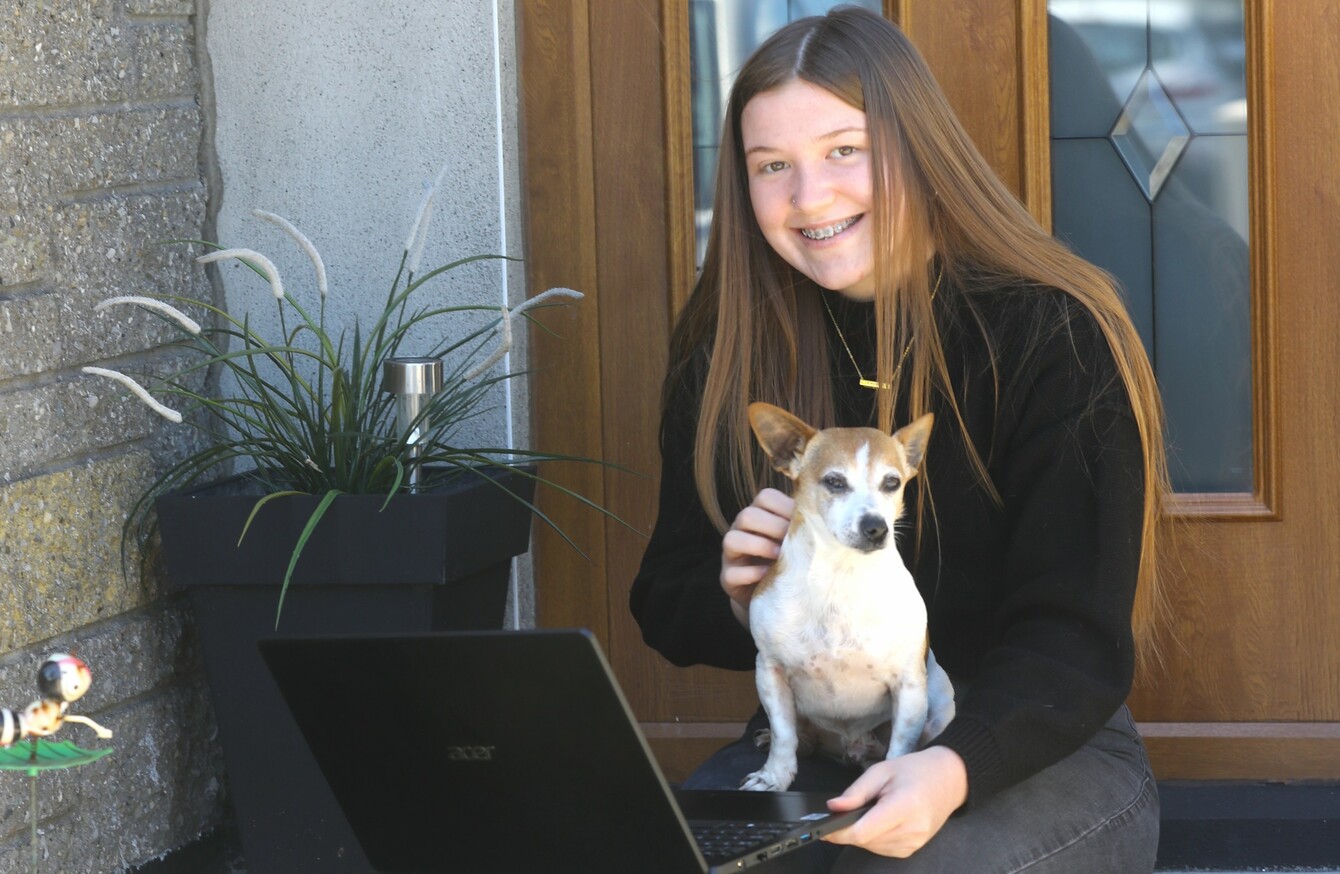 Leaving Cert student Lauren with the laptop she received from Tech2Students.
Image: Tech2Students
Leaving Cert student Lauren with the laptop she received from Tech2Students.
Image: Tech2Students
STUDENTS AROUND IRELAND are now into their second year of remote learning.
Bedrooms, living rooms and kitchens have become classrooms once again, and screens are continuing to play a major role in how students learn, interact with teachers, chat to their fellow pupils, and submit homework.
But for this remote learning to happen effectively, students need to have the right technology available at home – and those who don't can end up being left behind.
Some 58% of DEIS (Delivering Equality of Opportunity in Schools) students in Ireland don't have access to a laptop they can use for schoolwork, according to Camara Ireland, a social enterprise with a mission to support and resource schools and youth settings with technology. 
This technology gap proved particularly challenging during the first round of school closures in March 2020, when students and teachers had to abruptly pivot to learning from home.
Every laptop helps
To combat this urgent need, Camara Ireland and Trinity Access, supported by ESB, launched the Tech2Students campaign in April 2020. The campaign sought donations of disused laptops from businesses or members of the public, which were then redistributed to DEIS school students with no access to technology at home. 
"School closures really, really highlighted the digital divide between those students that have access to tech and those students who do not. The feedback we have gotten is that students, especially from DEIS schools, are either trying to learn on their phones or are not learning at all," says Lorraine Curham, Project Manager at Tech2Students.
I think a lot of people believe that maybe if the parents have a laptop, or if there is a device in a household, then the problem is solved. But you need to consider if those parents are working online and if more than one child needs access to online learning. It's very difficult to try and divvy that one particular device out between an entire family. 
Over 1,000 devices were delivered to schools and students last year as part of the initial campaign, which mainly focused on supporting Leaving Certificate students in the Dublin area.
A team of ESB volunteers looked after collection and delivery of each laptop, while volunteers at Camara Ireland and Trinity Access ensured each device was disinfected, securely cleared of data, restored to factory settings and updated with a fresh copy of the Windows operating system.
Peter O'Shea is Head of Corporate and Regulatory Affairs at ESB. He says the company wholeheartedly welcomed the opportunity to get involved in 2020 via its long-term partner Camara Ireland:
"We believe that no student should be at an educational disadvantage due to Covid-19… We were delighted to be able to support Tech2Students, not just financially, but also by providing much needed logistical support."
Overcoming the challenges
Moyle Park College in Clondalkin in south-west Dublin received over 50 laptops during last year's round of Tech2Students donations. Teacher Diarmuid O'Dowd recalls that during the first lockdown, a lack of access to the right technology made remote learning very challenging for some students. This time around, the situation has improved:
"Our school would vary in economic status among the students. The donations from Tech2Students have been really helpful and have made a big difference. Engagement from our students has hugely increased."
Having a laptop means a lot more than easy access to lessons and homework. It allows students to instantly create more of a 'study space', even if they're sharing a room with other siblings. 
"Even if you're sitting on your bed, you can plug into your earphones and can get tuned in. It creates a quiet space for you to go when you need to study or do your homework," says Lorraine Curham.
Helping more people than ever
In September 2020, This year, phase 2 of Tech2Students received support from Rethink Ireland's Innovate Together Award, which allowed the project to expand nationwide.
This year's aim is to deliver 5,000 laptops to DEIS students, minority groups, students in direct provision, and students in adult education. It's a significantly higher target than last year, but one that Marianne Checkley, CEO of Camara Ireland, believes will be reachable with the help of people around Ireland.
"We are appealing to homes and businesses to donate any laptops they have, dating from 2015 on. People can also choose to make a financial donation to fund refurbished laptops."
The aim for 2021 is to help as many students as possible, in as many parts of Ireland as possible. "Whether it's the tip of Donegal or down to Beara in Co Cork,we want people to get in touch," says Lorraine Curham.
"As the Leaving Cert looms closer, we're trying to give a little bit to everybody. This is why we need the whole country behind this initiative – we can't do this on our own."
Click here to find out how you can help bridge the digital divide. The Tech2Students campaign is a collaboration between Trinity Access and Camara Ireland, supported by ESB.