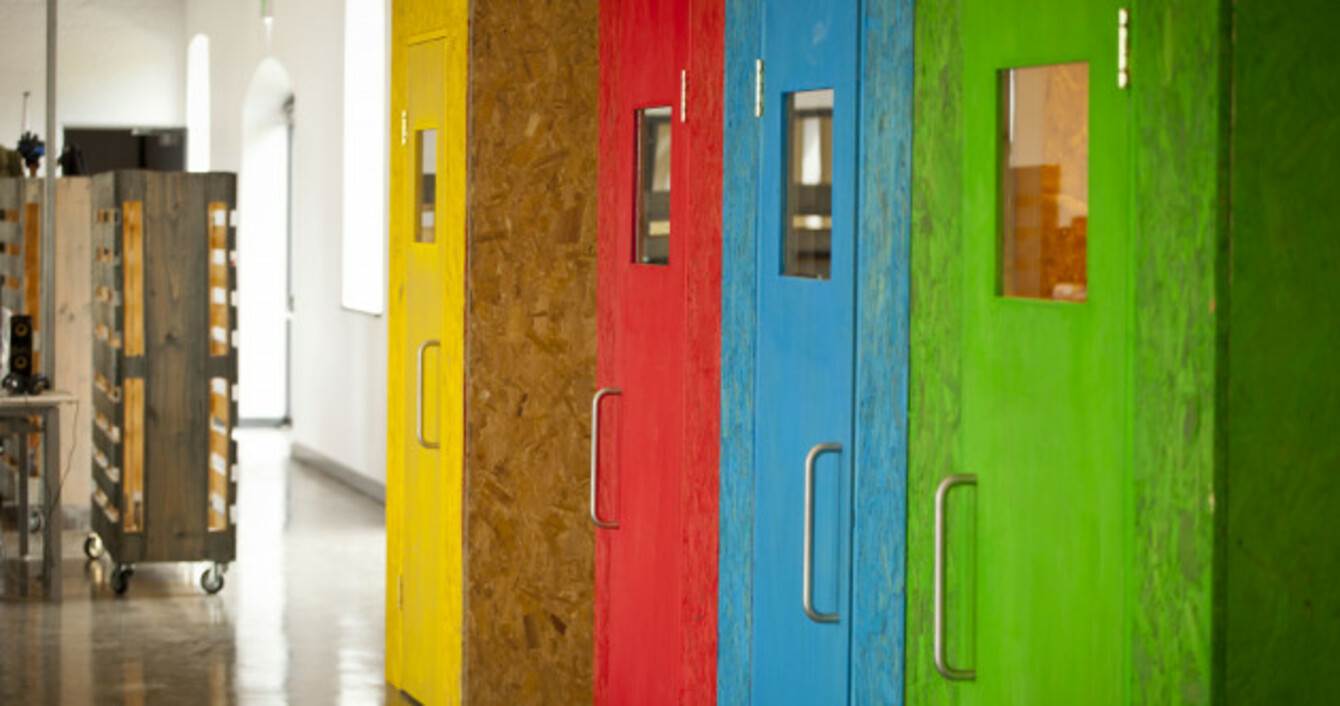 Phone booths at the Portershed space in Galway
Image: David Ruffles
Phone booths at the Portershed space in Galway
Image: David Ruffles
"THERE'S A HUNGER for them."
Ireland is one of the largest tech hubs in Europe, and small collaborative workspaces are beginning to pop up across the west of Ireland as the country's technology industry has begun to sprawl away from Dublin's Silicon Docks.
New startup tech companies and employees from larger corporations alike are beginning to look away from Dublin to set up a base.
TheJournal.ie spoke to industry professionals to find out why this is happening, the importance of the emerging collaborative workspace culture in rural Ireland and what area of technology is the place to be.
"There were software developers working from home for companies around the west of Ireland but they were secluded. Now, they're converged together and that has been really positive," innovation community manager at Portershed Galway, Mary Rodgers, told TheJournal.ie. 
The new players
Portershed is a not-for-profit collaborative workspace in Galway specifically for technology professionals in need of office space, be it a new startup company team or individuals working remotely for larger corporations.
According to Rodgers, people began to realise over the past couple of years that a space needed to be created for tech professionals working remotely from home to crack down on loneliness and the need to be around like-minded people.
"People who are working remotely for large multinationals or for large companies are coming into places like ours and are paying out of their own pocket," Rodgers said.
"They're technically working from home but they just want to get out of the house. Techies like to get together. They really just want to be around each other because they love to discuss their work."
Echoing these remarks, Bank of Ireland's Galway startup manager Tracy Keogh said that these collaborative hubs are growing more and more popular because tech workers thrive off community work.
Bank of Ireland run a programme called Startlab, which works with tech startups for six months to help grow and scale their company.
"You've got large corporations mixing with young startups. These spaces are a resolve for loneliness, they create synergies and opportunities and they give everybody a role to play in growing their community," Keogh said.
Kevin McCaffrey, founder of Tr3dent, a data visualisation company, initially set up business in Cape Town, only to return to the west of Ireland to work out of the GMIT Innovation Hub in Galway.
"Rather than setting up an office in some industrial park or above some store, where you're very isolated, we're here with other companies that are in a similar growth pattern, you're able to talk to them and get insight and bounce off people," McCaffrey said.
'Highly sought after'
Tech talent is currently the fastest growing skills demand in Ireland. Figures from the IDA show that between 2013 and 2015, demand for tech professionals grew by 83% compared to the previous period of 2010 and 2012.
The IDA is the agency responsible for the development of foreign direct investment in Ireland.
Software technology has become integrated into everyday life and no matter the industry, tech development is almost always present. For that reason, software developers are highly sought after.
The constant rise in demand in developers has led to a situation where there are more jobs than there are job seekers, according to the manager of Enterprise Ireland's software department, John MacNamara.
Enterprise Ireland is the government organisation responsible for the development and growth of Irish enterprises.
"If you're a food company, you'll need software engineers. If you're a software company, you'll need software engineers," MacNamara told TheJournal.ie. 
The tech sector in Ireland employs over 120,000 people in a multitude of business and technology rules, a rise of over 50% from 2010.
"There's a lot of competition now between companies because they have to attract the engineers and once they attract them they have to keep them. So, they offer good money and good conditions because they have to," MacNamara said.
But what skills are needed? 
While there can be overlap within software roles, DevOps engineers, data scientists and quality assurance engineers are the most sought after candidates within the industry.
Employers are looking for candidates with outstanding skills in javascript, React, .Net and Python coding – but without interpersonal skills and enthusiasm, employers won't be interested.
According to director of Technology Ireland (an association within Ibec), Paul Sweetman, the needs of the sector aren't just about science technology, engineering and maths abilities. Other skills such as business acumen and savvy, critical communications, teamwork and project management are equally needed.
Employers are looking for those who can work hard and be entrepreneurial, but also those who can work with people.
"You've got to show initiative, flexibility, all the usual things," MacNamara said.
You need to know your domain but you also need to show your enthusiasm and you have to believe in the project you're getting involved in, that's really key.
Leo Clancy, head of technology at IDA, told TheJournal.ie that no matter what technology office you go into, the work is being done collaboratively and it's important to be able to work on a team.
"There's a lot of things you can do within software. You could be a user-experience engineer, you could be designing the deep code and artificial intelligence, you could be a test engineer who tries to find bugs. They're not one-dimensional jobs anymore," Clancy said.
'Pick and choose your job'
Because there is an abundance of software jobs in Ireland at the moment, once job seekers have a good grasp on the needed skill sets, they won't be long on the hunt.
Employers are in competition with each other to hire the best professionals, as opposed to professionals in competition with each other to get hired.
#Open journalism No news is bad news Support The Journal

Your contributions will help us continue to deliver the stories that are important to you

Support us now
"It's a very hot market, but if you have five to 10 years' experience, you're very valuable," Clancy told TheJournal.ie. 
Similarly, MacNamara said:
The biggest shortfall is with experience engineers, people with five to 10 years' experience. These guys are like gold dust.
"The advantage is if you have five or six years' experience under your belt, you will pick and choose your job. You're very, very lucky."
To meet the demand for employees, companies in Ireland are looking abroad to make hires, with one in every three software engineers being hired from outside the country.
Last year, the government launched a €1.9 million initiative to attract the top tech talent to Ireland to fill the gaps.
Funded by the Department of Jobs, Tech/Life Ireland is an initiative to brand Ireland as a top destination to pursue a career in technology to try to attract up to 3,000 tech professionals to Ireland each year.
With Google, Microsoft, Apple, Facebook, Intel, eBay and Adobe just a few of the top international tech companies in Ireland, there's no shortage of large innovative projects for job seekers to get involved in.
"Ireland is a relatively high-cost economy. We're not a low-cost economy anymore so we have to be doing valuable activity. Software is a very high-value activity. Software something that's hard to come across and Ireland has a good supply of engineers," Clancy said.
"Ireland is doing better than average. There's a shortage of software engineers here."
Where is the future of tech in Ireland? 
Since 2011, over 32,000 jobs have been announced by tech companies – large and small, indigenous and multinational. Around 100 jobs have been announced per week by the sector in the past few years.
While remote working and startup businesses are on the rise in the West of Ireland, Clancy is positive that there will still be scope for both smaller and larger organisations going forward.
"I think multinationals are here to stay but the startup scene is always growing in Ireland. There are some brilliant startups in Ireland and it's going to continue to grow and grow," he said.
"The multinationals and the startups will both be here and will both be strong."
While the tech industry is an ever-changing landscape, one thing is for certain – it's one of the best industries to be in at the moment.
According to Technology Ireland, the areas of current demand in tech are: 
Advanced manufacturing
Programming for mobile technology platforms
Web development
Cloud computing and the Internet of Things
Platform administration and management
Cybersecurity and digital forensics
DevOps
User experience design
Data analytics and data science
Enterprise application skills
Digital marketing and digital media
Games development
Project and product management
Networking technologies
Data centre management
Software development