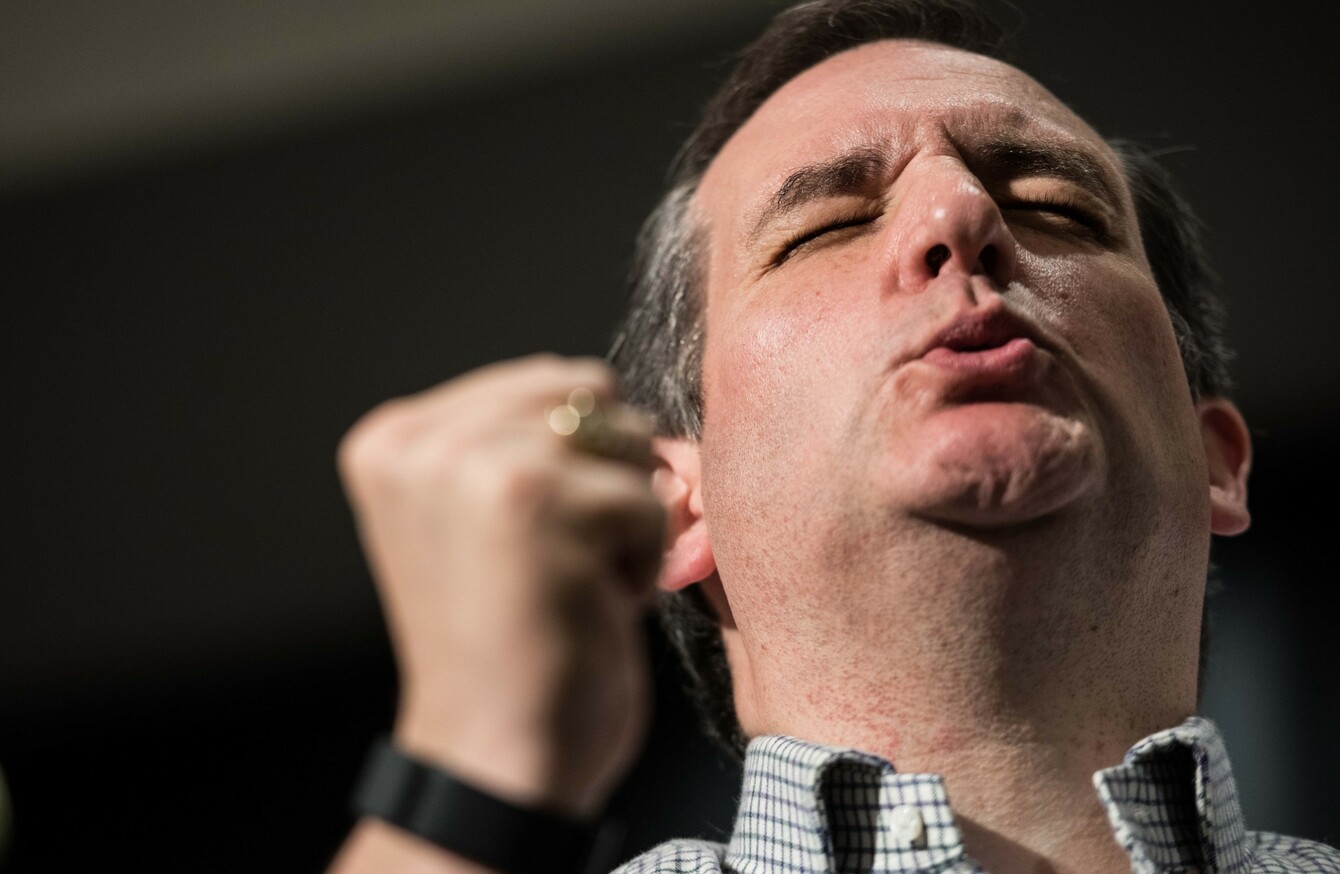 Image: Sean Rayford
Image: Sean Rayford
TED CRUZ IS a Canadian-born Cuban-American who is staunchly opposed to immigration reform and is now a serious contender for the White House.
A Texas Senator for under four years, Cruz has done enough in that short time to be labelled as a Tea Party extremist by his opponents and a "wacko bird" by his own party.
For Democrats, Cruz is a dangerous demagogue they love to hate.
To religious conservatives, he is a patriot, a thinking man's champion of the common folk sent to Congress to disrupt the ways of the go-along-to-get-along establishment and fulfill the principles of smaller government.
Born in Calgary in 1970, his eligibility to be President was half-heartedly questioned by Trump during the campaign.
Trump suggested bluntly that Cruz may not be eligible for the presidency, but Cruz insists he is a 'natural-born citizen'.
A Harvard-educated lawyer with a Cuban father and an American mother, Cruz joined the legal elite when he was accepted as a clerk for US Supreme Court Chief Justice William Rehnquist in 1996.
He was part of former president George W. Bush's legal team arguing the 2000 Florida presidential recount, later serving in Bush's Justice Department and the US Federal Trade commission.
He returned to Texas and in 2003 was appointed solicitor general, arguing many cases before the Supreme Court in Washington.
Sometimes wearing cowboy boots as he did so.
In 2012, he ran for the Senate with support from the anti-government, anti-tax Tea Party, defeating the establishment Republican and then steamrolling his Democratic opponent in the election.
Cuban-American Cruz may enjoy plenty of support in Hispanic-heavy Texas, but he is a staunch opponent of immigration reform.
He blasted Obama's efforts last year to shield millions from deportation as "illegal amnesty".
He's also regularly clashed with fellow candidate Senator Marco Rubio, whose parents immigrated to the US from Cuba, over who can clamp down harder on illegal immigration.
Cruz, a master orator with a clear sense of mission, has angered elders in both parties for showing little deference to seniority and snatching the spotlight from more experienced political stalwarts.
He insists government has wrecked the economy, infringed on religious liberty, put constitutional rights "under assault," overtaxed Americans and sought to take away their guns.
In September 2013, his conservative star power soared when he spoke for 21 hours straight to try to block a stopgap spending bill in the lead up to a crippling shutdown the following month.
Many Republicans blasted Cruz for convincing Tea Party adherents in the House of Representatives to shut down government in a doomed quest to defund Obamacare.
Source: The New York Times/YouTube
Cruz's apparent eagerness to gum up the works led an exasperated John McCain, the 2008 Republican nominee, to deride Cruz and other Tea Party lawmakers as "wacko birds on the right."
Cruz, who has fought hard to maintain a prominent place for faith in American life, is battling not just for the Republican nomination. He sees himself in a battle for the very soul of the country.
"Tonight is a victory for courageous conservatives across Iowa and all across this great nation," Cruz said in his caucus victory speech last night.
"We're seeing conservatives and evangelicals and libertarians and Reagan Democrats all coming together as one, and that terrifies Washington, DC."

That fear is felt nowhere more so than within the Republican party who have tried and failed to tame him, something that's not likely to change after this latest victory.
© – AFP 2016 with reporting by Rónán Duffy