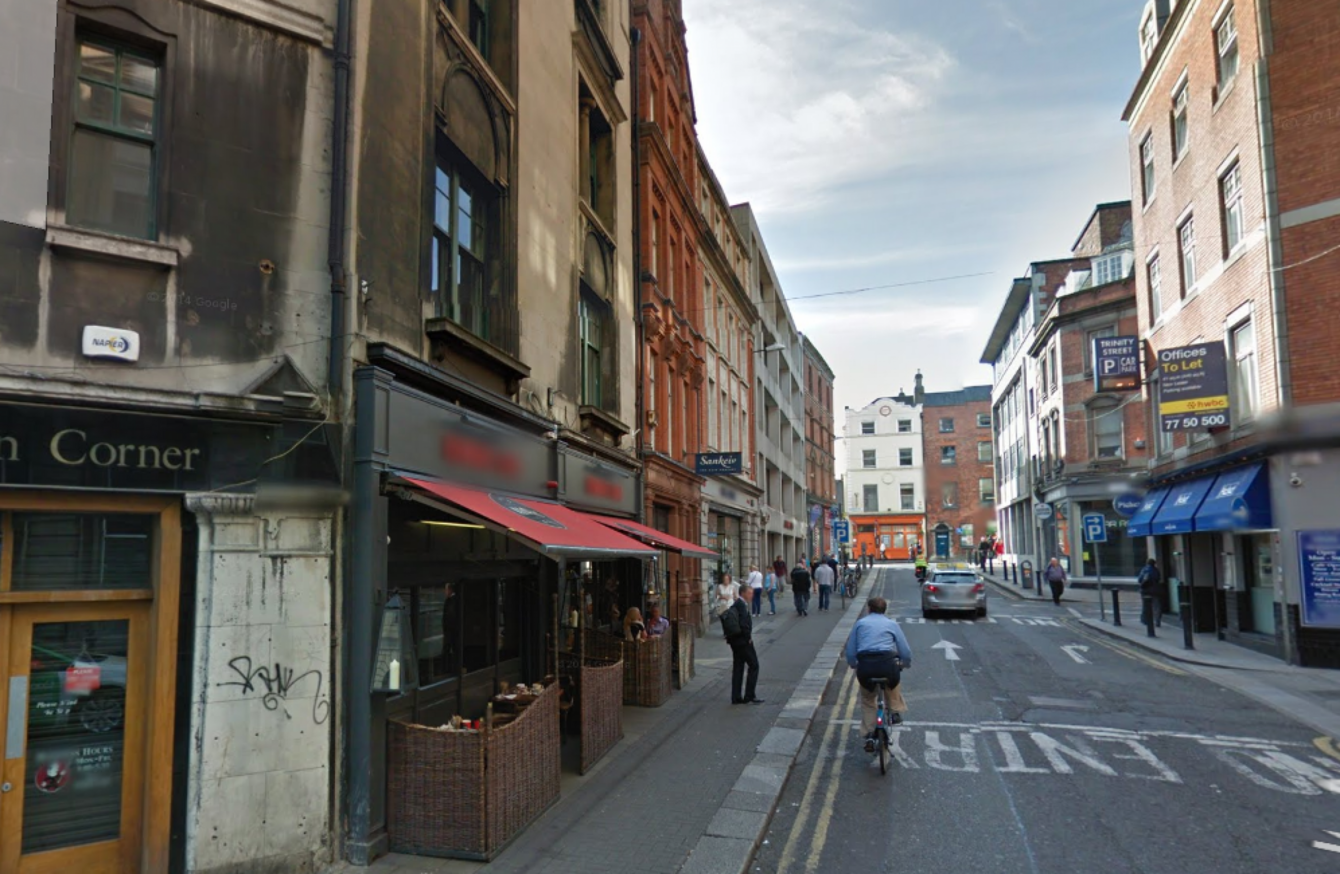 Image: Google Street View
Image: Google Street View
A MINUTE'S SILENCE was observed at the Dublin Children's Court after a judge heard how a 16-year-old defendant in care died after being found in a collapsed state on a busy street.
Appropriate intervention for the troubled boy, who had been described in a social worker's report as being in a crisis cycle, came "far too late", his solicitor said during a sombre hearing today.
A judge had also warned 12 months ago that the teenager's behaviour was "escalating with increasing intensity".
The boy, who had been staying in hostel accommodation, was due to face sentencing for two offences, robbery of a man who had his €300 phone stolen at Bachelor's Walk on 4 April last year and attempted robbery of a man at College Green, in Dublin city-centre.
Difficulties in care
The teenager had been placed by Tusla Child & Family Agency in care homes but they had difficulties coping with him. Lately he began staying in emergency hostel accommodation in Dublin city-centre.
His solicitor Gareth Noble told Judge John O'Connor that on Monday the boy "was found in a collapsed state at Trinity Street, an ambulance was called, he was able to walk on to the ambulance but had an attack of some kind and was pronounced dead at St James's Hospital an hour later".
Mr Noble described the boy as a very vulnerable young man, and he cited a recent social worker's report which referred to the teen as "evidently in a crisis cycle".
Social services were working on trying to meet his needs and a special care assessment was being prepared but the solicitor said "those interventions were far too late".
His fashion remembered
The solicitor and the judge commented on how the teenager was memorable for his "sartorial elegance" with a fondness for smart jackets and hats.
Judge O'Connor recalled the boy always arrived at court with a smile though he faced serious charges.
He commented that it was terribly sad and the boy had a huge amount of problems exasperated by his drug-taking. He said this was a child who seemingly over-dosed while people who profited from him were living.
It was not only sad for the boy and his family but also for the victims of his crimes, the judge said.
He said that a minute's silence should be observed at which everyone in the courtroom rose and stood quietly, after which the judge struck out the proceedings.
His life was endangered
A year ago, the boy's solicitor Gareth Noble had said in court that the teenager could not be maintained safely at the residential children's care centres in which he has been placed and his needs were not being met by Tusla Child & Family Agency.
The lawyer had also warned at that stage that the teenager was endangering his own health and welfare as well as that of others.
In May last year, Judge O'Connor had also agreed the teen was in a "crisis cycle" and he had warned his behaviour was "escalating with increasing intensity".
The boy had 23 prior criminal conviction for burglary, assault, theft, motor theft, criminal damage and earlier this year he had completed a six-month sentence in a detention centre.
He was also awaiting trial for other serious offences at the time of his death.
Other offences
During a hearing in April last year when the teen was facing charges for criminal damage and theft offences, the Dublin Children's Court heard most of those incidents occurred in his care home.
On that occasion, he was accused of criminal damage to and interfering with a car close to his accommodation on 15 February last year, and damage to a door keypad at the facility on the same date.
He was also charged with theft of a staff member's purse which contained €25 at the care home on 29 January, criminal damage to a table there on 25 February, stealing a 42-inch plasma TV from the facility on 10 February last year and assaulting a female on the same date.
He also had one other charge being intoxicated on Princes St in Dublin city-centre on 3 February 2015.
Missing
During one hearing last year, Judge John O'Connor had heard evidence that the teenager had gone missing from care on six occasions in less than two weeks.
A care worker had said the teenager had "destroyed a bedroom and upstairs landing" and had been affected by substance abuse.
The court also heard that during another incident the teenager had wanted to go on an unauthorised absence and he punched a care worker twice in the head. The man's glasses fell to the ground and when he went to pick them up he was kicked a number of times.
The teenager was later placed in other non-secure residential care homes during which time he continued to abscond and offend, resulting in him receiving a six-month sentence late last year.