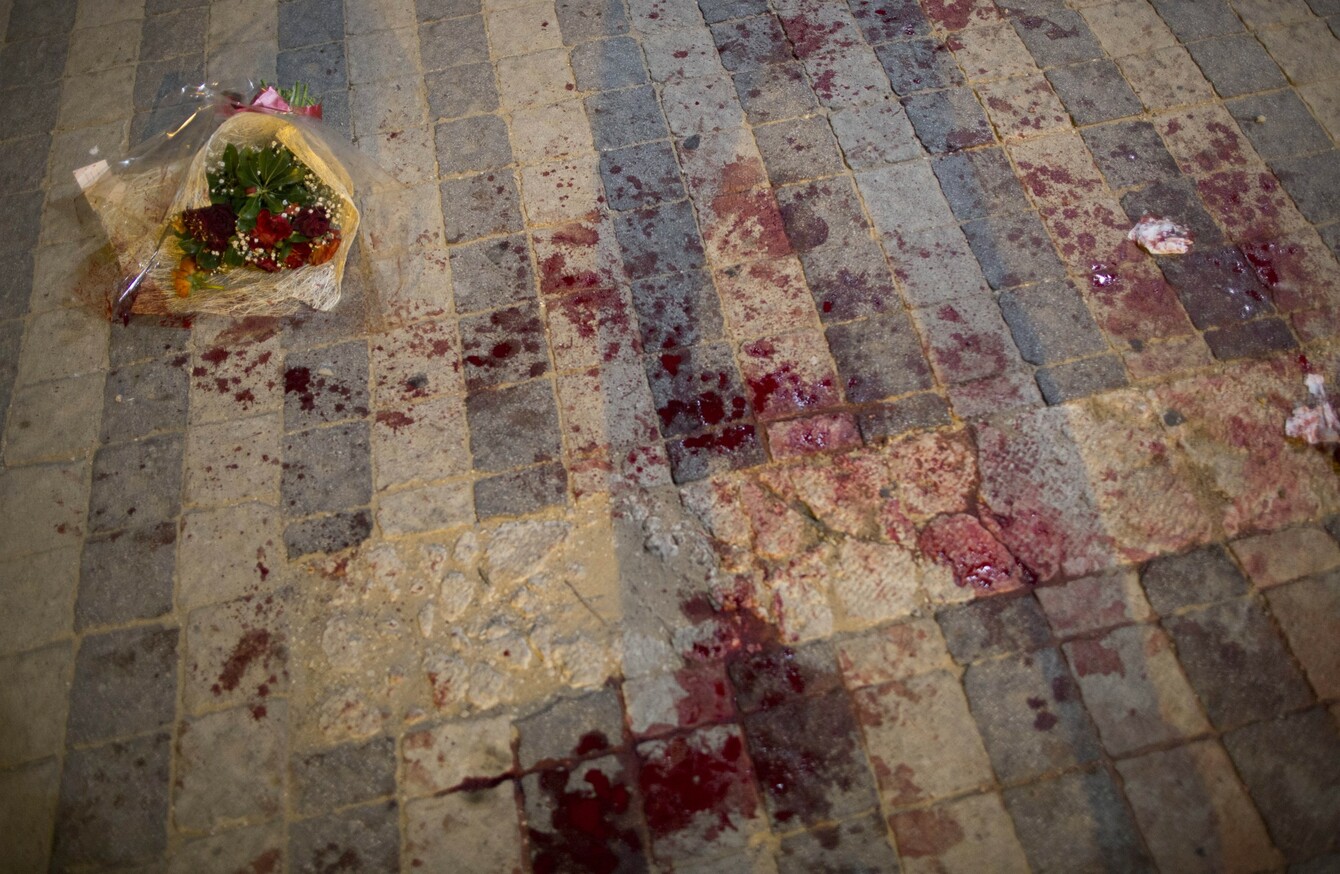 Blood stains the street at the scene of a stabbing attack in Jaffa, a mixed Jewish-Arab part of Tel Aviv.
Image: AP/Press Association Images
Blood stains the street at the scene of a stabbing attack in Jaffa, a mixed Jewish-Arab part of Tel Aviv.
Image: AP/Press Association Images
A PALESTINIAN WENT on a stabbing spree along the Tel Aviv waterfront this evening as US Vice President Joe Biden arrived in the city, leaving an American tourist dead and 12 people wounded, police said.
The attacker around 21 years old from the town of Qalqilya in the occupied West Bank was shot dead by police, Israeli authorities said.
Video that spread online showed a man running down a road and lunging at someone through a car window while being chased.
The attack caused panic, and one witness told Israeli television he hit the assailant with his guitar, with a hole visible in the wood of his instrument.
Police said the attacker wounded a number of people in the Jaffa port area, a touristic zone of Israel's commercial capital, before going on toward a restaurant and stabbing others.
There were no details on the American's identity.
Biden met former Israeli president Shimon Peres after his arrival at a location about a 15-minute walk from where the stabbings occurred.
"I heard two guys screaming that there was an attack," said a woman who gave her name as Emily.
I ran in the opposite direction and ran into a man who was on the ground in his blood.
https://www.facebook.com/Lt.Col.PeterLerner/videos/1139394842768140/
She said she "covered him with my jacket. He was badly injured and we waited together for the ambulances to come."
A wave of violence in Israel and the Palestinian territories since October has killed 184 Palestinians and 28 Israelis.
Most of the Palestinians were killed while carrying out knife, gun or car-ramming attacks, according to Israeli authorities.
Others were shot dead by Israeli forces during clashes or demonstrations.
Four separate assaults
Biden is due to meet Israeli Prime Minister Benjamin Netanyahu and Palestinian president Mahmud Abbas on Wednesday.
The White House has said Biden will not be pursuing any major new peace initiatives during his visit despite the wave of violence.
The number of attacks had diminished recently, but there were four separate assaults Tuesday.
Two occurred in Jerusalem, including one that saw a Palestinian shoot and seriously wound two Israeli police officers before being shot dead.
Earlier, a Palestinian woman attempted to stab Israeli police forces in Jerusalem's Old City before being shot dead.
Also on Tuesday, a Palestinian stabbed an ultra-Orthodox Jew in a liquor store in Petah Tikva near Tel Aviv.
The victim and owner of the shop pounced on the attacker, seized his weapon and killed him, police said.
Police said they suspected it was a "terrorist" attack but had not excluded other possible motives.