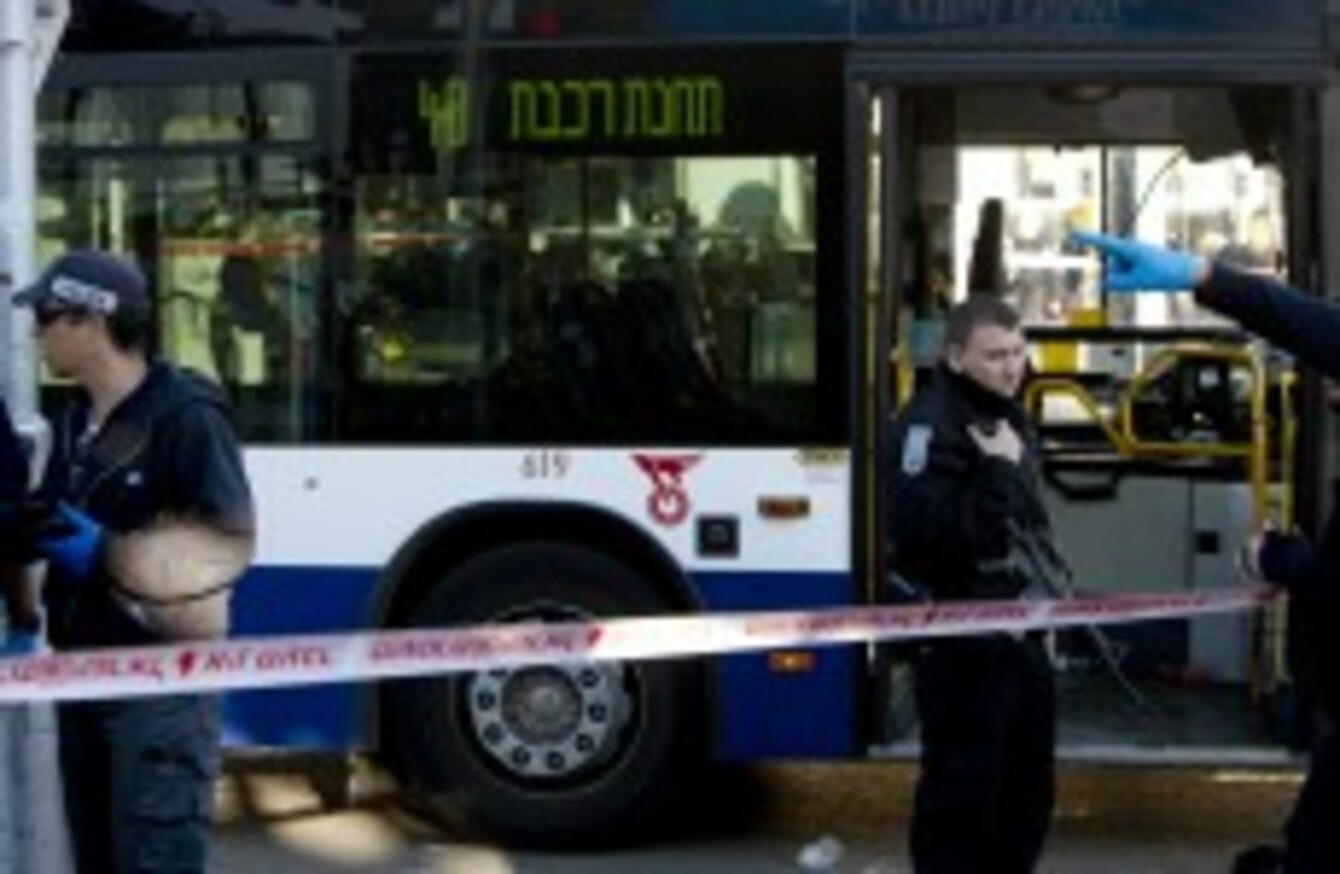 Israeli police officers secure the scene of a stabbing attack in Tel Aviv
Image: Oded Balilty
Israeli police officers secure the scene of a stabbing attack in Tel Aviv
Image: Oded Balilty
A KNIFE-WIELDING Palestinian attacked passengers on a morning rush-hour bus in Tel Aviv Wednesday, wounding 12 people, before being shot by a passing prison officer in the latest lone-wolf attack.
It was the first attack in Tel Aviv since November, when a young Israeli soldier was stabbed to death by a Palestinian.
The attacker struck in the heart of Israel's commercial capital, police spokeswoman Luba Samri said, describing him as a "terrorist."
Twelve people were wounded, including three who were in serious condition, four in moderate condition and five who sustained light injuries, hospital sources said.
Another seven people were treated for shock.
"The terrorist stabbed the bus driver several times but the driver fought back until he fled on foot and was neutralised by a guard from the prisons' service," a police statement said.
He was shot in the leg then taken to hospital.
Witnesses told army radio the driver apparently used pepper spray or tear gas to try to stop the attack.
Brief footage from the scene broadcast on television showed people fleeing a man who rams a knife into the back of a woman, then runs on when she collapses.
Police identified the attacker as a 23-year-old Palestinian from Tulkarem in the northern West Bank, who was staying in Israeli illegally.
Kitchen knife 
Pictures from the scene released by the police showed what looked like a large kitchen knife lying on the ground.
Speaking to army radio, the prisons service officer, identified only as Benny, described how the incident played out.
"We saw the bus swerve to the side… then stop at a green light," he said.
"Suddenly, we saw people running out of the bus and when we saw them shouting for help, we jumped out (of our vehicle) and I and three others started running after the terrorist. At first we fired in the air, then at his legs.
"The terrorist fell, we handcuffed him and turned him over to police," he told the radio.
The last attack in Tel Aviv was on 10 November when a knife-wielding Palestinian from the northern West Bank stabbed a young Israeli soldier who later died of his injuries.
That attack took place as Israel was struggling to contain a growing wave of violence in annexed east Jerusalem which spread to Arab towns and villages in Israel.
It has since abated, although there have been a number of violent incidents over the past month.