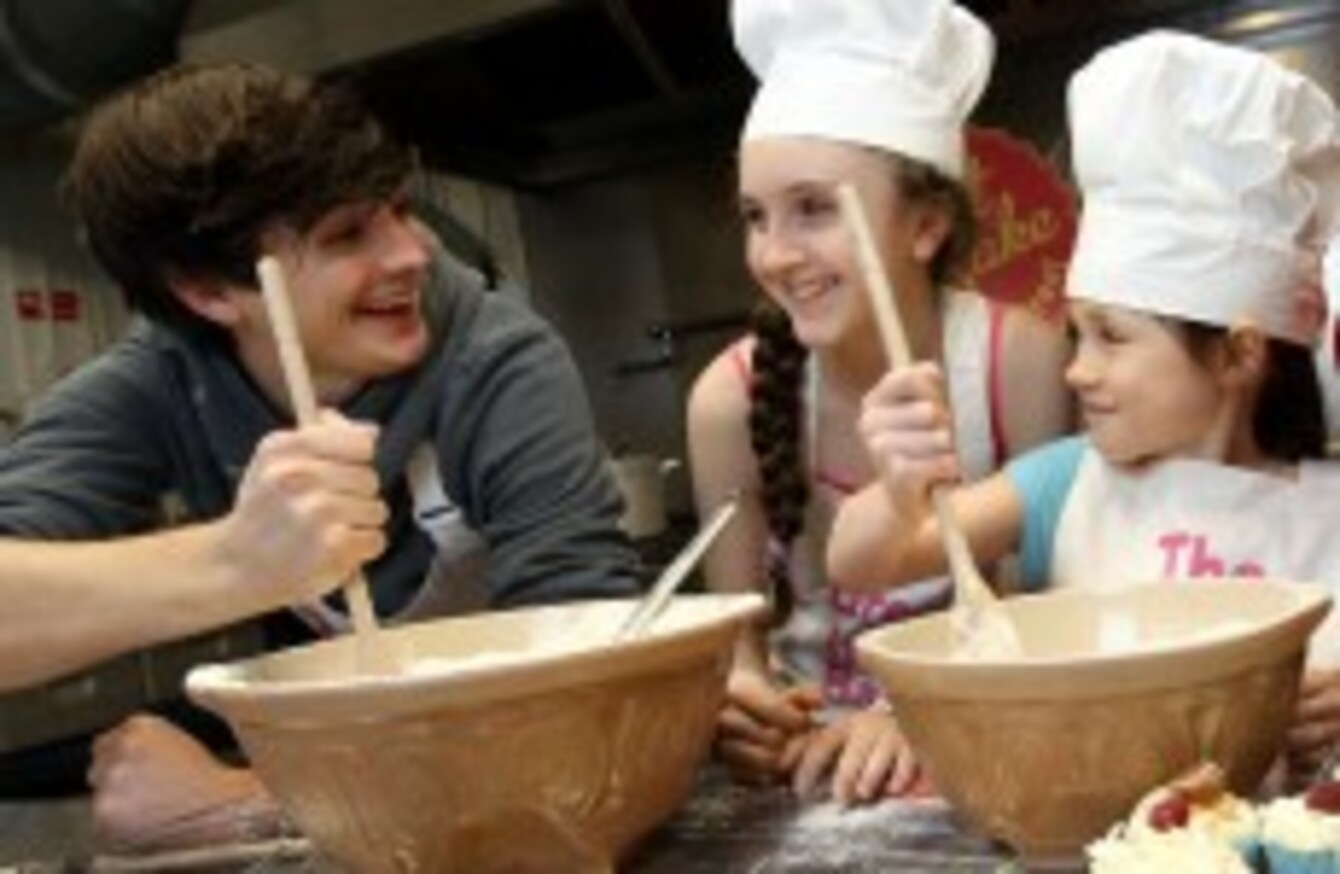 Donal Skehan with, from left to right, patients, Michaela Rynne and Niamh Flannelly-Costello
Donal Skehan with, from left to right, patients, Michaela Rynne and Niamh Flannelly-Costello
AN OUT-OF-DATE children's hospital ward that hasn't been refurbished in 60 years is crying out for an overhaul – and now the public are being given an opportunity to help.
Known as the 'Top Flat', St Joseph's Ward in Temple Street Children's Hospital is in bad need of a makeover. With the EBS-supported Great Irish Bake for Temple Street, the fundraising team are hoping to raise €75,000 towards a total upgrade of the ward to bring it up to 21st century standards.
The money from the Great Irish Bake on Friday 19 April will go towards transforming the old-fashioned and dark ward into a new, roomier space, with en-suite units, essential isolation cubicles as well as accommodation for parents.
Here is the ward currently:
With baking support, this is what is possible:
Top class care
Roisin O'Connor, fundraising manager, commented:
We provide top class care everyday to some of the Ireland's sickest children. However, this care is being provided in facilities that are no longer fit for purpose.
St Joseph's is one of the busiest wards in the hospital where children with serious injuries come after A&E and where children with life-limiting illnesses such as cystic fibrosis often call home. We owe it to these children and families to make their surroundings as comfortable and modern as possible now.
St Joseph's currently has 22 beds with just four bathroom facilities for patients, and there are no facilities for parents. Temple Street cares for over 133,000 children every year and is celebrating its 140th anniversary in 2013, supported by EBS.
The refurbishment will provide four isolation units for children with infection or CF, more privacy, and en suite facilities. There will also be a private room for parents to talk to medical staff, and a satellite classroom for children. There is a fully-functioning school at Temple St, but it is not accessible by all children on St Joseph's Ward.
They hope to have the new ward open by the end of 2013.
Priestley family
The Priestley family have two children, Colm and Triona (14), with Cystic Fibrosis, and have been visiting St Joseph's Ward for the past 27 years, most frequently in the past 14.
"The level of care is second to none, but the physical environment is well out of date," said her mother Bernie Priestley. After becoming concerned about the condition of the ward, Bernie got involved with fundraising.
I wrote a letter saying that we are being moved around – if we went in for two weeks we were being moved from ward-to-ward, to facilitate the needs of Triona, but we are very keen to see the refurbishment of Top Flat. It's a great step forward.
At present there are 22 beds in there and four toilets. Even for parents it's a stressful time for them – the children are the priority but parents are under stress as well, whether just after landing there through A&E or a long term patient.
Priestley, who is hugely appreciative of the work the staff do at the ward, explained that currently, parents have to sleep on seats or even on the floor in order to stay with their child. In two years time, Triona will be moving on to adult services but she feels that any adult could find themselves in a children's hospital, whether as a parent or visitor, so "this is an investment for them as well as all the existing people who pass through the doors".
The Great Irish Bake is asking families, schools, crèches and companies to bake goodies to sell and enjoy in aid of Temple Street. To host or organise your event, visit thegreatirishbake.ie or call Laila on 01 8784344.