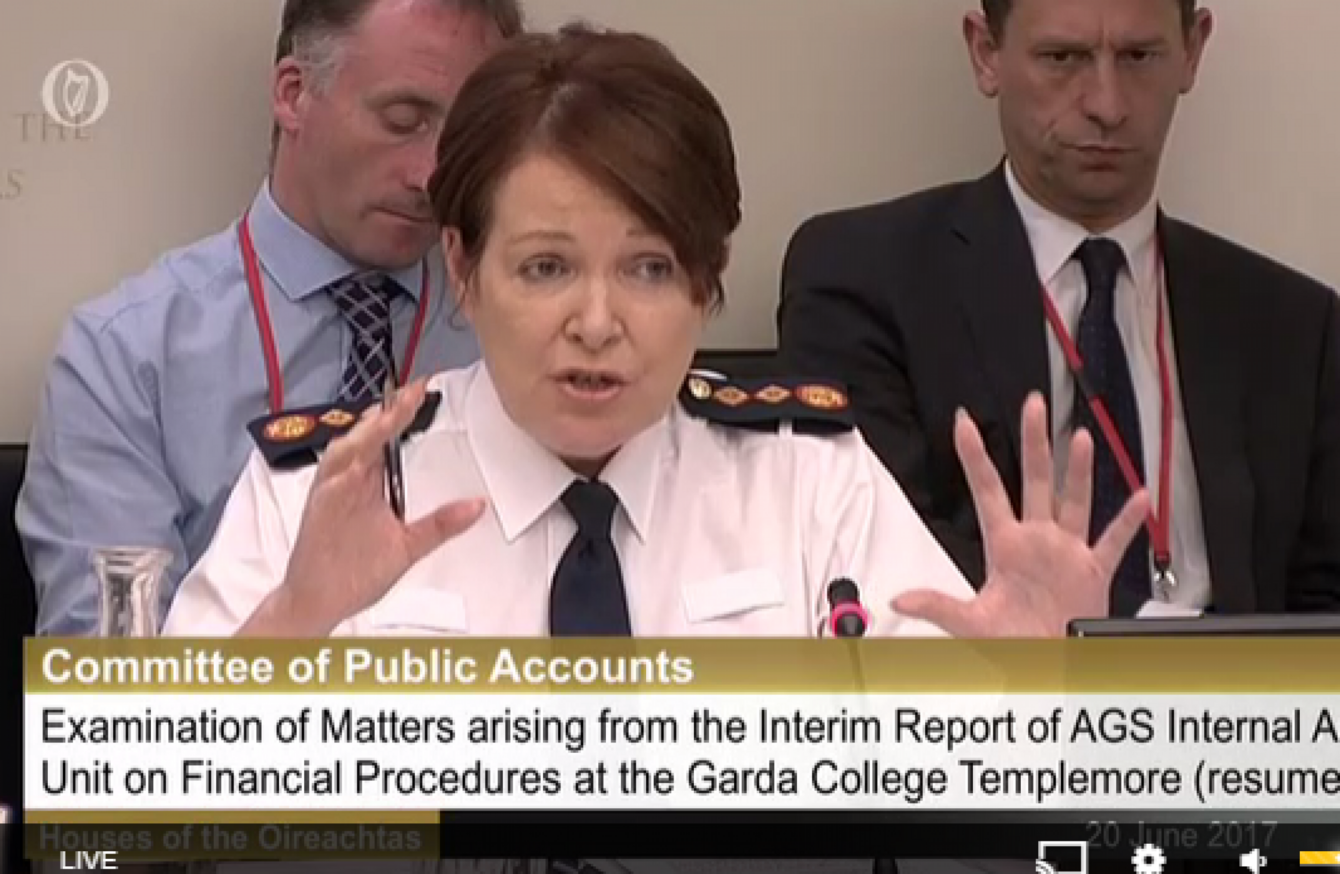 THE GARDA COMMSISIONER has confirmed there is "reasonable cause to suspect" fraud has been committed in relation to a garda bank account connected to the college in Templemore.
Appearing before the Dáil Public Accounts Committee (PAC), Nóirín O'Sullivan confirmed she received a report yesterday from the organisation's head of internal audit, Niall Kelly, which contained concerning revelations about a bank account in Cabra, north Dublin.
She said Kelly had informed her that he had "cause to suspect there may be some suspicious activity" around this account.
"He has suspicions fraud may have been committed," she said. There had been reports suggesting the amount of money involved in this account could be as much as €100,000. The Commissioner confirmed "at its peak" it was in the region of €90,000 plus".
She also confirmed that European funds were involved.
TD Marc MacSharry pushed the Commissioner to reveal the names of the signatories on this account, which she repeatedly refused to do, telling the committee that individuals should be afforded due process.
"That's not acceptable," MacSharry told her, adding that "the public are watching this".
Though O'Sullivan could not be convinced to name anyone, she did say a "retired senior officer" was involved.
She said, considering there was potential fraud involved, this report she received yesterday has been referred to the Garda Siochána Ombudsman Commission (Gsoc) for investigation.
Convenient
Mac Sharry said it was "very convenient" to be able to hand this over to Gsoc ahead of the PAC session. Catherine Murphy also pointed out that this referral was giving the Commissioner an out when it came to answering questions.
O'Sullivan denied this was the case. "At no stage was there any intention to do what you suggest," she said.
I want to be very clear at all times that we acted in absolute good faith and with propriety"
There were further questions about a letter provided to the PAC by the Comptroller and Auditor General. The letter, sent by the Commissioner to the C&AG on 31 June 2015 contained a line which stated that she had disclosed all "instances of loss, fraud or irregularity" that she was aware of.
Four days beforehand, O'Sullivan had been informed about the financial issues at Templemore garda college. She told the PAC that she did not have much information at the time, adding that it would have been different if she knew then what she knows now.
However, the C&AG Seamus McCarthy said that if there was a question around potential irregularities, he felt he should have been notified, even with minimal details.
Difference of opinions
Social Democrats TD Catherine Murphy was one of a number of committee members to question the Commissioner's comments about "interpersonal issues" between the director of finance Michael Culhane and head of HR John Barrett, who had first raised concern about these irregularities and the fact that they had not been addressed years ago.
It emerged in the last PAC meeting that Culhane wrote a letter to the Commissioner and other high ranking gardaí strongly criticising Barrett's approach to this issue, citing "irrational behaviour" on the HR director's part, and even questioning whether he should be investigated for a potential breach of the Official Secrets Act.
O'Sullivan told the committee that when she received this letter from Culhane, it appeared to her that there were "interpersonal differences of opinion between two individuals" at play. She did concede Culhane had used "very strong language" in his letter.
Murphy said she found it "difficult to accept" that this was simple a dispute between two people in the organisation.
There was, after this, an awkward exchange between O'Sullivan and Labour's Alan Kelly, who chaired today's committee session. Kelly asked the Commissioner eight times, in different ways, whether she had full confidence in each individual on her management team.
Her final response on this was: "I have confidence in collective ability of the team."
"So you don't have confidence in the individuals. I find that absolutely alarming," Kelly said.
The committee will reconvene at 7pm this evening with the Commissioner, along with representatives from the Policing Authority and the Department of Justice.