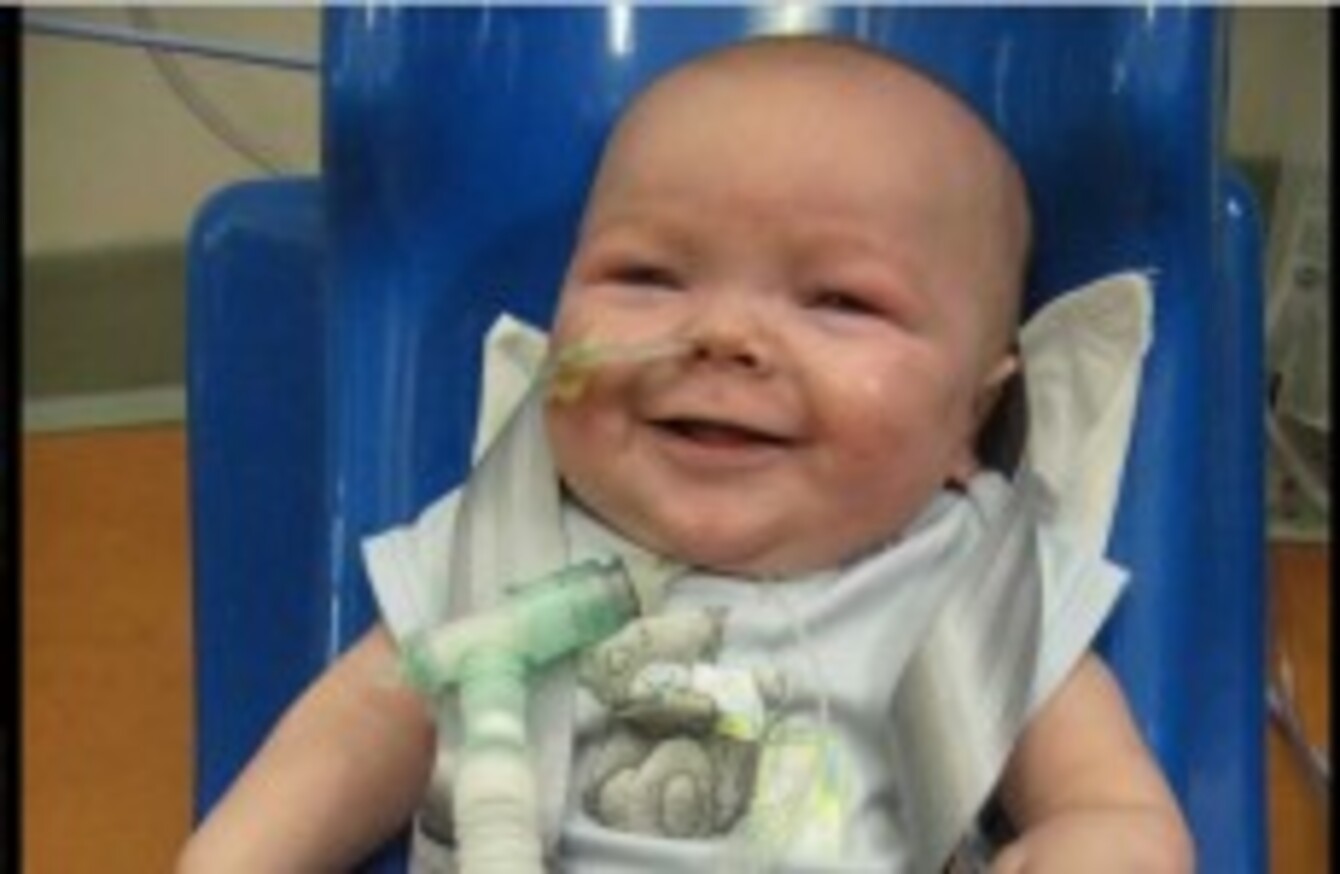 Sergio O'Connor
Image: Family photo
Sergio O'Connor
Image: Family photo
FIRST TIME PARENTS, Rosa and Donal O'Connor from Dublin have received welcome news that their one-year-old son is to begin life-saving treatment in Boston next week.
A baby twin, Sergio O'Connor was born with an incomplete oesophagus which means he cannot eat, drink or swallow. He will travel to the US with his parents on Monday morning at 10.30am and the first surgery should take place within 10 days, "if all goes to plan", Donal told TheJournal.ie.
Following months of hospital life, the O'Connors were advised by the HSE in February that they could travel to Boston Children's Hospital for treatment.
The family, along with the HSE and other bodies have been making plans for the past two months in order for Sergio to begin a complex series of life-saving operations as soon as possible.
A rare case
Since his birth on 5 March 2011, Sergio has spent every day of his life in Our Lady's Children's Hospital in Crumlin – mostly in the paediatric intensive care unit.
The rare congenital defects led to Sergio having a gap between his oesophagus and his stomach.
"When he was first born, doctors thought they might be able to repair it in Ireland," Donal told TheJournal.ie back in February. "But a gap study showed that Sergio is one of the rare candidates whose gap actually grew bigger and is beyond the repairs that can be carried out here."
The family then had to look at other suitable options and consultants examined possible treatments abroad.
The ground-breaking repair procedure which Sergio will undergo uses the Foker technique that has been developed at the Oesophageal Advanced Centre in Boston in the US.
Dr John Foker, although now retired, boasts excellent results and optimistic findings.
Donal tells TheJournal.ie that he actually claims a 100 per cent success rate.
Although that's not the case for all Foker procedures carried out across the world, Dr Foker puts it down to the support and expertise he offers in the Boston hospital. He is able to cater for more outcomes because he has back up, as well as being the person who perfected the technique.
Logistical stages
The family had an anxious wait before the HSE sanctioned the treatment programme, which involves inducing the baby into a coma for up to 15 weeks. In the meantime, doctors will use a procedure to stimulate the growth of a natural oesophagus.
The whole process will take at least six months.
Everything has moved forward "rather quickly" for Rosa and Donal in the planning stages, with various meetings with the US Embassy to organise visas and other necessary documents.
The cooperation of a number of organisations, including the Air Corps, Crumlin Hospital, the Boston clinic and the HSE, is needed to ensure everything runs smoothly.
An award-winning smile
Despite having a peg in his stomach for feedings and a tube in his throat to stop his trachea from collapsing, Sergio's family say he is a charming and charismatic baby.
He touches all who visit him with his award-winning smile and loves a good cuddle.
The O'Connor's have been fundraising for some time to help cover the cost of Sergio's medical bills. Much of the money is needed to cover basic living expenses for the duratiion of his surgery and aftercare in Boston.
#Open journalism No news is bad news Support The Journal

Your contributions will help us continue to deliver the stories that are important to you

Support us now
The HSE has warned the family that there will be significant costs as part of the agreement. A number of fundraising events and concerts have taken place in the past 13 months and more will follow to ease the financial burden.
"But obviously, we're willing to do anything," explains Donal.
Sergio's uncle – Donal's brother – performed with The Chieftains at a St. Patrick's Week concert in Boston on 15 March. Funds went toward the HelpSergio campaign.
From a family of traditional musicians, there have been music sessions held up and down the country – including a show featuring well-known names such as Frances Black and Finbar Fury at Vicar Street in February.
Sergio with his twin brother Tadgh

A festive pair

Sergio O'Connor

The whole family
Sergio's twin brother Tadhg is in good health and lives at home with his parents. He will be looked after by his grandparents while Rosa and Donal travel to Boston with Sergio.
Donal said that he wanted to minimise the impact the treatment has on their other son, stating that the situation has been difficult for him during the first 13 months of his life.
The twins' mother will return to Dublin but the family are hoping to reunite in Boston as Sergio recovers.
Both Tadhg and Sergio celebrated their first birthdays at home last month with close family. Donal said they were grateful and thankful to Crumlin hospital staff for facilitating Sergio's last trip home before heading to Boston on Monday.
The O'Connor's are not the first family from Dublin to go to Boston for this procedure. Elie Madden, who is also a twin, was born with a similar condition in October 2010. She had her first operation in the Boston clinic last December and is currently doing well.