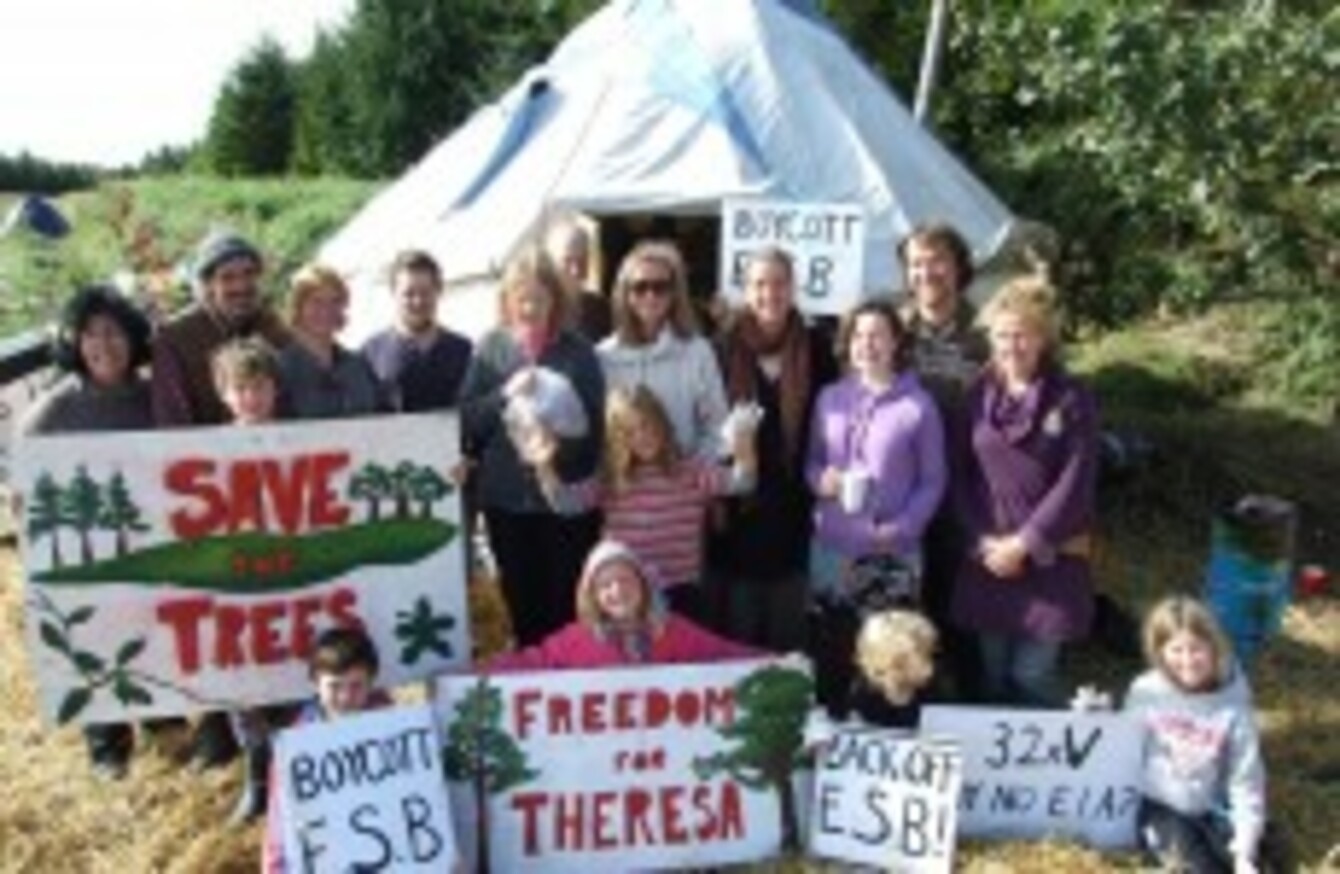 Teresa with supporters on her land
Image: The Teresa Treacy Support Group
Teresa with supporters on her land
Image: The Teresa Treacy Support Group
FOUR DAYS AFTER her release from prison , Teresa Treacy went to the protest camp erected on her land to meet her supporters.
She visited the camp yesterday at 2pm after a couple of days resting at home with her family.
The 65-year-old had spent three weeks in Mountjoy prison for contempt of court, after she refused to allow ESB and EirGrid workers knock down trees to lay an overground power line on her land in Co Offaly.
Her supporters set up a protest camp on her land 12 days ago to protect the trees from the construction work by the ESB and Eirgrid.
The ESB and EirGrid sought the release of Treacy last Thursday "to facilitate an appropriate environment for further discussions to resolve matters around the construction of the Cushaling-Thornsberry 110kV Line".
There were a number of children at the camp yesterday, some of whom presented Treacy with gifts.
Teresa cried when they presented her with two paintings of protesters standing between the diggers and the trees.
The paintings read: "Teresa, we will always stand by you and your trees".
Today at 2pm, founder of the Woodland League (an environmental NGO), Ted Cooke will plant a holly tree at the Broadford Community Woodland, Co Limerick "to honour Teresa Treacy's environmental citizenship", said the charity's PRO Andrew St Ledger.
The Teresa Treacy Support Group is a campaign group set up by friends, neighbours and supporters of Treacy.
Teresa meets supporters

Source: Teresa Treacy Support Group

Teresa with a young supporter's picture

Source: Teresa Treacy Support Group

Teresa Treacy and supporters