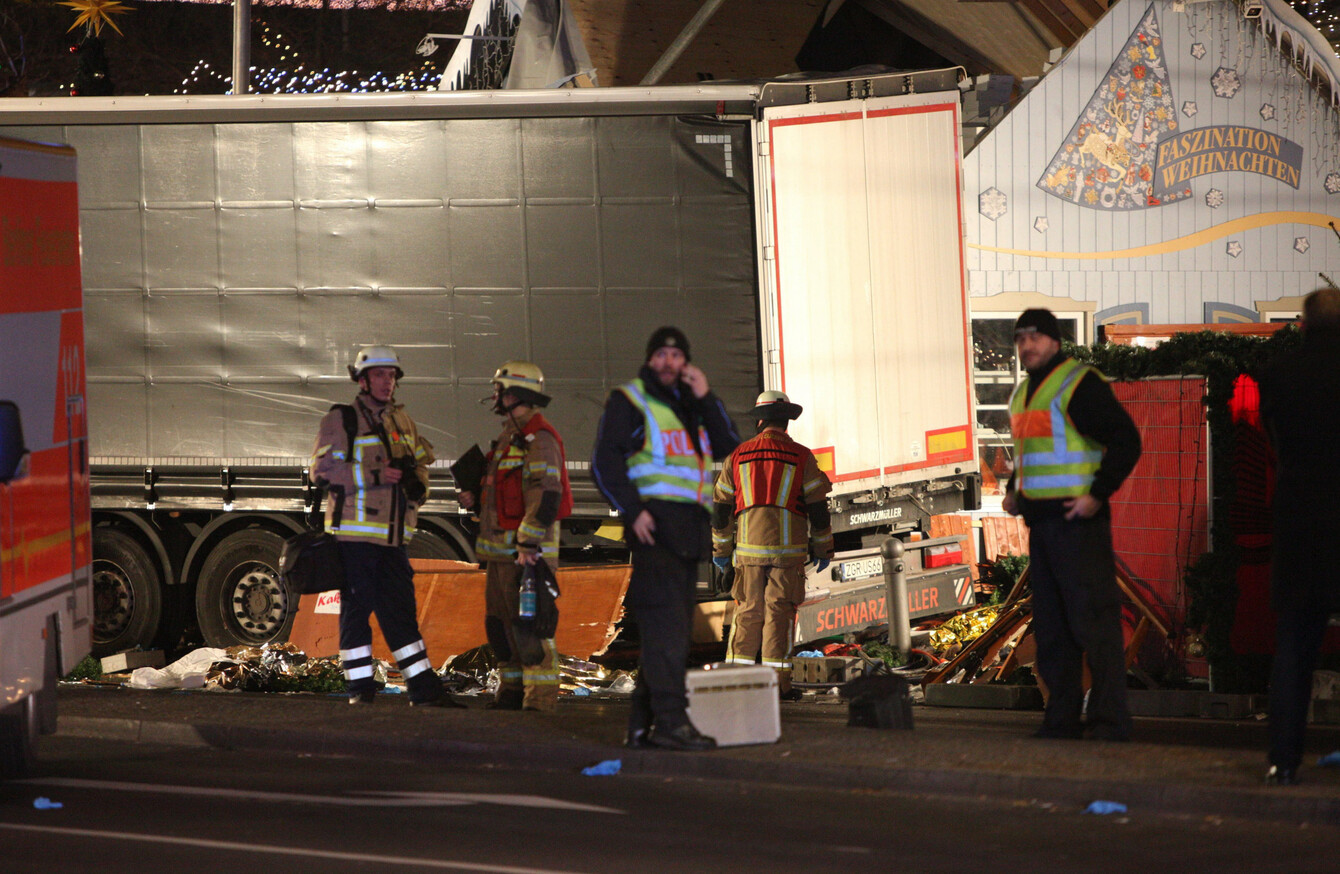 The scene in Berlin where a truck plowed into a Christmas market in 2016.
Image: Omer Messinger/PA Images
The scene in Berlin where a truck plowed into a Christmas market in 2016.
Image: Omer Messinger/PA Images
A GROUP OF Irish researchers is hoping to prevent the use of trucks in terrorist attacks by creating a new technology that will alert authorities when a vehicle has been hijacked.
Telecoms experts at the Waterford Institute of Technology have teamed up with a number of European groups to develop the technology as part of the EU-funded Horizon 2020 programme.
The teams are working with truck manufacturer Daimler AG, the parent company of Mercedes-Benz, to develop a new type of truck fitted with an impregnable security system.
Frances Cleary of Telecommunications Software & Systems Group, the group conducting the research at WIT, said recent attacks showed how unsafe vehicles could be in the wrong hands.
"Terror attacks with trucks in Nice and Berlin have shown drastically the damage a heavy truck can cause; how easy it is to misuse a truck for attacks and that the newest safety systems cannot prevent these attacks," she explained.
To combat this, the system, called the TransSec project, will include precise vehicle positioning and navigation for on-road use, as well as off-road safeguards and movement monitoring to know when potentially dangerous goods are on board.
Martin Tolan, technical lead of TSSG, explains that it will work by using Galileo, the global navigation satellite system being created by the EU.
"The satellites that are out there today are constantly scanning for vulnerable objects like bikes, cats, and other road users," he tells TheJournal.ie.
"But they also try to figure out where road users are, detecting where they are and even their lane position the road.
"What we're doing is taking these sensory inputs and adding them to the raw data of a vehicle, such as its speed or location on the road, and seeing if it's being driven erratically."
Pedestrian areas
By looking at other 'targets' in an area, like vehicles or road barriers, the technology will determine the probability of a crash, and send an alert to notify authorities via the European-wide emergency eCall system.
#Open journalism No news is bad news Support The Journal

Your contributions will help us continue to deliver the stories that are important to you

Support us now
The research group also plans to integrate the technology within trucks and develop new counter-measures to allow power in the vehicles to be cut via their fuel pumps, brakes, or acceleration system.
Tolan says that security is a "core pillar" of the project, and that the teams plan to make the system secure enough so that it can't be bypassed.
When this initial phase is complete, it's hoped the system will be tested in pedestrian areas in cities.
"That's where it really hits home, so we're excited about that," Tolan says.
The project is due to be complete in January 2021, with further testing taking place in the months afterwards if it is successful.