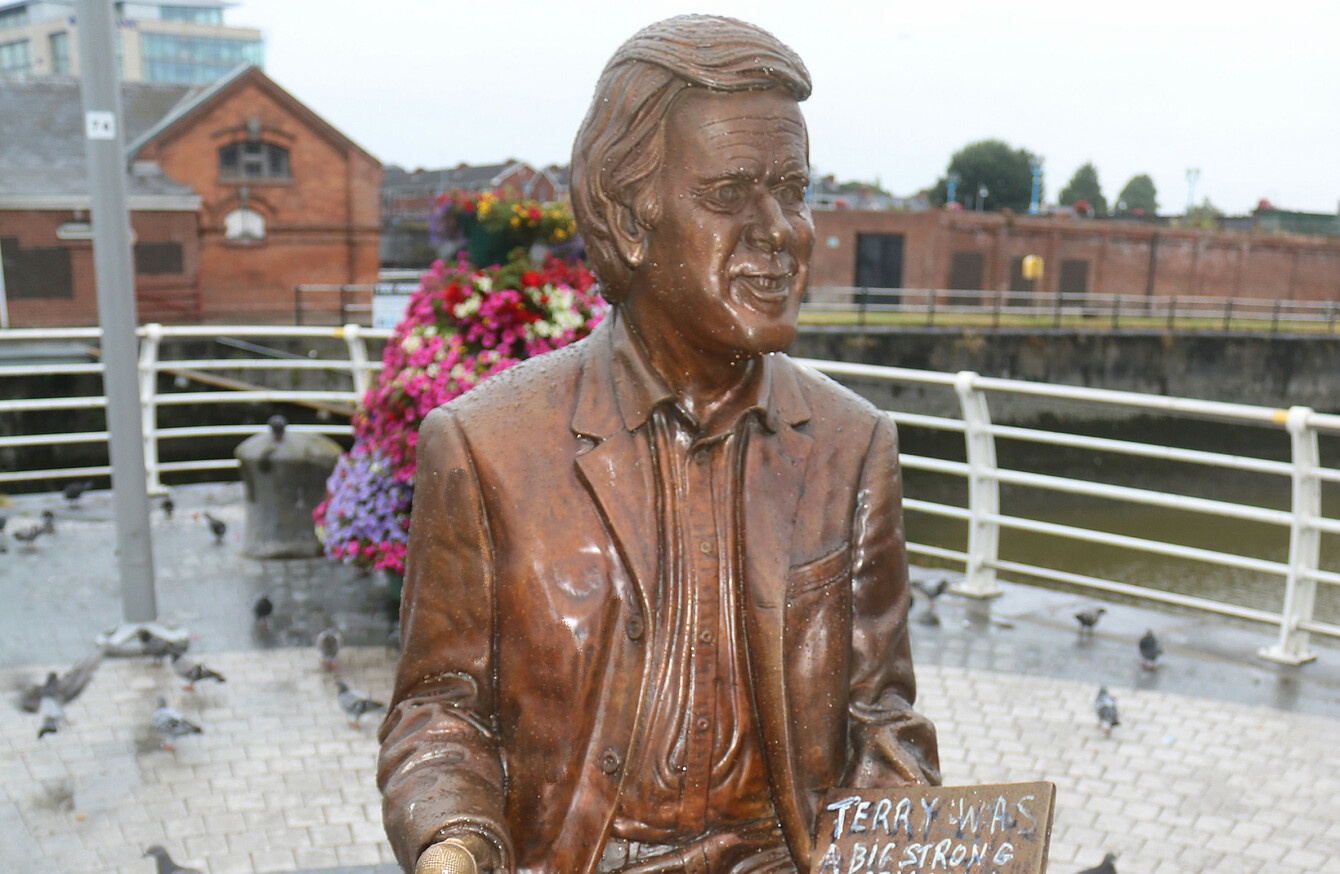 The vandalised statue.
Image: Press 22
The vandalised statue.
Image: Press 22
GARDAÍ HAVE BEEN called on to carry out an investigation after a statue of one of Limerick's famous sons, Terry Wogan, was discovered this morning to have been "defaced".
The bronze statue, which was commissioned by Limerick City and County Council and unveiled on Harvey's Quay in July last year, was created by award-winning sculptor Rory Breslin.
The sculpture of Wogan, seated on a chair with microphone in one hand and interview notes in the other, has previously attracted controversy with some complaining it bears little or no resemblance to the late legendary BBC broadcaster, who was born in Limerick.
Two messages have been daubed over one another on part of the statue, in black and white colored lettering.
A message daubed in black capital lettering reads: "TERRY WAS A BIG STRONG RUGBY MAN NOT LIKE THIS RUNT."
A similar message, which is written in white colored capital letters reads: "TERRY WAS A BIG STRONG RUGBY MAN NOT LIKE THIS LITTLE CHAP."
Non party Councillor Frankie Daly described it as "a deplorable act" and "an act of cowardice".
Wogan was awarded the Freedom of Limerick in 2007.
The veteran broadcaster died aged 77 in 2016 after he was diagnosed with cancer.
"Terry is an icon of Limerick and an attack on his statue is an attack on the people of Limerick," said Daly.
There are other ways to debate an issue without defacing it.
He said the person behind the messages should be "brought before the courts".
Calling for a Garda investigation "forthwith", he added: "This can't be tolerated…It's not acceptable."
I'm thinking of the Wogan family. The perpetrator needs to be brought before the courts and made an example of.
Daly said he'd like to see the person responsible made perform a community service.
I think community service should be the punishment. Maybe get them out on the streets and have pride in the street cleaning and the efforts that go into keeping our streets (clean).
"You don't deface public property, and such an icon as Terry…It's poor."
Concerns
Independent Councillor John Gilligan said he was "sorry to hear the statue has been in someway damaged or vandalised".
However, Gilligan said he has "genuine concerns" about the statue, which he said "bears little likeness" to Wogan.
"It doesn't do him justice".
"I have asked or suggested that the head be recast," he said.
Cllr Gilligan said he did not support the defacing of the statue.
"For somebody to go and take it upon themselves to actually damage any kind of public property is something which is an anathema to me."
"It is not something I would support and it is something I would utterly condemn."
Mayor of Limerick James Collins said people had the right to their opinions, but that writing on public statues was not the way to deliver their point.
Limerick has been trying to improve its public realm, our riverside walks, and some statues have (been commissioned) by my predecessors – a statue for Terry Wogan and for (the late Munster rugby star) Anthony Foley – and people have mixed views on the statues themselves and the likeness and the quality.
"This isn't the way for people to express their displeasure."
"We can all have different views and opinions on things, but I don't think the correct way to express that, is to scribble graffiti on a statue of Terry Wogan."
A Wogan fan group called TOGs (Terry's Old Geezers and Gals) based in the UK, are returning to the city to visit the statue next month.
Gardai have been contacted for comment.