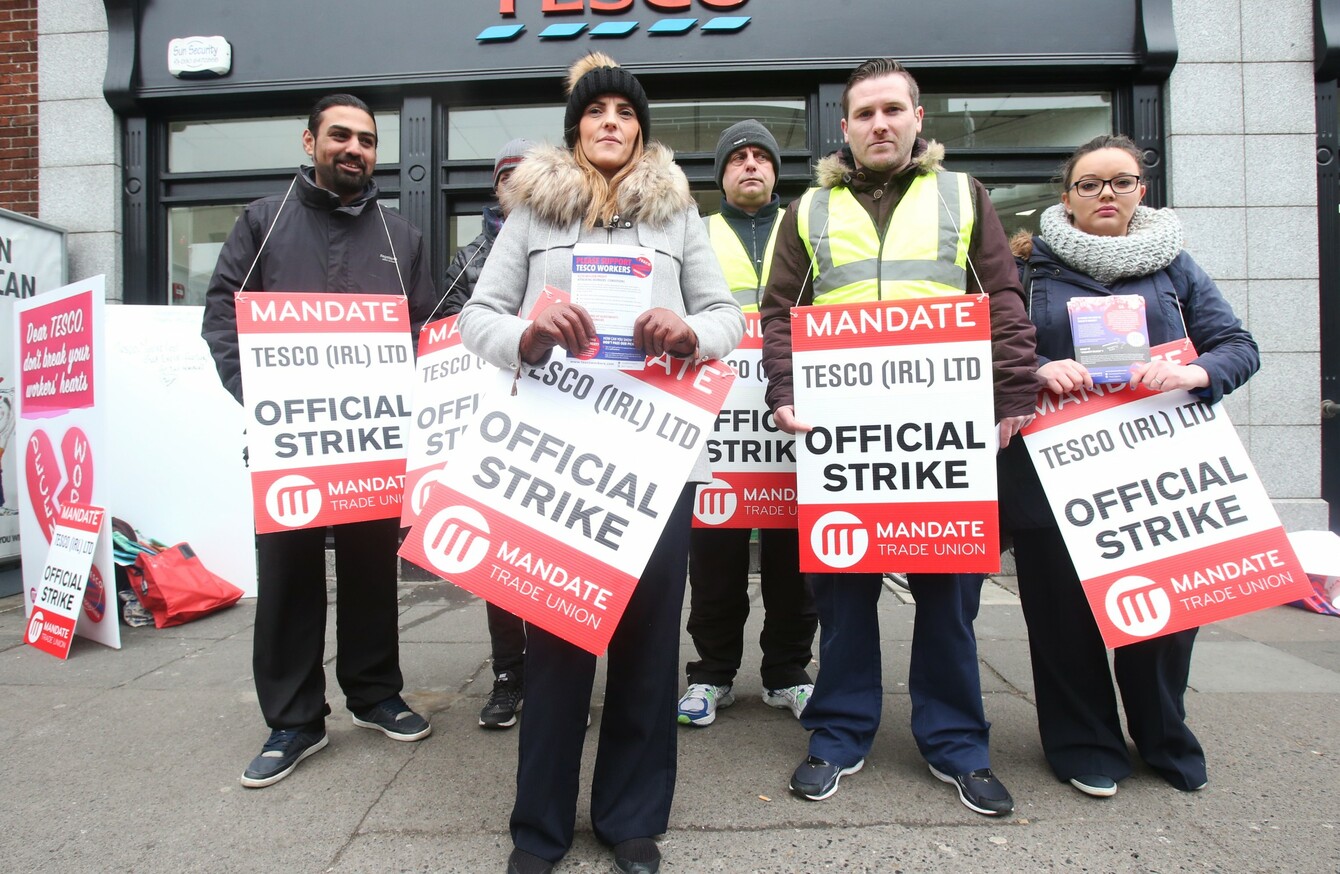 Image: RollingNews.ie
Image: RollingNews.ie
Updated at 6pm 
TESCO IS CALLING on Mandate to support the recommendations of the Labour Court after the supermarket chain claimed that 45,000 people shopped in the 16 stores picketed by strikers over the weekend.
Mandate members at Tesco have been on strike since last week over changes to contracts which will affect 250 workers.
Tesco had made a number of claims about the number of customers visiting stores since Saturday. Responding to the claims, Mandate general secretary John Douglas described the numbers as spin and said that most impacted stores were "experiencing an average loss in sales of over 80%".
Tesco said the 45,000 figure was based on till receipts. Asked by TheJournal.ie how that number compared to business the previous weekend the company didn't answer directly, sending the following statement:
We did see some impact on trade in these stores due to the unjustified strike action but we are nonetheless very happy with support from customers and colleagues with 45,000 customers shopping in these stores over the weekend and more and more colleagues crossing the picket line every day.
Douglas said that it was important that Tesco and Mandate created an environment for negotiations that would bring the dispute to an end.
"We suggested that Tesco Ireland and Mandate should commit to recommencing immediate negotiations, without prejudice to either party's position, on a number of relevant issues central to this long running dispute", said Douglas.
Douglas added that Tesco should agree not to impose any changes to existing contracts and in turn the union would agree to suspend the current industrial action to make it easier to reach an agreement.
Talks break down 
On Friday, talks between the two parties broke down after an agreement could not be reached. Tesco says that there are no plans for further talks.
Douglas has called on Tesco to engage in the process and consider a proposal document that the union presented on Friday.
Tesco said in a statement that the company reaffirmed its position that it had not made any changes to the terms and conditions which are in dispute, calling Mandate's strike action "presumptive and unjustified and they should not set preconditions to call off their actions".
Workers in eight stores across the country went on strike last week over proposed changes to their contracts.
A further eight stores joined in the industrial action last Friday. Mandate have said they will now be balloting 23 other Tesco stores to join the industrial action this coming week.
Tesco has said that it was shocked that Mandate is balloting more stores in an effort to "up the ante" in the dispute.
"Further threatened strike action and the continuing calls for people to shop at non-union competitors is designed to cause damage to our business and we have called on all colleagues to show their support and vote against industrial action," Tesco said.
The strike action is in reaction to a move by Tesco to impose newer 'modern' contracts on workers who have been employed with the company since before 1996. The company claims the old contracts are no longer fit for purpose.
Douglas has said that these new contracts could see long-term employees lose up to 20% of their income.