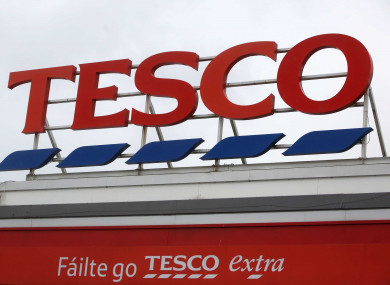 WORKERS AT TWO Tesco stores have voted to strike across three dates in the run up to Christmas.
Mandate Trade Union has served notice that workers at Sligo and Carrick-on-Shannon in Leitrim will stage industrial action over what they claim is the company's denial of their right to collective representation.
Workers in Sligo will strike this Thursday 6 December and again on Friday 14 December, while those in Carrick-on-Shannon will strike on Saturday 22 December.
There union has also warned of a possibility that more dates will be added, and said other stores may join their colleagues in staging industrial action the weeks and months ahead.
Mandate's General Secretary John Douglas said it was "extremely disappointing" to have to resort to strike action in the run up to Christmas, but claimed Tesco management left the workers with no alternative.
"For the last three years Mandate has tried to engage with the company on a whole range of issues, but it seems Tesco management are determined to continue with their de-unionisation plan," he said.
He added that Tesco workers in Ireland were "at a cross roads" and were told by the company that they will no longer be entitled to trade union represention.
"It's appalling that in Ireland in 2018 workers have to strike in the run up to Christmas just so they can avail of their human right to be represented by a trade union of their choice," he said.
The union has called on the company to engage with their workers through their representatives to prevent any damage to the Tesco brand in Ireland.
One Tesco worker, who wished to remain anonymous apologised to the public and said they didn't want to be on strike, but appealed for their support.
"We want to be looking after our loyal customers, particularly in the run up to Christmas," they said.
"We will be losing our wages and we can't afford it. But we can't afford to let Tesco management walk all over us either."
#Open journalism No news is bad news Support The Journal

Your contributions will help us continue to deliver the stories that are important to you

Support us now
Response 
A spokesperson for Tesco called on Mandate to call off the strikes as they were "in breach of the company and union's agreed procedures which are to refer disputes to the Workplace Relations Commission".
"If Mandate proceeds with the proposed unwarranted one-day strike actions for the two stores, both will continue to remain open to serve customers," the spokesperson said.
We regret that Mandate is inflicting this inconvenience on our customers in December when our stores are at their busiest and particularly given these stores are close to the border.
The spokesperson said that in reference to the Sligo store:
"A conciliation conference on the two issues in Sligo was scheduled at the Workplace Relations Commission for October 24th but was rejected by Mandate.
In Carrick-on-Shannon, the matters have not yet been referred back to the WRC by Mandate. Tesco has always abided by agreed procedures and we expect Mandate to do the same.