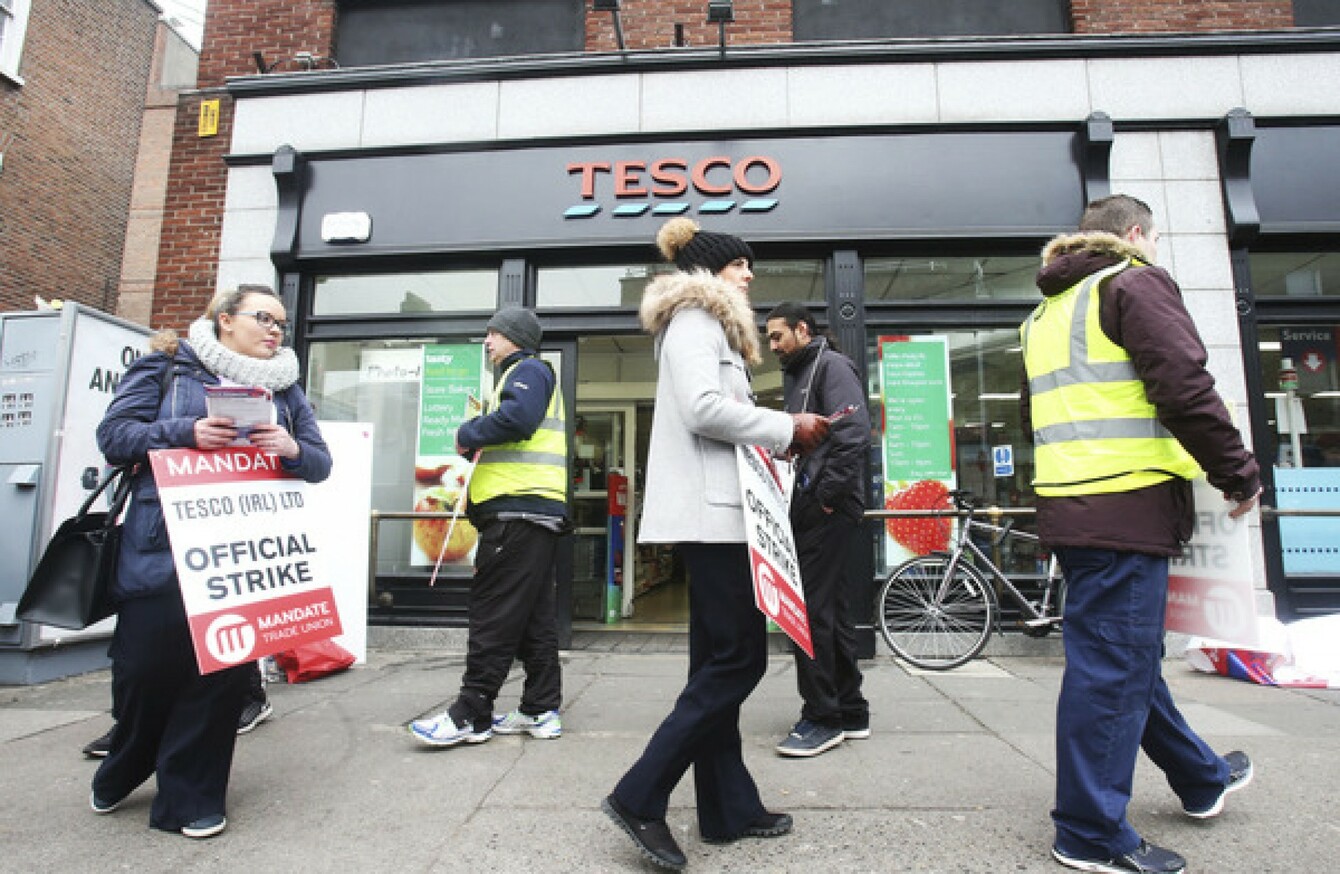 Image: RollingNews.ie
Image: RollingNews.ie
FOUR MORE TESCO stores have voted to join strikes taking place across the company.
Last night workers at Ballinasloe, Bloomfield, Carlow and Newbridge stores voted to strike in response to changes to contracts which will affect 250 workers.
From Monday, 20 stores will be subject to industrial action. A further 13 stores will be balloting over the next two nights.
However, six of the ten stores balloted rejected strike action. A statement from the company welcomed the ballots in the Ashbourne, Lucan, Westport, Killarney Park, Killarney Street and Middleton stores.
"Mandate's actions are impacting on our colleagues including through its calls for customers to shop at non-union stores.
Mandate's irresponsible refusal to accept the Labour Court Recommendation remains at the heart of this dispute. We believe the Mandate leadership should have endorsed the outcome of the State industrial relations processes, which both Tesco and Mandate jointly agreed to utilise to resolve the pre-1996 changes.
For their part, Mandate said that staff had suffered "scare tactics" prior to the votes.
No doubt this intense pressure by management had an impact on the votes of some workers, but the union congratulates all those who withstood the pressure and balloted to protect all contracts of employment in Tesco Ireland.
"Nonetheless, we fully respect the democratic decisions made by all members and the strike will get underway next Monday in four additional stores as will continue in the 16 stores where it is currently underway."
Tesco yesterday claimed that 45,000 people had crossed the picket lines to shop in stores where action is ongoing.