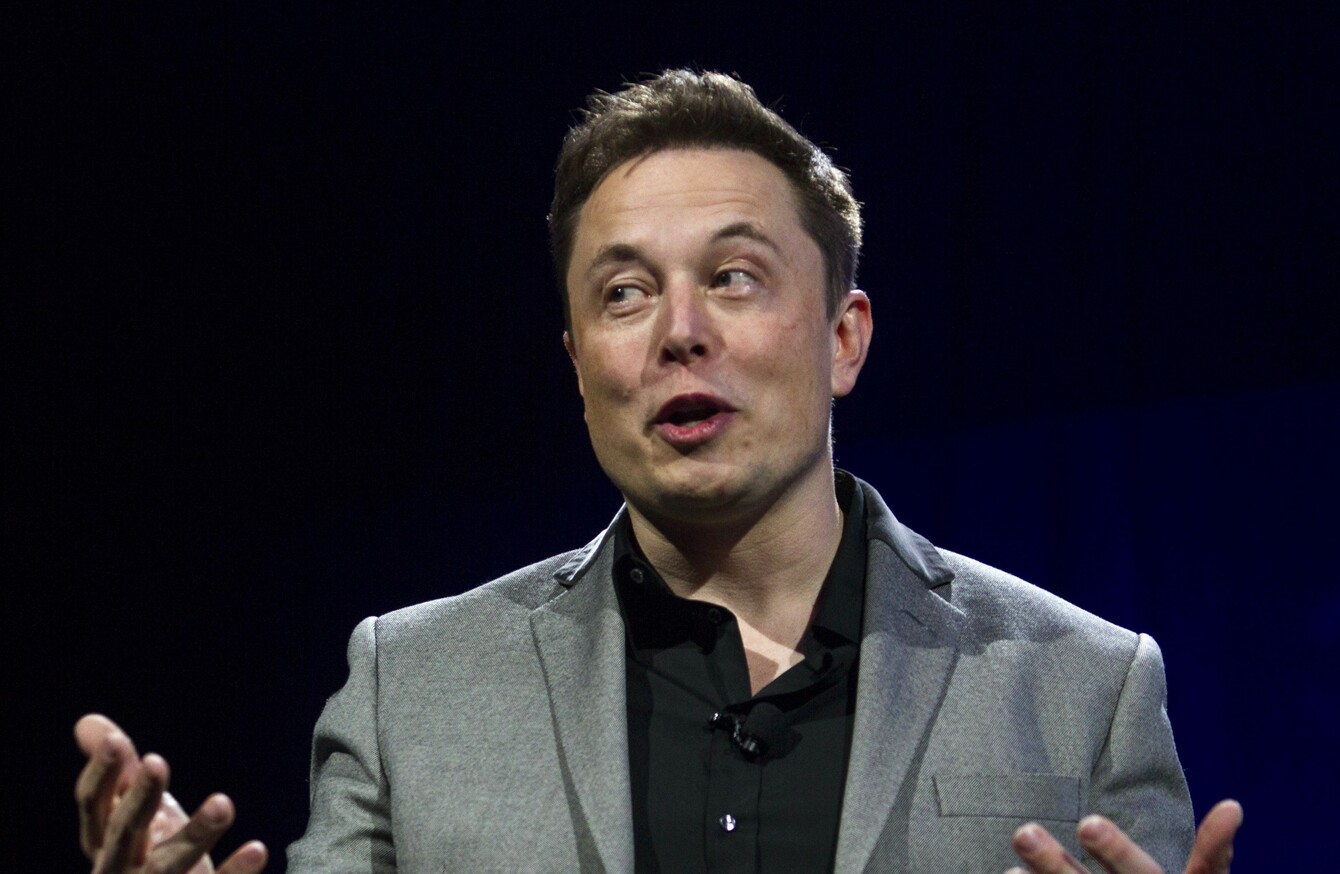 Image: AP Photo/Ringo H.W. Chiu
Image: AP Photo/Ringo H.W. Chiu
TECH BILLIONAIRE ELON Musk has outlined his plans for the next ten years including a system that would allow cars to make money for their owners when they're not using it.
The billionaire, who helped found Paypal and now runs Tesla Motors and SpaceX, published an update to a master plan he wrote ten years ago.
At that time, his aims were based around making electric cars affordable, starting from creating a small number of expensive electric cars and making them more affordable as time went on.
Now he has updated it to include four new aims, which expand upon the work it has already done with electric cars and self-driving features. They are: 
Create solar roofs with integrated battery storage.
Build electric vehicles for other areas like trucks.
Develop a self-driving mode that is safer than manual driving.
Allow your car to make money for you when you aren't using it.
For the last aim, the idea is that those who own a Tesla car could add it to a car-sharing scheme. Since cars aren't used that often throughout the day, creating such a system would help people get to their destinations and make money for the owner.
"When true self-driving is approved by regulators, it will mean that you will be able to summon your Tesla from pretty much anywhere. Once it picks you up, you will be able to sleep, read or do anything else enroute to your destination," Musk said.
You will also be able to add your car to the Tesla shared fleet just by tapping on the Tesla phone app and have it generate income for your while you're at work or on vacation, significantly offsetting and at times potentially exceeding the monthly loan or lease cost.
This dramatically lowers the true cost of ownership to the point where anyone could own a Tesla. Since most cars are only in use by their owner for 5% or 10% of the day, the fundamental economic utility of a true self-driving car is likely to be several times that of a car which is not.
'It's not some silly, hippy thing'
For this to happen, Tesla needs to improve its cars' self-driving capabilities. Currently, Tesla's autopilot system has only been available for a few months and is limited in what it can do – it's still in the beta phase and can only be used when the driver has both hands on the wheel – but it's the direction it and many other car manufacturers are moving in.
Tesla's system faced some controversy when the first fatality involving it occurred in May, but said it did nothing wrong waiting eight weeks after the accident happened before disclosing it.
#Open journalism No news is bad news Support The Journal

Your contributions will help us continue to deliver the stories that are important to you

Support us now
The other aims involve expanding its range to include more than just cars. As well as developing a solar-powered roof to run vehicles, it's also looking at expanding the type of vehicles that run on electric.
Both heavy-duty trucks and public transport vehicles are in development in Tesla and will be ready for unveiling next year, said Musk.
He said the main reason for publishing both plans was to "explain how our actions fit into a larger picture, so that they would seem less random".
"The point of all this was, and remains, accelerating the advent of sustainable energy, so we can imagine far into the future and life is still good," he wrote. "That's what 'sustainable' means. It's not some silly, hippy thing – it matters for everyone".
By definition, we must at some point achieve a sustainable energy economy or we will run out of fossil fuels to burn and civilization will collapse. Given that we must get off fossil fuels anyway and that virtually all scientists agree that dramatically increasing atmospheric and oceanic carbon levels is insane, the faster we achieve sustainability, the better.