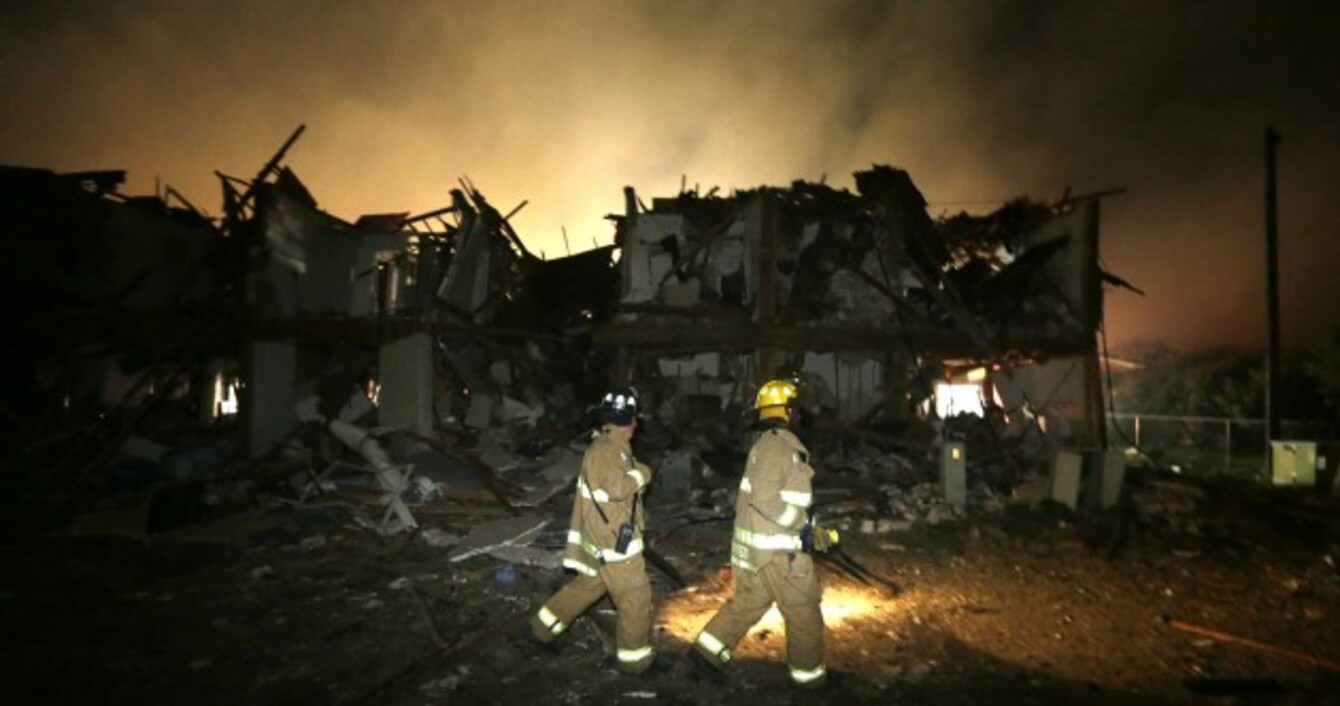 Firefighters check a destroyed apartment complex near the fertiliser plant
Image: AP Photo/LM Otero
Firefighters check a destroyed apartment complex near the fertiliser plant
Image: AP Photo/LM Otero
Updated 10.50am
POLICE IN WACO have said that between 5 and 15 people have been killed in the explosion at a fertiliser plant in West in Texas.
At least 160 other people were injured in the massive explosion, and police have said that the number of people killed is likely to rise in the coming hours.
In a press conference at 4.45am local time (10.45am GMT) Waco police spokesperson Patrick Swanton said the incident is being treated as a crime scene, but cautioned that this was based on a "worse case scenario".
"I have heard no indications that this was anything other than an accidental fire," he said. "However the investigators in this case have not been able to get inside and see".
"Nothing at this point indicates that we have had criminal activity," but nothing is being ruled out, Swanton said.
He said it was "better to label it a crime scene and then it turn into an industrial accident… we always start out at worst case scenario".
The explosion devastated buildings in the area, with police saying that the pressure and impact led to homes and businesses being completely destroyed.
Officials said the search and rescue process would continue for some time as some people may still be trapped under the rubble.
Earlier, police confirmed that a number of firefighters who responded to the initial fire are unaccounted for and said that a police officer may also be missing.
"Numerous" people were injured at a nearby nursing home, most of whom were in the process of being evacuated, the police spokesperson said.
Police would not speculate on the cause of the explosion. "At this point, we don't know," Swanton said.
The huge fertiliser plant went on fire before exploding in a massive fireball at around 7.50pm local time (1.50am GMT). Swanton described the scene as one of "significant devastation".
The fertiliser plant was based in the centre of the town of West, which has a population of around 2,800. The explosion was so powerful that it registered as an earthquake with a magnitude of 2.1, according to the US Geological Survey.
People in nearby homes, a 50-unit apartment complex and the nursing home were all injured in the explosion at the fertiliser plant, Swanton said.
Police said they are being extremely cautious in evacuating nearby homes because of the danger posed by gas lines. Power has been shut off at the scene of the blast and also surrounding areas.

(Video: 
Associated Press
/YouTube)