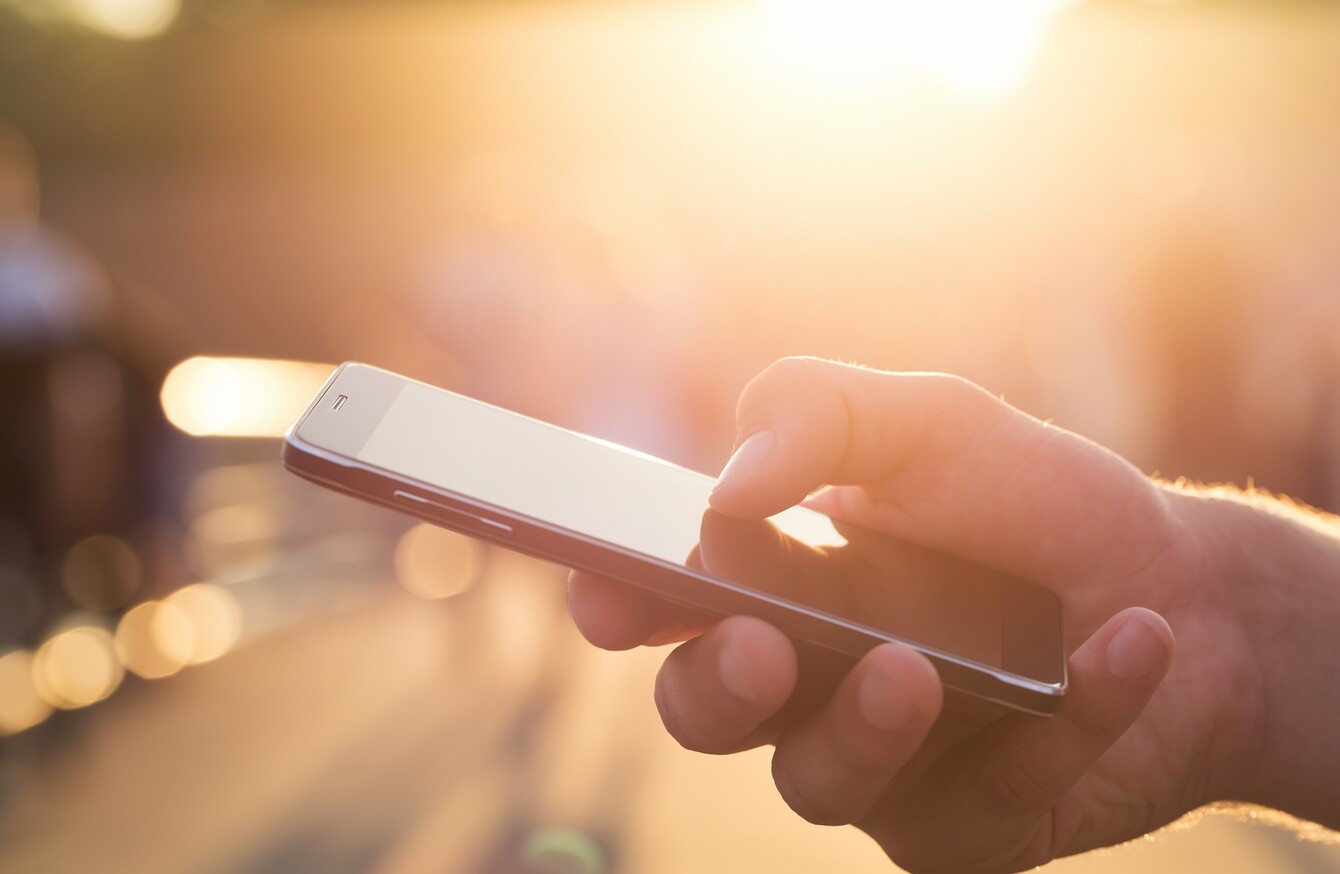 Image: Shutterstock
Image: Shutterstock
THE GROWING AVAILABILITY of free online calls and instant messages seems to be taking a toll on the popularity of the humble text message – and on ordinary phonecalls.
According to the latest statistics from ComReg, the total amount of voice minutes is down 0.6% compared to this time last year.
The average mobile voice subscriber is also now sending just 94 texts a month, down 16.4% on 2015 – reflecting the rise in online mobile services like Whatsapp and Facebook messenger.
In total, 1.38 billion text messages were sent in the three months to the end of September, representing a 16.4% drop compared to the previous year.
We are sending less than half as many SMS messages as in 2012, meanwhile.
Data
The amount of data being used is rising hugely, meanwhile.
The average person now uses 3.4GB of data every month, up 68.8% on 2015 – partly due to the wider use of video on social networks. Almost four out of every 10 mobile subscribers (38.8%) are actively using 4G networks, up 5% on 2015.
The average amount of mobile minutes per mobile subscriber used rose slightly on an annual basis, 0.5% to 211.7 minutes.
The report also shows that the average monthly mobile bill has fallen to €24.32, down from €25.10 at the same point in 2015.
The average prepaid monthly mobile bill here is €9.21 – cheaper 38% cheaper than the average price of six western European countries, but marginally more expensive than in the UK (€8.35). The bill sampled was for 50 minutes, 100 texts and 100MB data.
Broadband
Fixed broadband subscriptions rose to 1.34 million, up 3.6% compared to the same time in 2015.
Around 83% of Irish households have broadband access (either home or mobile) – just above the EU average of 80%.
Mobile and fixed-line customers are also using more data at faster download speeds. Approximately 76.5% of all fixed broadband subscriptions are equal to, or greater than, 10Mbps, up from 71.9% in 2015.
The percentage of fixed broadband subscriptions equal or greater than 30mbps is 62.5%, meanwhile – up from 54.2% for the same point last year.
Yet the Comreg report also found that Ireland is relatively expensive for home broadband.
The average bill here is €35.44, compared to €32.62 in the Netherlands, €28.11 in the UK, €26.50 in Germany and €23.62 in Denmark.
Other statistics included in ComReg's report for the third quarter of 2016 include:
Voice traffic measured in minutes was down 5.1% on fixed-line and 0.6% on mobile compared to 2015.
Mobile voice minutes dropped 1.1% over the quarter, but remain 1% up on an annual basis.
Landline minutes rose 2% over the quarter, but dropped 5.1% on an annual basis.
Ireland's average monthly price for a landline is €32.47, more expensive than Spain, Denmark and Germany – but about the same as the UK.