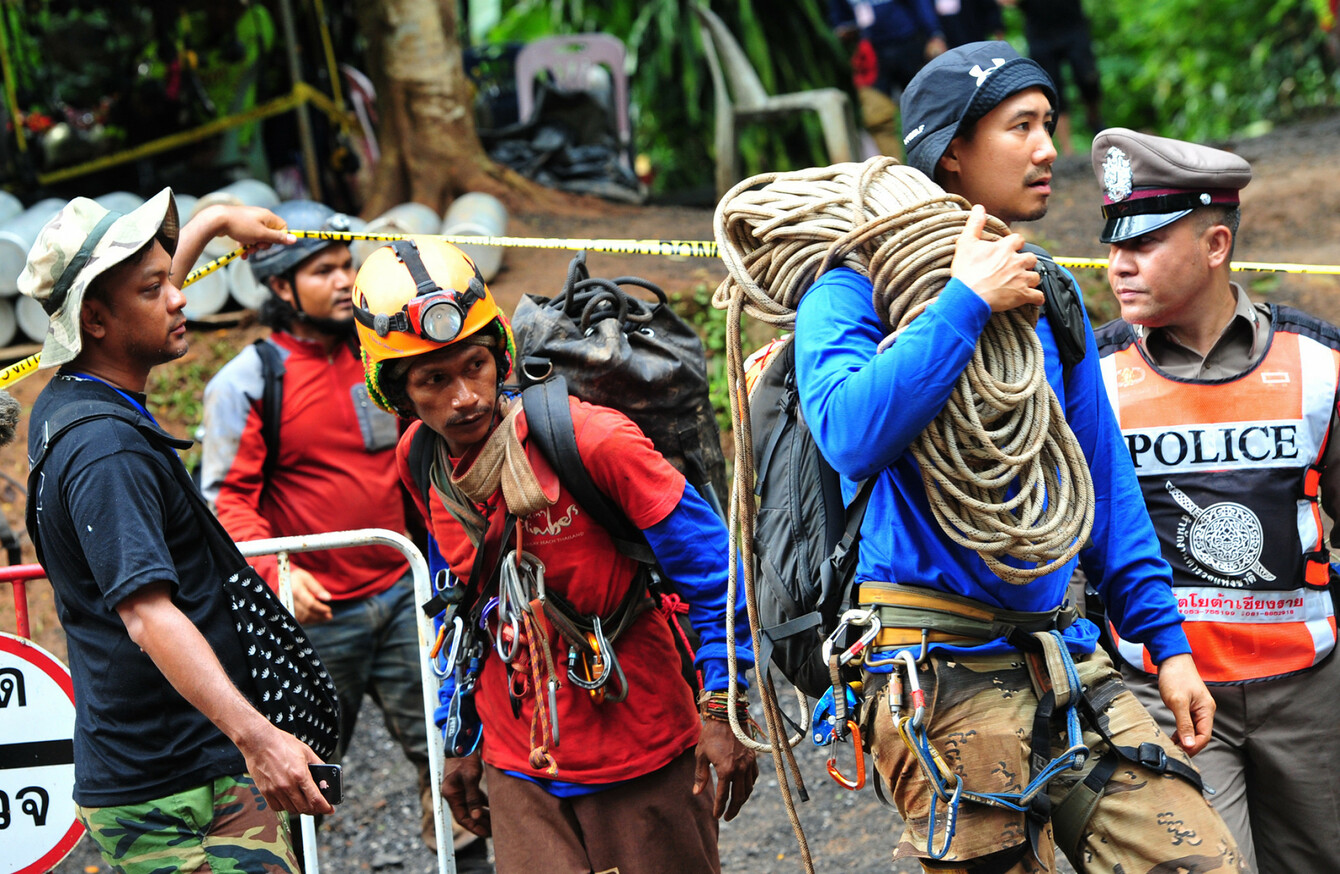 Rescuers with supplies outside the cave
Image: Rachen Sageamsak/Xinhua/PA Images
Rescuers with supplies outside the cave
Image: Rachen Sageamsak/Xinhua/PA Images
IT WAS THE news families had been praying for in Thailand yesterday, when rescuers found the football team that had been trapped in a cave for nine days.
The 12 young boys and their football coach were discovered rake thin and hungry on a mound of mud surrounded by water, but relief was short-lived as the focus has shifted to the tricky task of how to evacuate them from the still-flooded caverns.
The Thai military has said advanced preparations are underway to help them out of the waterlogged Tham Luang cave network in the north of the country.
It could take weeks, or even months, to rescue the team and bring them to safety, however as incessant rains have meant that many parts of the cave are submerged in water.
Food supplies for up to four months are to be given to the trapped boys, and the idea of giving them diving training has also been mooted but it will be a difficult task.
Here are some of the options open to rescuers:
Teach them how to dive?
In theory, it would be possible to escape by diving out.
Cave diving is an extremely risky practice, and would be even more so for young boys with no diving experience.
Tham Luang is one of Thailand's longest caves at 10 kilometres, with winding and at times narrow corridors.
If they dive, they'll have to go take the exact same route that rescuers took to find them, through tiny passageways clogged with mud and silt.
That journey takes a skilled, healthy Navy Seal diver about six hours.
Despite the difficulties, officials did say they would attempt to train the boys how to use diving gear after they are rehabilitated with food, water and medical support.
"Cave diving is a very technical skill and it's extremely dangerous, especially for an untrained diver," Anmar Mirza, coordinator of the US National Cave Rescue Commission, told AFP.
So they may end up being better off trying to supply them in cave until they can be gotten out by other means.
Dig them out?
In theory, this is also possible. Explorers have been scouring nearby mountain tops to try to discovery any other possible openings to the cave.
They have found a few "promising" leads and have tried to drill deeper.
But there is no indication that any of those chimneys lead to the chamber where the boys are stranded.
The boys would need a period of time to be rehabilitated before such a rescue, if possible, could be attempted.
How about just walking out?
That would be the safest option. Unfortunately, right now anyway, that's not possible because parts of the routes remain flooded.
They could wait, but that would be in the hope that the flood waters subside.
Water pumps are working around the clock to drain the floods, but it has been an uphill battle for much of the week as heavy rains refused to let up.
If the current break in bad weather sticks, this option could be more promising. But weather forecasters warn downpours may soon return as monsoon season sets in.
"If the rain fills up the cave system then that might take months before the water drops again," Belgian diver Ben Reymenants, owner of Blue Label Diving in Thailand who is assisting the search, told AFP.
So how long could they be waiting then?
There's no way to know for sure, right now. The boys and their coach went without food for over a week, so will need some time to recover their strength.
As mentioned above, it could take weeks or even months as rescuers work out the safest option for their extraction.
The preparation of food supplies for four months is indicative of how long the rescuers believe it could take.
The children clearly want to leave as soon as possible. In footage that emerged after the boys were found by two British divers late yesterday, one asks to "go outside".
One of the diver replied "I know, I understand… no, not today."
Fortunately, they seem in pretty good shape, considering.
"They're mentally stable which is actually pretty good," Reymenants said.
Luckily the coach had the sanity of mind to keep them all together, huddled together to conserve their energy, that basically saved them.
With reporting from AFP