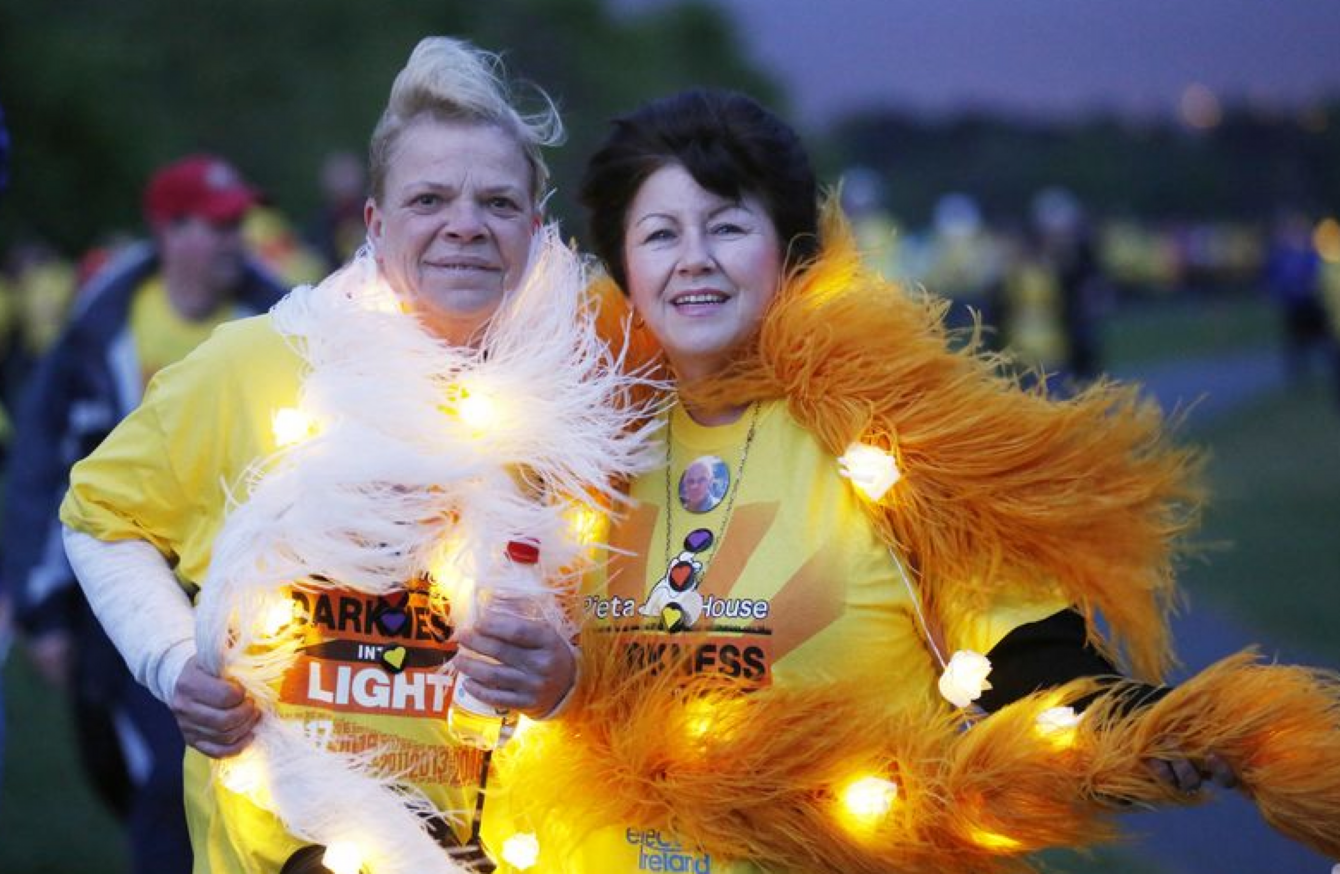 ONE WEEK AGO today, 150,000 people around Ireland left their homes in the middle of the night, arriving at parks, schools and town halls before dawn had even broken.
Their aim? To raise funds and awareness for Pieta House by taking part in the annual Darkness Into Light walk, supported by Electric Ireland. Kicking off at 4.15am, Darkness Into Light is no normal sporting event, with many of those taking part choosing to walk in memory of loved ones lost to suicide.
What began as a sponsored night walk in the Phoenix Park in 2008 has since grown into a global event spread across 150 locations. We spoke to some of those who took part this year – from first-timers to those who worked behind the scenes to keep things running smoothly.
Source: TheJournal.ie Commercial/YouTube
Lisa Callaghan, Leitrim
"We stopped to get some petrol on the way home from the walk, and a man spotted our yellow t-shirts. We got talking to him and he mentioned that mental health awareness meant a lot to him, but that he found the thought of getting involved with events like Darkness Into Light a little difficult sometimes.
"It turned out he had lost three close friends and two family members to suicide. I can't even imagine what he must have gone through… It does your soul some good to know that people who don't even know each other can openly have a chat about mental health  at 5.30am on a Saturday, as if it's the most normal thing in the world. This man was a stranger to us but he opened up just because of the shirts on our back."
Emma Morris, Kildare
"In my family we've had direct involvement with Pieta House, as they gave incredible help to a family member who has suffered with depression.
"At every Pieta House event there's a Banner Of Hope, where people leave different messages. I always write 'Thank you for saving her.' That might sound a bit cheesy but I really do believe in the power of the work Pieta House do."
Patricia Turner, Kerry
"I'm on the organising committee for the Tralee walk. For us it's a full day of preparation. The walk starts just after 4am but we're there from 4pm, setting up registration tables, sorting out t-shirts and decorating. Most people on the organising team, like myself, have had direct involvement with Pieta House or have lost someone in their life to suicide.
"The experience this year was incredible. We had a screen set up in the park with pictures of people's loved ones, and I know a lot of people found the whole event very emotional. I didn't get home until 8am, but you don't even notice the time passing. My daughter is already in full planning mode for next year!"
Niamh O'Donoghue, Dublin
"I thought about my brother Matthew, who I lost last year, for the entire walk. The occasion felt more poignant knowing I was surrounded by other people who have felt the same loss and pain. We were all channeling that negativity to create positive change.
"You didn't know the person beside you from Adam, but you were both there supporting a cause and creating awareness. I was truly blown away by the volume of people who took part."
For more information on Darkness Into Light and the work done by Pieta House, visit pieta.ie.
If you need to talk, contact:
Pieta House 1800 247 247 or email mary@pieta.ie (suicide, self-harm)
Samaritans 116 123 or email jo@samaritans.org
Aware 1800 80 48 48 (depression, anxiety)
Teen-Line Ireland 1800 833 634 (for ages 13 to 19)
Childline 1800 66 66 66 (for under 18s)