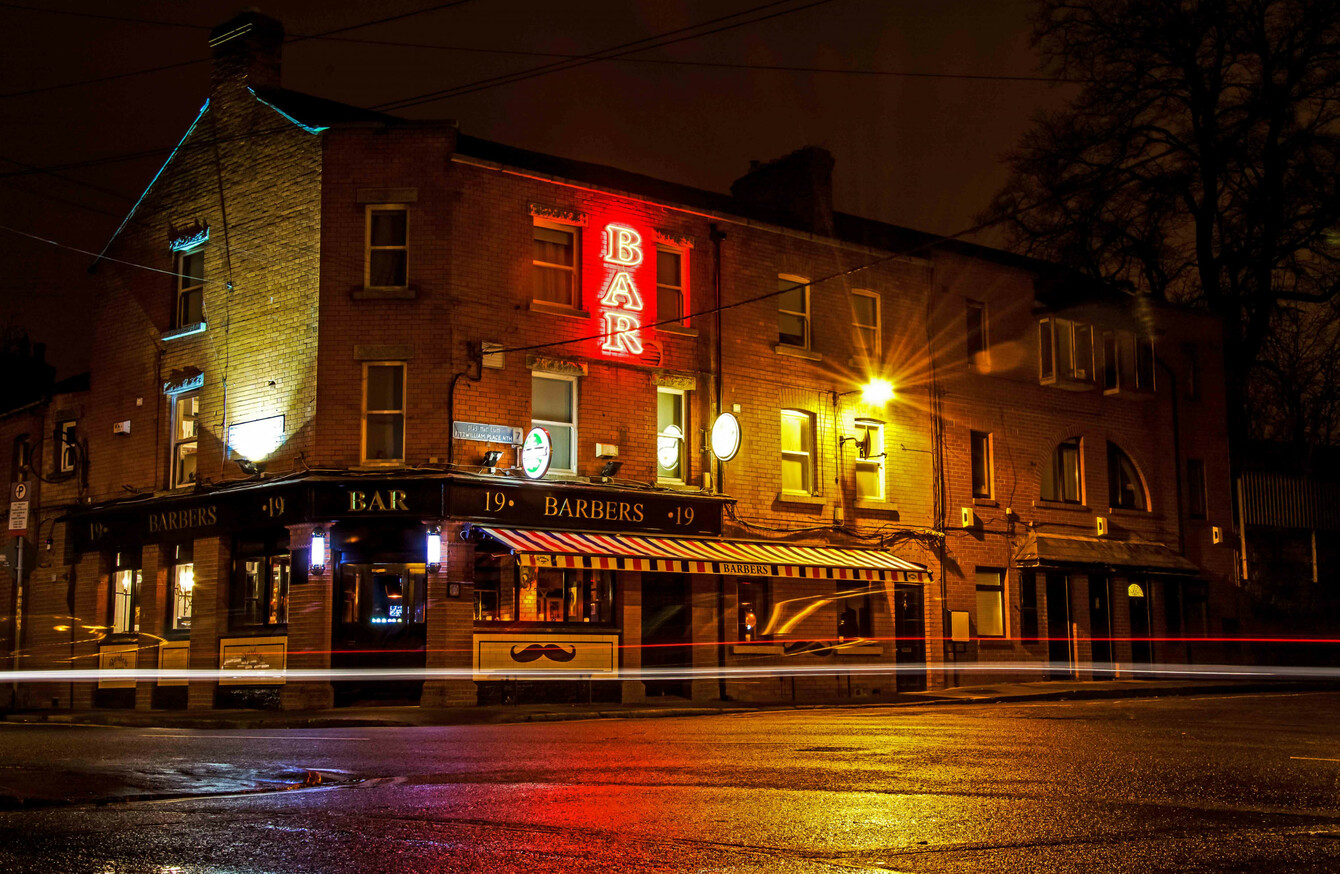 Image: The Barbers
Image: The Barbers
BY THE TIME The Barbers in Grangegorman, Dublin opened its doors in 2016, business partners Ronan Flood and Aaron Groom had already achieved success with Oscars in Smithfield.
But while Oscars was a busy food operation, the two wanted to pursue a drink-only bar in which they could have some fun with the fit out and concept.
The idea to combine a barbershop with a bar came from Flood's friend Chris Darby, a barber by trade. Combining Darby's barbering experience with Flood's catering know-how and Groom's eye for design, the trio set about creating a distinct bar experience. Darby is now retired but as Flood says, "His legacy lives on."
The bar is tinged with dashes of red, blue and white which mirror the barbershop pole that hangs outside its door. On the walls hang vintage advertisements for old barbershops. There are even light fixtures made out of old hair dryers.
"In terms of design and décor, everyone advised to be subtle with the 'barber' theme," says Flood. "We ignored this and went to town on it!"
But there's much more to The Barbers than the ability to get a haircut and a pint of IPA under the one roof. Simply put, it's a lovely place to grab a drink with your mates.
"There's a very relaxed atmosphere at the bar," says Flood. "It's a credit to Steve and Ben who run the show on the floor. They've built up such a rapport with regulars and newbies alike. And with The Barbers being a dog friendly bar, there's nearly always a doggo being the centre of attention. We've held numerous doggy birthdays and even held a very successful doggy brunch."
It's also a great spot to see some intimate gigs. In the past few months, The Barbers has hosted artists such as The Vulture Collective, Steve Gormley, and Dreaming of Jupiter. They're also launching an open mic night from the 4th of April. As a clever initiative to get people on stage, they're offering drink tokens to the first ten performers.
That's all part of the relaxed, participatory nature of The Barbers. As Flood says, "Some of the best music nights we had were the impromptu sessions in which someone took the guitar down off the wall and just started jamming."
#Open journalism No news is bad news Support The Journal

Your contributions will help us continue to deliver the stories that are important to you

Support us now
And of course there's the long-awaited Grangegorman campus for TU (formerly DIT). Though the campus' construction has taken many years, the area is finally expecting an influx of 20,000 students. That puts The Barbers in a prime position to be an excellent hangout for TU's students, many of whom are already studying on the campus.
Flood has resisted the urge to go for the cheap seats. "A bar doesn't have to offer cheap pints to attract students. Instead we offer a unique bar with quality beers, good atmosphere and constant innovation."
In the coming weeks, The Barbers will be installing a small kitchen. And though the regular live music will be taking a break over summer, Flood is planning a series of high profile gigs in the next few months. All this suggests that The Barbers will only increase in popularity, but Flood and Groom aren't letting it go to their heads.
"We have a regular, Dermot, who's been sitting at the same spot at the bar in all its various guises for over 35 years. Our plans will be kept in check if we don't get his seal of approval!"