Clouds of steam spewing through a crevasse in Vatnajokull glacier, near Grimsvotn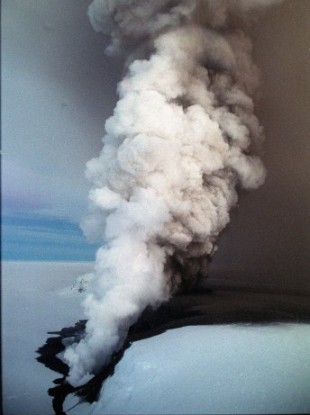 Clouds of steam spewing through a crevasse in Vatnajokull glacier, near Grimsvotn
ICELAND – AND THE rest of Europe – are on volcanic/ash cloud watch again. When meltwater began flooding from the glacial lake in the crater of Grimsvotn volcano on Iceland's biggest glacier Vatnajokull yesterday, geological officials began to fear it might be about to erupt.
The country's Civil Protection Department are keeping a close watch on the situation as Vatnajokull lies on a number of volcanic hotspots, including Grimsvotn volcano. A statement from the department today read:
A meeting was held on the Science board today in light of the latest events in Iceland. Earthquakes, eruptions and glacial river floods were on the agenda. Grimsvotn were a special item on the agenda because of a flood that started on Sunday. Glacial river floods have started eruptions in Grimsvotn before, the last one being in 2004…
While Iceland is declaring only the lowest stage of alert, "the so-called stage of uncertainty", we at TheJournal.ie like to keep our readers prepared for anything.
Firstly, familiarise yourself with the area with this slideshow:
Icy beauty: A glacial lake in Vatnajokull.

Walk on the wild side: Hikers trek Vatnajokull glacier

Crystal cave: An ice cave at Vatnajokull

Source: Wikicommons

Age-old: The snout of Vatnajokull glacier

Peak season: Touting for business near the glacier

Grimsvotn: The rim of the volcano juts out

Source: Wikicommons
Secondly, be ahead of the curve/ash cloud with our guide to Vatnajokull and the tempermental Grimsvotn:
Learn to pronounce it: When the Eyjafjallajokull volcano erupted in Iceland in April, news presenters all over Europe learned to dread the appearance of its name on their autocues. Vatnajokull is easier. It's Vat-na-yuhktl. Grimsvotn is Grims-vo-etn. Simple.
It's not near the other one: Eyjafjallajokull lies about 100km away. Grimsvotn lies in the western part of Vatnajokull, which itself lies in the southeast of the island.
Bad news: Grimsvotn is considered Iceland's most active volcano. In 2004, a similar flood from the lake in its crater was followed by an eruption.
Good news: an eruption might not affect travellers as severely as the April air chaos when more than 100,000 flights were disrupted. AFP quote a spokeswoman from Keflavik Airport who said that it is "near impossible to say if Grimsvotn erupts whether it will have an affect on air traffic at all". It will depend on whether the volcano spews out lava or ash.
You might go there on your holidays (well, maybe not just right now): Vatnajokull National Park, home to Grimsvotn, is the largest national park in Europe. It has Iceland's highest mountain, its largest glacier and Europe's most powerful waterfall.
Bond on ice: The 007 films Die Another Day and A View to a Kill had icy chase scenes filmed on the glacier of Vatnajokull. Incidentally, Vatnajokull means "glacier of lakes".
See for yourself: This is footage shot from a plane of the 2004 eruption at Grimsvotn. Set to the music of Queen's Bohemian Rhapsody.