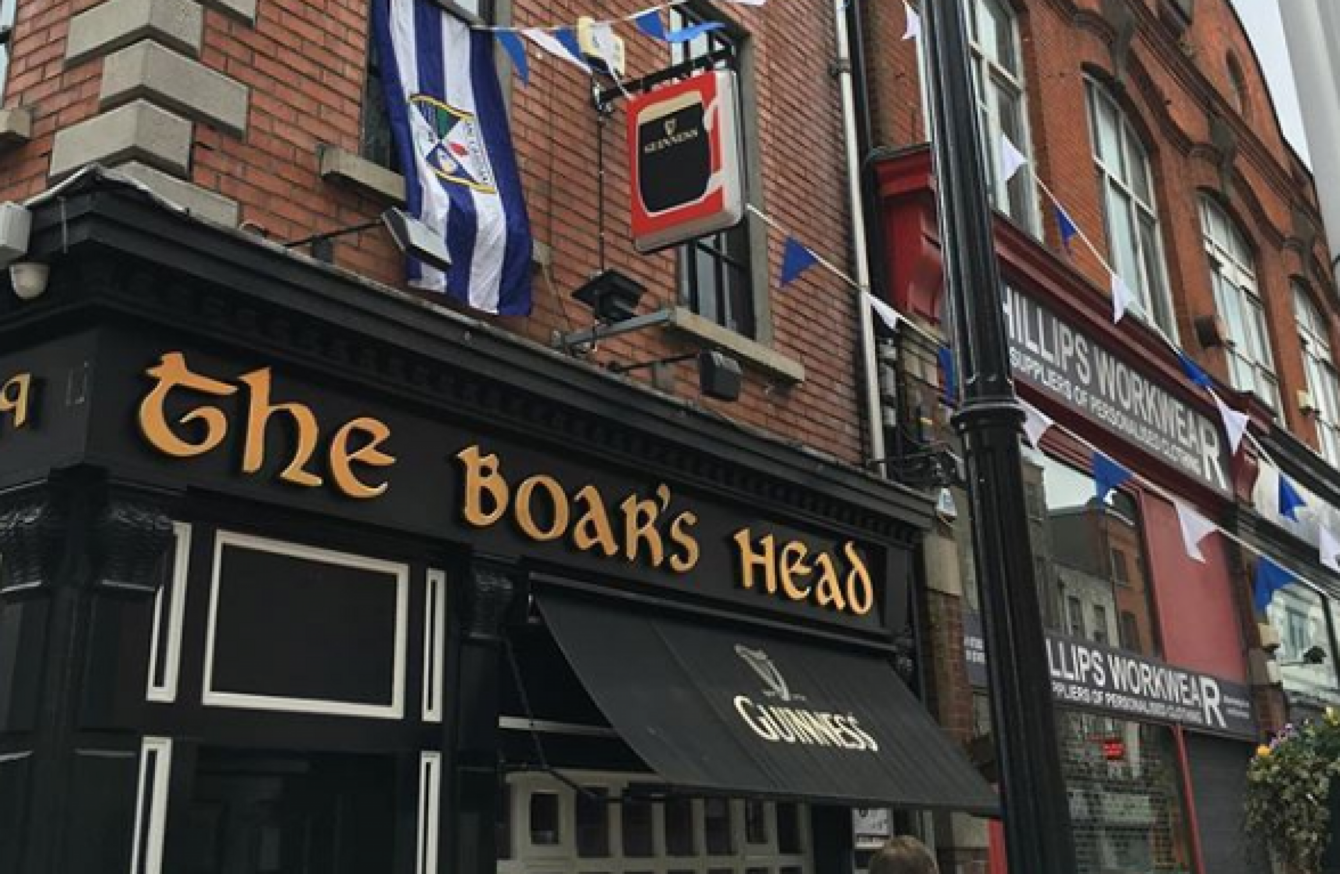 Image: The Boar's Head/Instagram
Image: The Boar's Head/Instagram
"THEY SAY YOU know you've made it when your photo makes it onto the wall of The Boar's Head."
With pictures of Shane Lowry, Padraig Harrington, Alex Higgins and Bernard Dunne among those that line the walls of Capel Street institution The Boar's Head, the above certainly rings true.
"A lot of legends have been here," says owner Hugh Hourican. "The All Ireland champions always come here the next day. We're known as a sports pub." 
He recalls a tale about snooker champion Alex Higgins, one of the many famous names to come through the pub's door. 
He was in here a few weeks before he died. He used to ask me to mind his snooker cue behind the bar when he popped out of the pub. People couldn't believe it. There are three books about him and in each of them, we're mentioned. We were his little haven.
And then there's the time golfing hero Ian Woosnam stopped by in 2006 ahead of the Ryder Cup, which he was elected captain of that year.
"He was here with two or three friends a few weeks before the competition and asked if he could bring his drink outside. Back then, you weren't able to drink outside pubs but I said, 'absolutely!' because who doesn't want Ian Woosnam standing outside their business?"
In addition to the above, regulars at The Boar's Head include Shane Lowry ("he's a friend of ours," he says), Des Cahill and Dáithí Ó'Sé. However, one particular visit never loses its magic for Hourican. 

"My favourite time of year is the All Ireland Championship," he says. "Having all the team come in the next day is a great tradition. It made the place for me… I'm very grateful." 
Despite being a popular spot for many big names, Hourican remains humble. "We're a country pub in Dublin – you never know who you'll bump into."
We do well with tourists, too. We're said to have one of the best pints of Guinness and Irish stew. You can't beat it.
But what is it that makes The Boar's Head different to the dozens of pubs that line the surrounding Dublin 1 streets? For Hourican, it's down to the basics.
People like to be recognised. There's always a friendly chat, and you'll always feel welcome whether you're with a group or on your own. People like a bit of attention.
As the pub approaches its 25th anniversary this August, Hourican says things just keep getting better.
#Open journalism No news is bad news Support The Journal

Your contributions will help us continue to deliver the stories that are important to you

Support us now
"The years have gone by very fast," he says. "Dublin has seen so many changes and it's changing for the better. You have to provide good food, drink and surroundings. There are many varieties of pub and it's a choice you never had before."  
"The area has changed a lot. We're very lucky."
Hourican and his wife Ann bought the pub in 1994 through a public auction when they were working in New York as a waitress and bartender.  
"We told no one that we were bidding in the auction because we didn't think we would get it. We were both in work and I had to ring my wife to tell her, 'believe it or not, we got it!' Two weeks later, we came home."
"Our mission was to always move back to Ireland," he says. "We have no regrets."
In the game that is running a successful business in the ever-changing Dublin landscape, it seems that The Boar's Head is always a winner.