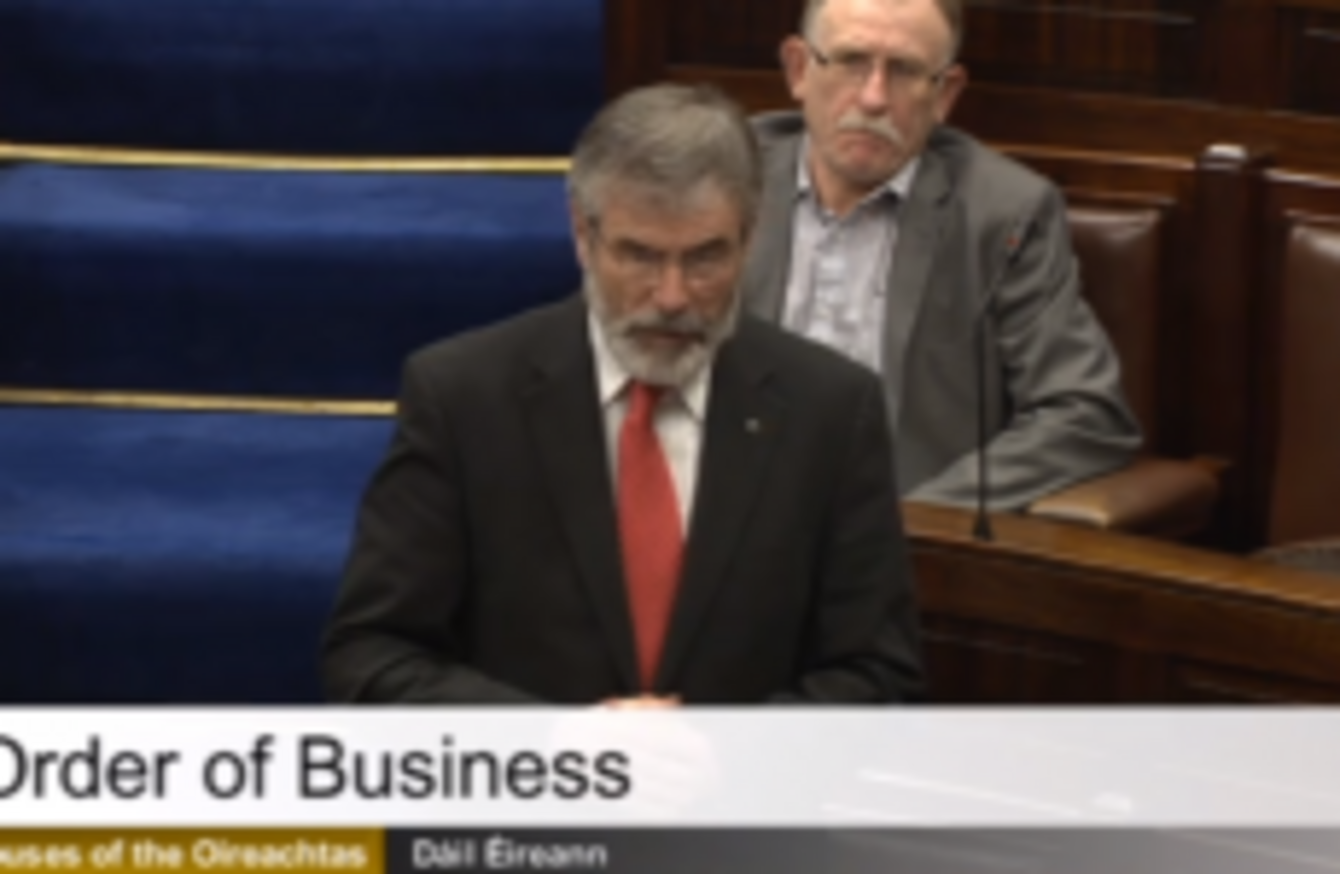 Image: Screengrab/Oireachtas
Image: Screengrab/Oireachtas
SINN FÉIN LEADER Gerry Adams said he took part in last night's documentary on 'The Disappeared' to focus attention on the efforts to recover the bodies of those killed by the IRA and never found.
Adams said that he has "worked very closely" with Independent Commission for the Location of Victims' Remains and will continue to do so. "The key to resolving this terrible wrong for the families is information, " he said.
In a hushed exchanged between the leaders of Sinn Féin, Fine Gael and Fianna Fáil in the Dáil, Adams said:
I think  that the programme last night should be a huge motivation to anyone with any information whatsoever to bring it forward.
He also asked Taoiseach Enda Kenny to "join with me in assisting very actively the work of the commission that was set up by the last Government."
Kenny said that he accepts that Adams had a genuine interest in encouraging those with information to come forward:
It may well be that there are some people out there who know what happened and it may well be that your own appeal to this house has some effect. I hope that the programme stimulates some active minds in regard to what happened.
An Taoiseach addressed the claims in last night's programme that Gerry Adams ordered the killing of Jean McConville by saying that "the fact of the matter is that somebody ordered that Jean McConville be murdererd".
Adressing Adams later he said that: "There were some very direct comments made indeed about your presence on the programme yesterday evening."
Fianna Fáil leader Micheál Martin said that last night's programme was "very harrowing to watch" and said that the families involved in the programme deserve great credit for their bravery. He asked that "every effort is made to pursue the case of the murder of Jean McConville".
Independent Commission for the Location of Victims' Remains
Justice Minister Alan Shatter said those responsible for "The Disappeared", "have no moral compass and no justification for their actions". Too many families have had their "hopes dashed" he said:
The Commission needs further information to be able to progress its investigations – this is the only resource that is missing. obody has anything to fear by providing information. Information provided to the Commission is guaranteed the strictest confidence and can only be used for the purpose of locating and recovering the victims' remains.