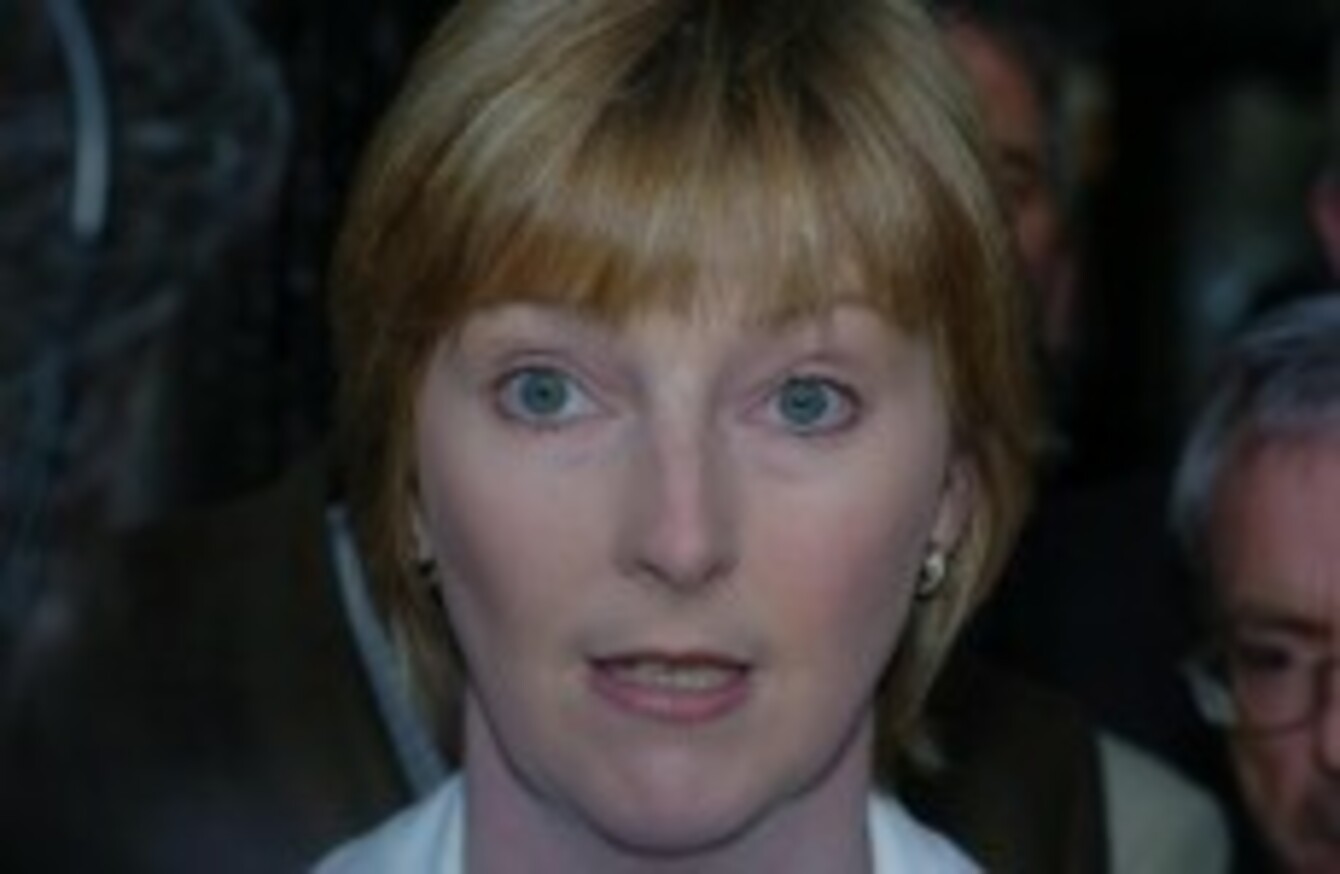 THE ANNOUNCEMENT BY Mayo Fianna Fail TD Beverley Flynn that she will not stand in the upcoming general election has caught a few of her supporters on the hop, it seems. Cllr Damien Ryan, her friend and fellow Fianna Failer in Mayo, told The Irish Times today that her decision had come as a shock and had thrown FF's plans for the election in Mayo "into chaos".
Another FF councillor, Jimmy Moloney, said that her stepping down was "terrible for the whole of Mayo and Castlebar" and that Fianna Fail would have to come up with a candidate for Castlebar, rather than "leave the floor open to Enda Kenny". Cllr Moloney also told The Mayo Advertiser that Flynn's decision was purely a "family" one. He said:
There is no question that the reason she is going is because she is going to lose her seat. It's very hard on her kids going to school and trying to get people to mind kids and bring them to school, it's absolutely dreadful.
The announcement brings an end to one of the most infamous political dynasties in Ireland. Beverley Flynn's father is former FF minister and EU commissioner Padraig or 'Pee' Flynn, who once described his daughter as a "class act".
Padraig Flynn attracted plenty of controversy during his career. 'Highlights' included:
Accusing Mary Robinson of having a "newfound interest in her family" for electioneering purposes when she was running for President of Ireland in 1990.
Being sacked from the Cabinet in 1991 for supporting a motion of no confidence in then Taoiseach Charlie Haughey. (He got back in a year later and became Justice Minister when Albert Reynolds, who he had supported, because Taoiseach).
Making remarks on the Late Late Show about builder Tom Gilmartin and a donation of £50,000 he made to FF. He also detailed his lifestyle for the delectation of viewers, listing his £140,000 salary ("£100,000 net" said Pee), three houses, cars, "a few housekeepers" and travel – and complained of the cost of keeping all these balls in the air. On the same show, he said Beverley had been attacked "unfairly" in her political career, part of which was "because she was Padraig Flynn's daughter".
This was Pee's notorious 1999 Late Late Show interview. He calls Bev "a class act" at 1:21:

Beverley was similarly supportive of her father in the Dail. She first ran for a TD seat in 1994 to fill the vacancy left by Padraig Flynn when he went to Brussels as EU commissioner but lost out to Fine Gael's Michael Ring. She was elected to the Dail in the 1997 general election and has been in and out of favour with Fianna Fail ever since:
In 1999, the year Pee Flynn defended her honour on the Late Late, Beverley voted against a Dail motion asking her father to clarify the allegations about a £50,000 donation from Tom Gilmartin. She was expelled from the parliamentary party for her vote.
A year later, she regained the party whip but lost it again within twelve months after her unsuccessful libel action against RTE for Charlie Bird's report on her work at National Irish Bank. He had claimed that she had helped NIB customers to evade tax by advising them into offshore schemes based in the Isle of Man. Flynn denied the claims but was awarded no damages as the High Court found in 2001 that it had been proved that she had encouraged clients to avail of the illegal investment schemes. She appealed to the Supreme Court and lost.
In the meantime, Beverley had been again accepted back into the FF parliamentary party and was elected as a FF TD in the 2002 general election. She was again expelled from the parliamentary party and also from Fianna Fail entirely in 2004 when she lost her Supreme Court appeal against RTE.
The RTE libel case controversy rumbled on – in 2007, she settled a €1.24m costs payment to the broadcaster. But as she owed them €2.4m, there was public outrage that, RTE being funded in part by licence payers – it was essentially taxpayers' money that would have to make up the shortfall.
Beverley Flynn ran and won as an independent in the 2007 general election. She was brought back into the FF fold in April 2008. Even so, she continued to stick her head above the parapet over the issue of an allowance paid to independent TDs. She had been claiming €41,000 allowance above her €106,000 basic salary,  saying that she was entitled to it because she was an independent TD when elected. In January 2009, she said:
What I'm saying is that I'm entitled to that allowance, as every other independent TD is, and I'll use that allowance for the benefit of my constituents – and it certainly is badly needed.
Less than a week later, Beverley Flynn said that she had spoken with Taoiseach Brian Cowen and agreed to give up the allowance. Author Joseph O'Connor wrote an "ode" to Bev in his radio diary on RTE Radio 1′s Drivetime:
Now that the Flynnasty has come to an end,
TheJournal.ie
has to admit we'll miss the rollercoaster drama of the Mayo father-and-daughter combo. We'll just have to make do with watching re-runs of Dynasty catfights instead: