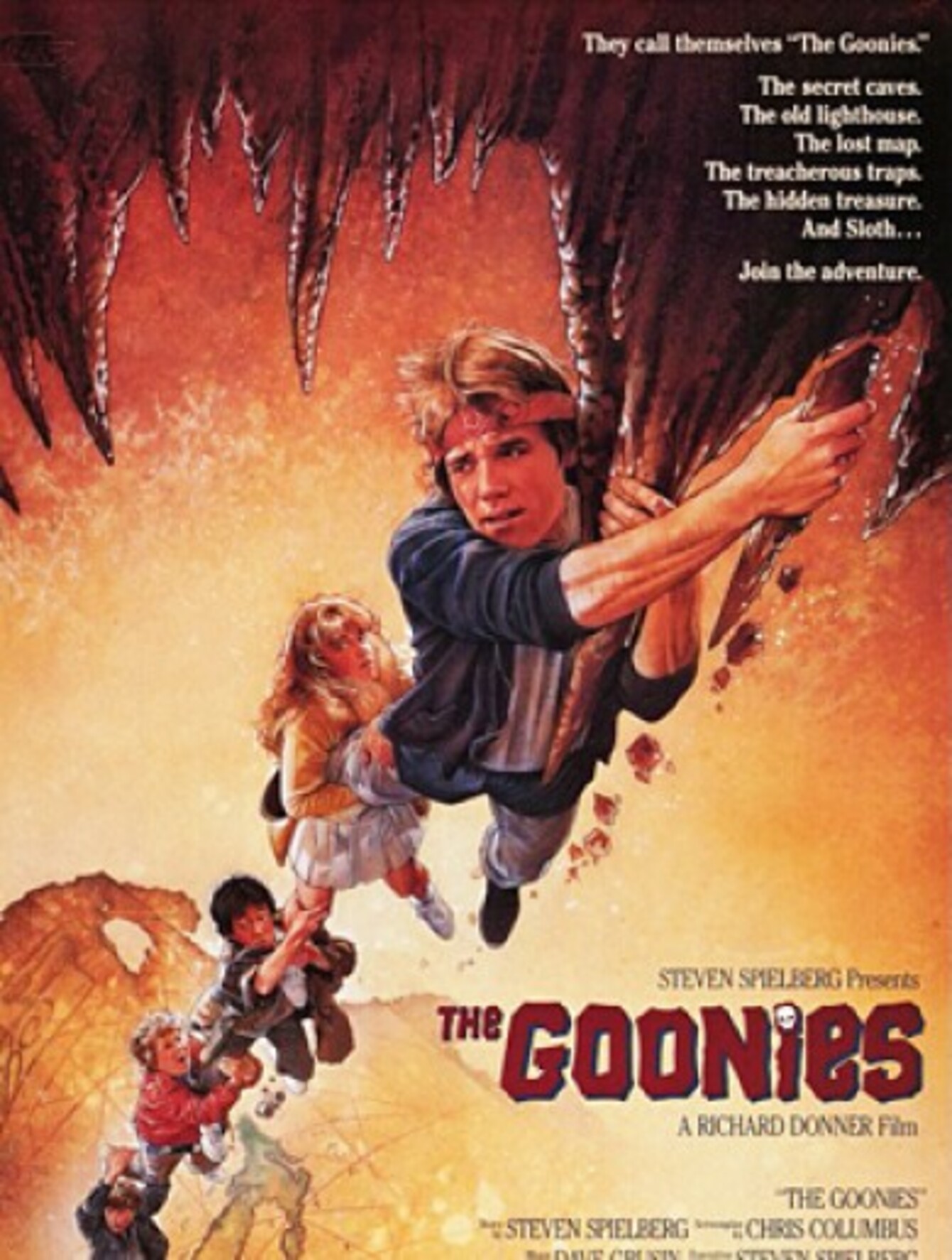 Image: Wikimedia Commons
Image: Wikimedia Commons
IT'S THIRTY YEARS since The Goonies came out.
That noise you're hearing is how old you are hitting home hard.
Seriously though, for people of a certain vintage they don't come much more seminal than the story of a group of kids staving off the destruction of their neighbourhood by searching underground caverns for a long-lost pirate ship.
It's hard to imagine a kids movie being made nowadays with something like the truffle shuffle in it.
They don't make 'em like they used to. If you haven't seen it, we recommend you seek out a copy. It'll cheer you up, promise.
But where are the Goon Docks saviours now? Here's what became of the cast:
Brand Walsh (Josh Brolin)
The hunk-a burning love that had 1985′s 15-year-old girls swooning in the aisles (probably) had a fairly inauspicious career for the most part in the aftermath of being chief Goonie.
Then 2007′s No Country For Old Men happened, and now Hollywood can't get enough of the effortlessly craggy star – he's a character actor very much in demand with an Oscar nomination under his belt (2008′s Milk), Inherent Vice being a recent standout.
Divorced from actress Diane Lane, he's now 47 years old. His dad, fellow actor and 70s heartthrob James Brolin is married to Barbra Streisand
Mikey Walsh (Sean Astin)
Brand's younger brother and the de facto, asthmatic leader of the Goonies, Mikey Walsh was the kid we all wanted to be.
Much like Brolin, Sean Astin had a fairly quiet career for a time. That is until The Lord of the Rings trilogy happened. As Samwise Gamgee, portly bodyguard to Elijah Wood's Frodo, Astin achieved a certain immortality.
Since the final LOTR movie in 2003 the 44-year-old has continued to work steadily, if in rather unremarkable movies. He's been married since 1992 and has three children. Bonus factoid – his dad was John Astin, who played Gomez Addams in the original 60s Addams Family series.
Mouth (Corey Feldman)
Not many people have been through as many highs and (mostly) lows as Feldman. An 80s movie staple, he was in them all: Gremlins, Stand By Me, The Lost Boys, The Burbs, and License To Drive (with namesake and fellow 80s kingpin Corey Haim). In The Goonies he played smart-alec Spanish speaker Mouth.
Time hasn't been too kind to Feldman though. Struggles with addiction and two marriages took their toll on his career. He was also a star of reality show The Two Coreys (with Corey Haim, who passed away in 2010)
Now 44, he was last seen in Sharknado 3. Oh dear.
Data (Ke Huy Quan)
Gadget-enthusiast and James Bond wannabee, Data was a loveable centre for the movie. Vietnamese actor Ke Huy Quan has the kudos of being involved in two stone-cold 80s classics (he was Short Round in 1984′s Indiana Jones and the Temple of Doom to boot).
His career moved away from front of camera in the intervening years. Now aged 44 and a Taekwondo expert, he works mostly as a movie stunt co-ordinator, with credits including the original X-Men and The One. He also apparently attended the University of Manchester in the UK.
Chunk (Jeff Cohen)
The unfortunately-named liar extraordinaire, Chunk was the youngest Goonie with Cohen just 11 when the movie was released. His relationship with Fratelli black-sheep Sloth is one of the enduring memories of the movie.
Cohen abandoned movies soon after The Goonies and obtained a law degree. These days the 41-year-old runs his own law firm Cohen & Gardner in Beverly Hills. He also writes periodically for the likes of the Huffington Post.
The Fratellis (Joe Pantoliano & Robert Davi)
Memorable bad guys (and inspiration for the UK band of the same name) the Fratellis were, well, murdering scumbags. The squabbling of the two brothers (together with Ma Fratelli, possibly the most terrifying matriarch of them all) and their inept pursuit of the Goonies in the bowels of the earth beneath Astoria, Oregon, mark them as characters a generation will never forget.
Proof that bad guys finish first, both Fratelli brothers' careers have thrived in the interim. Robert Davi (Jake Fratelli) has been a swarthy Latino stereotype in movies constantly since 1985. He's even been a Bond villain (in Licence to Kill), and can lay claim to one of 1988′s Die Hard's most memorable bit-parts – that of Special Agent Johnson. Now 61, he's most recently been seen in The Expendables 3.
Joe Pantoliano (preferred brother Francis Fratelli) meanwhile has been one of Hollywood's busiest character actors (or "hey, it's that guy"s) in the interim. From betraying Keanu in The Matrix, to keeping Tommy Lee Jones company in The Fugitive, to coming a cropper courtesy of Tony Soprano (as Ralphie in The Sopranos he played one of the series' most repellent characters), the guy is in everything. He's 64 now and married with four children.
Sloth (John Matuszak)
They don't come any more memorable. The deformed and outcast Fratelli brother Sloth was the movie's heart. His relationship with the similarly pariah-like Chunk brought many's a tear to a hard-hearted person's face. 'HEY YOU GUYS!'
Actor John Matuszak's story is not so happy unfortunately. A two time Superbowl winner as an American Footballer in the 70s and 80s, he became an actor when his career ended in 1982. Unfortunately he was also packing enormous narcotic and painkiller addictions. He died of a suspected cocaine overdose aged just 38 in 1989.
One-Eyed Willy
Hopefully still sailing around the North Pacific. God bless Willy and his 'rich stuff'.