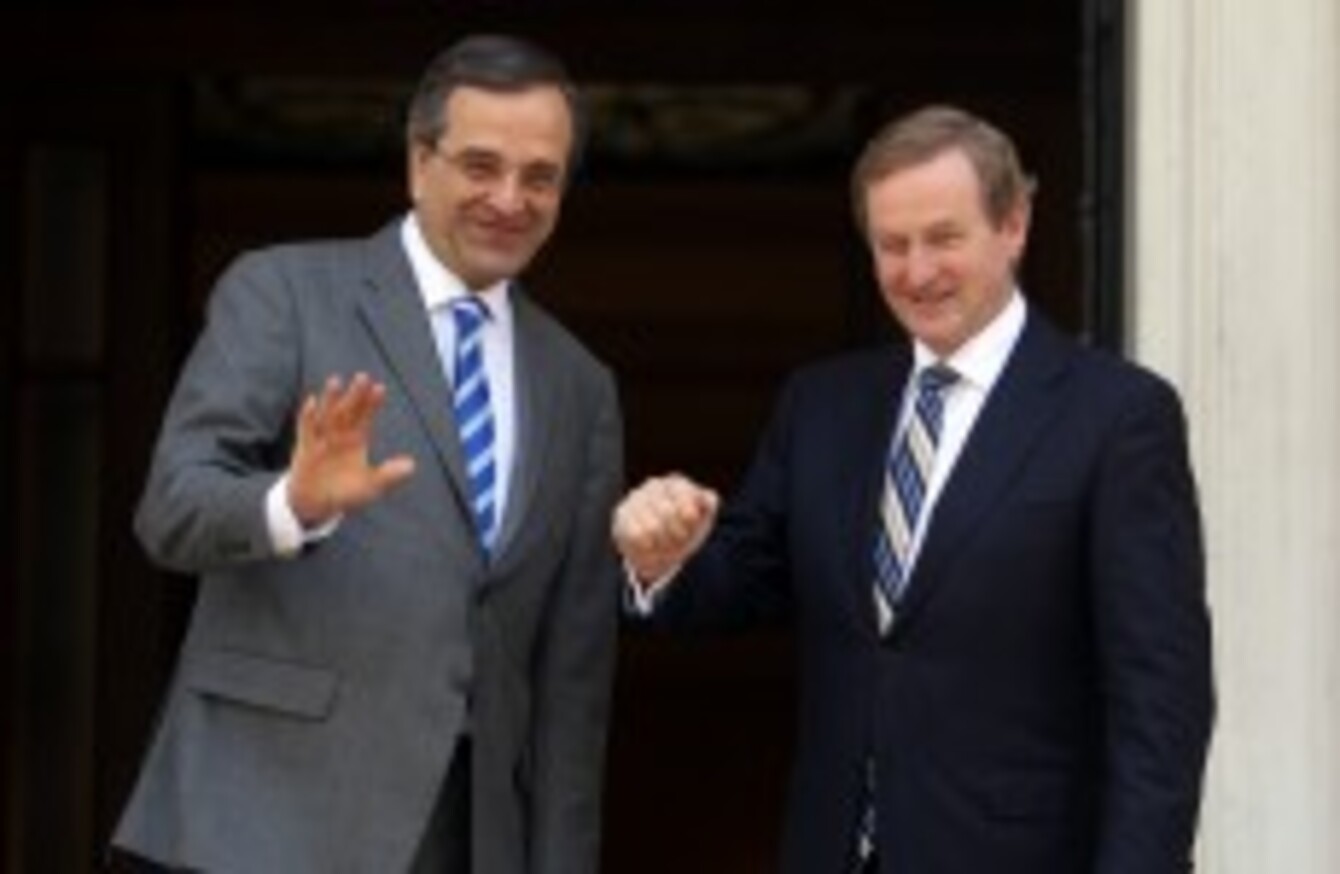 "Well, that was productive"
Image: AP Photo/Thanassis Stavrakis
"Well, that was productive"
Image: AP Photo/Thanassis Stavrakis
IS THE NEWS getting you down? Current affairs causing a frown? Satirical site The Mire has an alternative angle on the week's hot topics…
Laughter everywhere at the idea of standards in public office
Monday, 20 May
Hysterical laughter broke out across Ireland this morning after Independent TD Mick Wallace suggested there was such a thing as a Standards in Public Office Commission.
Mr Wallace said he would complain to the Commission about Justice Minister Alan Shatter misusing confidential garda information.
This immediately prompted laughter all over the island of Ireland with many people laughing until they needed medical attention.
"The baby in my womb was laughing so hard I thought I'd gone into labour," a young mother-to-be said. "Where does he get these crazy ideas?"
Riot squad monitoring Oireachtas abortion festival
Tuesday, 21 May
Gardaí are monitoring the Oireachtas Abortion Festival in case abortion revellers refuse to leave when it comes to a close this afternoon.
"There are clear signs that a core group have no intention of stopping talking about abortion," a garda riot squad source said.
"But the law is the law. The festival only has a three day licence. If they don't cease and desist we will have to go in."
The source said paramedics would also be available to help those who overindulged in abortion discussions at the festival.
"Some of them are quite overcome. They will need help," he said.
J Edgar Shatter to fight dirty war on tax haven issue
Wednesday, 22 May
Secret Police Minister J Edgar Shatter is under pressure to unearth something compromising about members of the European Council this morning.
Taoiseach Enda Kenny is attending a meeting of the council today and needs some leverage to deflect attention from accusations by a US Senate subcommittee that Apple uses Ireland as a tax haven.
"This is a real test for J Edgar Shatter," an analyst said. "He needs to give the Taoiseach something really juicy to win this dirty war."
Separately, it is understood that intelligence from Mr Shatter will also be used to decide whether suicidal pregnant women who require an abortion are really suicidal pregnant women who require an abortion.
Taoiseach and Greek PM to hold shortest discussion ever
Thursday, 23 May
Taoiseach Enda Kenny will discuss economic recovery with Greek Prime Minister Antonis Samaras today in what could to be one of the shortest discussions ever.
Indeed, experts believe the social pleasantries in Athens could outlast the actual discussion which is expected to go something like this:
Enda Kenny: "So Antonis, economic recovery…"
Antonis Samaras: "Yes Enda…"
#Open journalism No news is bad news Support The Journal

Your contributions will help us continue to deliver the stories that are important to you

Support us now
Enda Kenny: "What's it all about?"
Antonis Samaras: "No idea. I was hoping you'd be able to tell me.
Enda Kenny: "Shite."
Antonis Samaras: "And onions."
Dáil beauty pageant preying on politicians' insecurities
Friday, 24 May
Organisers of the Dáil Beauty Pageant have been criticised for preying on the insecurities of vulnerable politicians.
Politician Psychologists claim the pageant causes politicians anxiety and makes them fall out with each other.
"You get Alan Shatter having a go at Mick Wallace and Mattie McGrath turning on Alan Shatter… it is a clear sign that they are feeling the pressure," a psychologist said.
However, the beauty pageant organiser said it was nice to give politicians a chance to dress up and show off.
"I wouldn't like to live in a world where we couldn't celebrate Alan Shatter's beauty," she said.