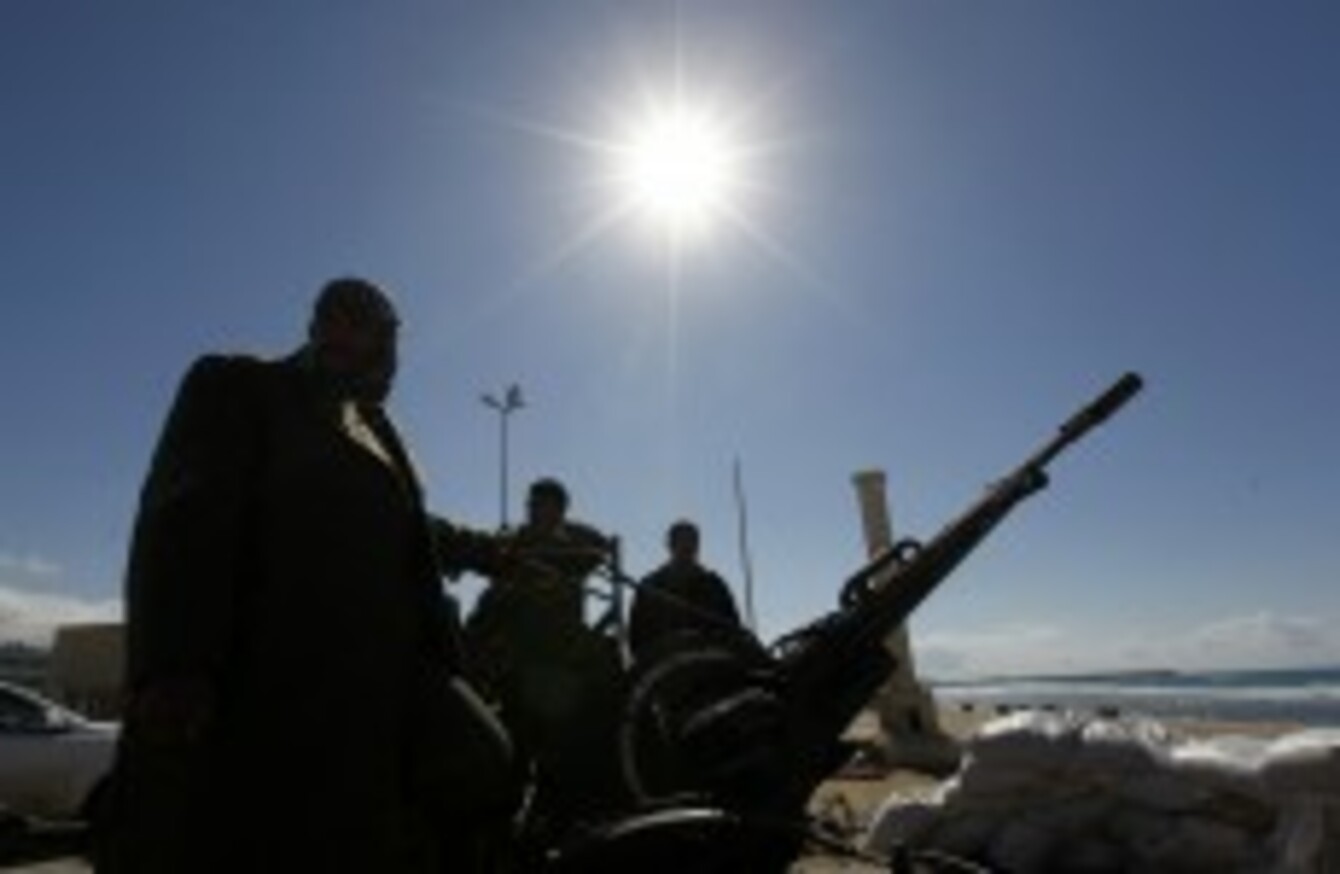 Anti-aircraft machine guns set up by rebels in Benghazi who may soon be aided by a no-fly zone over Libya
Image: AP Photo/Hussein Malla
Anti-aircraft machine guns set up by rebels in Benghazi who may soon be aided by a no-fly zone over Libya
Image: AP Photo/Hussein Malla
WITH PRESSURE BUILDING on Colonel Muammar Gaddafi western allies now appear to be in favour of imposing a 'no-fly zone' over Libya.
But what exactly is it and how would it work?
Simply put, and as the name suggests, it is territory over which aircraft are not permitted to fly.
No-fly zones already exist over areas such as the White House in Washington where military planes patrol the skies to ensure no unknown aircraft fly around the area of the building.
Perhaps the best definition came recently from US defence secretary Robert Gates who told a US congressional hearing:
A no-fly zone begins with an attack on Libya to destroy the air defences.

Then you can fly planes around the country and not worry about our guys being shot down.
Gates added that it requires more airplanes than you can find on a single aircraft carrier and with Libya being a big country it would be a big operation.
A no-fly zone over Libya could require more than 100 aircraft, according to Stars and Stripes.
In detail, Foreign Policy magazine says there are two types of no-fly zones.
One is imposed by one military over another typically while the two sides are at war in an effort by one side to discourage the other from  flying over a given territory.
The second is more applicable to the Libyan situation where an outside power, in this case the NATO military alliance, possess an overwhelming air superiority so can therefore restricts flights over a given country.
They would have to do this by first taking out the country's anti -aircraft defences.
That in itself would carry a risk in that a plane could be shot down. The capturing of US airforce or British RAF pilot by Libyan forces would not be good news for the US, Britain or any western ally.
Once the anti-aircraft defences were destroyed, aircraft would then patrol the Libyan skies to stop pro-Gaddafi forces from bombing rebels.
With pro-Gaddafi forces using airstrikes to bombard rebel outposts in strategically important parts of Libya, sending RAF and US airforce planes among others into Libyan airspace, could stop the threat of such attacks, according to the BBC.
The imposition of the no fly zone would also send a message to Gaddafi showing outright support for the plight of the rebels and perhaps encouraging him to change tack.
No-fly zones are seen as more politically acceptable than an all out military intervention within a country although, as US President Barack Obama has stated, this isn't off the table.
In the past, no-fly zones were imposed over parts of Iraq after the 1991 Gulf War right up until the start of the 2003 war when US led coalition planes bombed the country prior to the ground invasion.
The legality of these particular 'no-fly zones' was later questioned with no specific UN resolution authorising them. The former UN secretary-general even said they were illegal.
This is why NATO want UN backing in the form of a resolution that would support the move.
The UK and France are currently drafting a resolution to be put before NATO defence ministers this Thursday but there are some who oppose the idea including Russia, China and Germany.