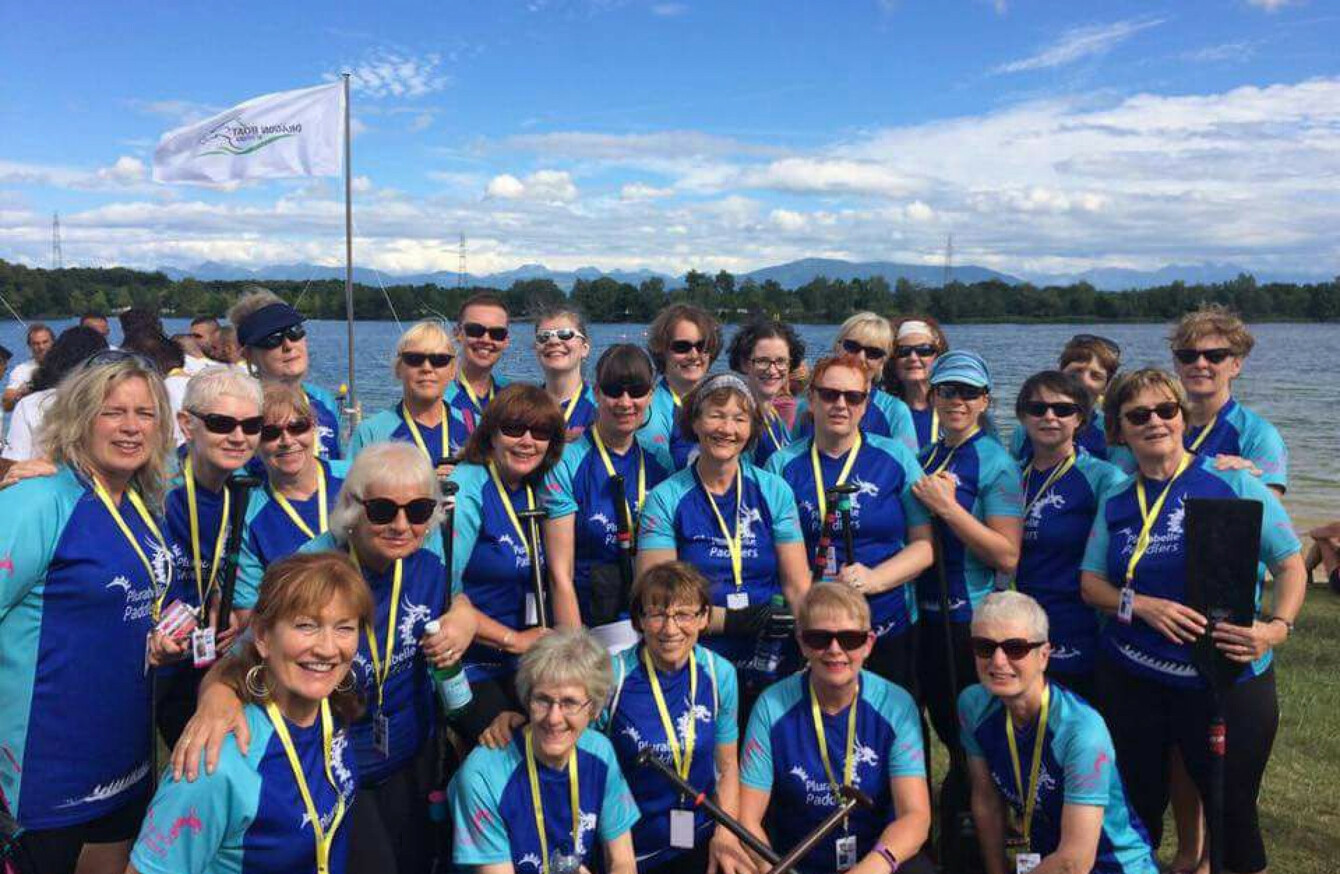 Image: Plurabelle Paddlers
Image: Plurabelle Paddlers
IT'S A SUNNY Thursday afternoon, and Dublin's Grand Canal Dock is filled with the sound of pounding drums. Long, slim boats glide through the water with painted dragons at their helms, each crew on board trying desperately to beat its rivals.
Over 600 people from Ireland's property sector have arrived to try out the new but steadily growing sport of dragon boating while raising funds for Dublin's Simon Community.
As young developers become consumed by the day's competition, women with significantly more experience watch proudly from the dock's edge. Many of them were the first to adopt the sport, and their times, often around 54 seconds to cover 200 metres, would put them in a strong position if they were to take on these younger teams.
These women, as with all 70 members of Dublin's Plurabelle Paddlers, have, at some point, been diagnosed with breast cancer.
For two days a week, down to one day a week in the winter, the team takes to the dock with 20 people, plus its helm and its drummer, to a boat. With each member paddling in sync, timed by the drum's beat, they bring the sound of the 2,000-year-old sport to Dublin.
Their founders were the first to bring the sport to Ireland in 2010, finding that the paddling movement the sport involves was a significant help for those who experience pain after breast cancer surgery.
For many women who have undergone breast cancer treatment, lymphedema can be a painful side effect as excess fluid collects in areas like the arms and hands after lymph nodes are removed.
The sport also acts as a way to get back into normal life after treatment. "Treatment is a whirlwind, and then it stops," says Tara Byrne, a member of the Plurabelle Paddlers and the treasurer of the Irish Dragon Boat Association (IDBA), the governing body of the sport, which is run by volunteers.
Getting back into things like your career and family life can be a difficult transition – but we all went through that transition.
"People like to take back control of their lives after treatment," Plurabelle Paddlers Chairperson Margaret Mulcahy says.
But for its members, the benefits beyond relief from cancer are many. The team offers strong camaraderie, the opportunity to get fit, and a chance to travel the world.
"I got involved in it after being diagnosed with breast cancer and a friend saw an article in the paper and said 'you need to try it', and I said no because I was terrified of water," says member Maire O'Connor.
But she was worn down, and has no regrets. "I am mesmerised. I wouldn't miss a Saturday morning. I was somebody who never got up on a Saturday morning in my life, I now don't need an alarm clock on a Saturday morning."
The team, whose members are aged between 30 and 70, has gone everywhere from Malaysia to Italy, taking home gold and silver prizes and meeting people with a similar love for the sport. In July, the team went to the European Club Crew Championships, taking home two silver and one bronze medal – even as the team elected to race against non-breast-cancer teams.
Given their shared experiences, it's perhaps surprising that many members remark on how little time they spend talking about cancer.
"Our coach treats us like a dragon boat team, and she trains us as a dragon boat team, and we train as a dragon boat team. We don't have this big breast cancer thing hanging over us," says Laura Hennessy, a Plurabelle Paddler member and an official with IDBA.
It's often just knowing that the support is there that reassures members.
"It's the only space you can go into where if somebody says something about breast cancer other people aren't looking at you to see how you're reacting", says O'Connor.
We can say what we like and nobody cares, and yet we rarely talk about it. It's nearly a breast cancer-free zone.
A workout
But what every member remarks upon is how much they appreciate the chance to be athletic – and, for some, the chance to be competitive.
The choice not to race against other breast cancer teams in France came from this desire to "step ourselves up a gear", says Byrne. While they will race in the breast cancer category in their own upcoming regatta, France offered the team the chance to explore its most competitive side.
The sport is a good workout – similar to rowing in basic structure, but with a paddle, and a paddling motion. The team's clubhouse in Grand Canal Dock contains paddling machines – similar in principle to rowing machines – and weights, to prepare them for races.
"You've to work very, very hard", says Byrne, Some races may just take a minute, but, as Byrne points out, sprinters work hard for every second they race. The team had Sonia O'Sullivan in a boat last season. "She said it was harder than she thought it would be," Byrne adds.
While even the teams who have trained for Thursday's event look wiped after covering 200 metres, the Plurabelle Paddlers have done up to 2,000 metres – a distance that requires travelling in a circle. Even as the team's drummer keeps them at a steady rhythm and the member at the helm steers the boat, such a course results in clashes between boats, and more enjoyment for its more competitive members.
"It's good to race against people who are kind of equally competitive," member Ciara O'Donnell says. "You can see that now with a lot of breast cancer teams in the past maybe three or four years."
A national community
Most popular in countries like China, where it originated 2,000 years ago, dragon boating is steadily growing in Ireland since the Plurabelle Paddlers were first founded. The country now boasts 11 teams from Cork to Donegal, six of which are for those with experience of breast cancer. Three more clubs are expected to be formally registered by 2018 and, with many clubs boasting multiple teams, the growth of the sport shows little signs of slowing.
O'Donnell started with the team in 2011, and can see the change the growth has made to the sport: "They're a lot more competitive than they had been, and they give us a run for our money."
When a team bought a new race boat this year, they were able to give their old one to a Kilkenny team, Anne Keating explains. "It's community. it's a national community now. It's not just us."
#Open journalism No news is bad news Support The Journal

Your contributions will help us continue to deliver the stories that are important to you

Support us now
The expectations for the club's regatta, to be held from 9 to 10 September, is evidence of just how much growth the sport has seen. With 56 teams to race over two days, Grand Canal Dock will see home clubs from the Shannon Dragons to the Waterford Dragon Warriors joined by teams from Canada and Germany and novice crews from local businesses.
Under-18s teams and teams simply made up of family and friends will race too, with a special flower ceremony prepared for when the breast cancer teams finish their race, in memory of all who have lost their lives to the disease.
A growing sport
For Pat Carroll, the sport is special for the way that it is accessible to those of all ages and fitness levels.
You can start of being really unfit because you're sitting in the boat and you're just using your upper body. So it's marvellous for people who have leg problems, hip problems, knee problems.
For other members, like Rosemary Welsh, it's the particularly high levels of inclusivity, even at an international level, that's at the heart of their involvement. At international regattas, races for those aged 40 to 50, 50 to 60 or 60-plus are just as competitive as those for the younger participants.
"The whole idea is that it's competitive, and not just recreational, up to such an older age whereas in other sports you're almost out the door in your late 30s."
The sport is also popular with younger people, with children often starting at nine years old. The IDBA is hoping to start an under-18s team in Dublin soon, with a junior club already in place in Athy.
A home
The team's clubhouse is in an enviable location. Right on Hanover Quay, it was initially the overgrown former home of an abattoir.
The work of family and friends turned the site into their new home, Keating says: "Now we have somewhere to go after our training to have that cup of tea and have that support side."
The club wants, of course, to remain a part of the community of Grand Canal Dock, where it has seen the huge transformation that has taken place in what was, until recently, a far cry from the vibrant hub it is now.
"Things have changed in the last few years, but it was a pretty dark and dank area. We sort of brought life into it," Byrne says.
But, even though the team has been in the docks since 2010, their appearances are still treated like a spectacle, says Byrne.
"We've been there for seven years and we just stop people in their tracks. Their phone comes out, and their cameras come out. It seems to bring a smile to people's faces."