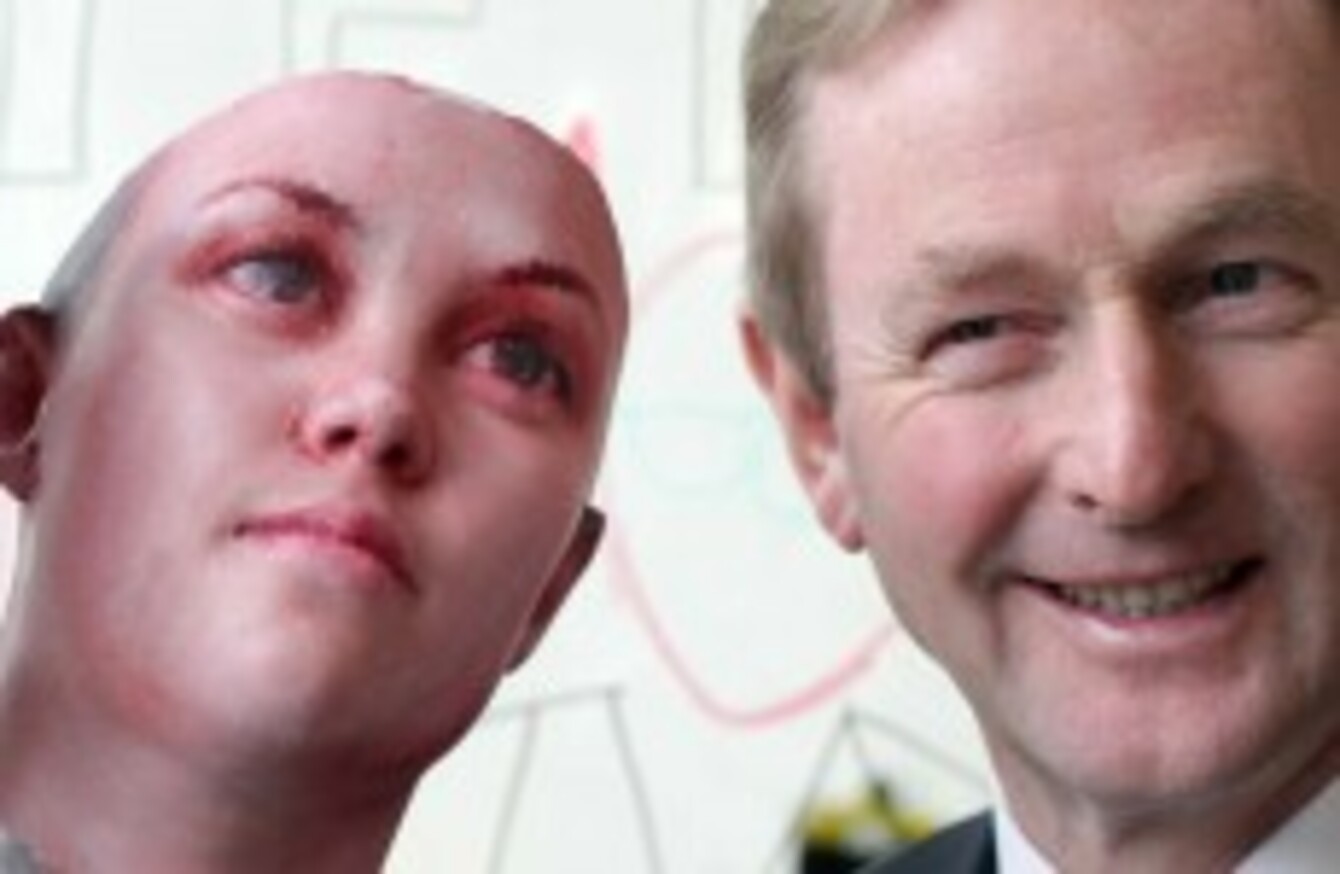 Enda Kenny (right) with a 3D-printed head created with DNA from discarded cigarettes at the Science Gallery this week.
Image: Mark Stedman/Photocall Ireland
Enda Kenny (right) with a 3D-printed head created with DNA from discarded cigarettes at the Science Gallery this week.
Image: Mark Stedman/Photocall Ireland
EVERY WEEK, TheJournal.ie casts its eye over events inside and outside Leinster House that have got people talking.
As the saying goes: 'You win some, you lose some.'
So here are our political winners and losers from the past seven days:
The 5 winners of the week are…
1. Eamon Gilmore
Credit to the Tánaiste for giving a straight answer on the issue of assisted suicide this week, acknowledging the need for legislators to look at it.
Whether his words will lead to anything substantial remains to be seen but one thing is for sure, the country needs a debate on the issue and one of the most important forums for that is our parliament.
2. James Reilly
If we could for a moment forget the health budget is delayed and there has been a cynical attempt to make hospital managers the bad guys to distract from the government's handling of the crisis, the Health Minister should be applauded for his war on tobacco, one policy that has strong support and which he is making progress on.
If anyone is any doubt about James Reilly's commitment to eliminating the "scourge" of cigarettes, one need only look at this video of him mangling Arnold Schwarzenegger's famous line:

3. The Public Accounts Committee
Damaged by the furore over John McGuinness's expenses and the likelihood that it will now miss out on the holding the banking inquiry, the powerful PAC has been reasserting its influence and independence by talking tough on hospital top-ups this week.
In addition the committee is not caving into demands from the Garda Commissioner and the Data Protection Commissioner to hand over files alleging further abuses of the penalty points system.
4. Friday sittings
The chamber was empty again but at least this week's Friday sitting had two interesting and substantial debates on the issue of revitalising town centres and increasing penalties for hit-and-run offences. The government even agreed to accept the principle of the latter of Fianna Fáil's two bills.
Now if we could only get more deputies to show up and even hold votes they would become even more worthwhile.
5. Regina Doherty
The Fine Gael TD has this week highlighted an important issue around gender, family and politics, off the back of another striking image of Italian MEP Licia Ronzulli bringing her daughter into the parliament chamber as she voted.
The Irish political system is currently unsuited to raising a family. TDs have no entitlement to maternity (or indeed paternity) leave and that is something that will increasingly become an issue when gender quotas are introduced and we will, hopefully, have more female deputies in our parliament.
… and the 5 losers of the week are…
1. The Seanad
They may have had their day in the sun last month but six weeks after seeing off a government attempt to abolish their house, Senators sat for just two-days this week.
In this instance it's not their fault but Seanad reform seems a long way off right now and the upper house becomes less relevant when it spends so little time in session.
2. Emmet Stagg
The Labour chief whip's comments on TDs drinking habits this week were quite frankly astonishing. "Irish people have a pint regularly with their lunch," Stagg told TV3, except they don't really and that hasn't been the case for some years.
He went on to say: "In quite a lot of jobs that happens and people go to pubs and people have a pint and a sandwich for their lunch." Except this is not really a culture among the professional and working classes any more and shows, to some degree, that Stagg is out of touch with the modern realities of work.
3. Enda Kenny
It would be okay if he forgot but the flippant way in which the Taoiseach dismissed claims he knew about the case of Ronan Woodhouse, when he actually was informed about it weeks ago, underlined the extent to which the government is underestimating the medical card debacle.

YouTube:
MerrionStreetNews
Ministers and the Taoiseach particularly would do well to be more cognisant of the genuine fears some families have about their medical cards being taken away from them.
Of course there are cases where people are no longer eligible and exceed the income thresholds, but putting a human face or faces on this issue, as Fianna Fáil and others have consistently done in recent weeks, plays better in the court of public opinion.
4. MEPs
Much of the legislation that comes into effect in Ireland originates in Europe but the importance of the EU's various institutions has not translated into an understanding of it or an awareness of who represents you in Brussels (or Strasboroug).
This week 91 per cent of 301 Dubliners surveyed in a street poll could not identify any one of their three MEPs. That highlights a challenge facing prospective MEPs in next year's elections. Not only must they try to get elected, they must try to remain relevant when they are.
5. Michael McGrath
The straight-laced Fianna Fáil finance spokesperson was forced to deny he liked a page about sexy mothers on Facebook this week after a screenshot emerged of him having done just that.  Awkward in the extreme.
Pics: Screengrab, Photocall Ireland, TV3 Midweek