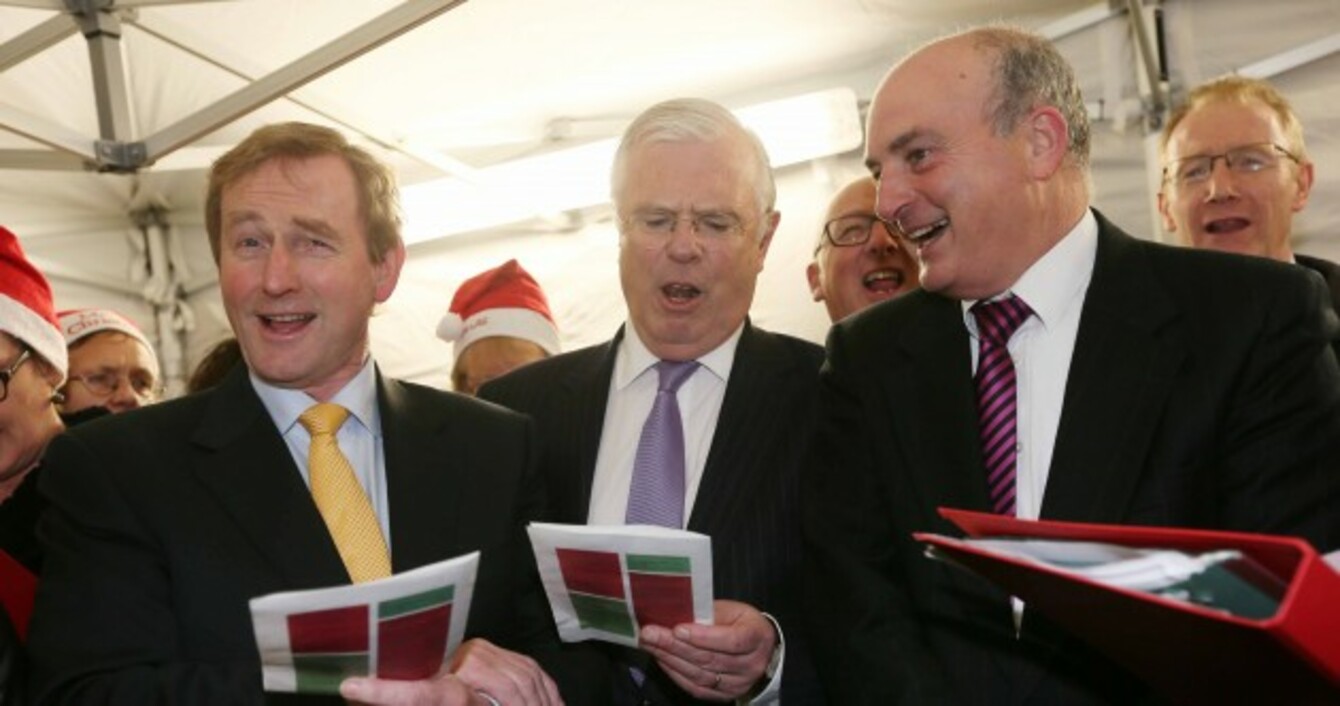 Enda Kenny, Peter Mathews and Senator Paddy Burke in full song in carol singing outside Leinster House this week
Image: Laura Hutton/Photocall Ireland
Enda Kenny, Peter Mathews and Senator Paddy Burke in full song in carol singing outside Leinster House this week
Image: Laura Hutton/Photocall Ireland
EVERY WEEK, TheJournal.ie casts its eye over events inside and outside Leinster House that have got people talking.
As the saying goes: 'You win some, you lose some.'
So here are our political winners and losers from the past seven days:
The 5 winners of the week are…
1. John McGuinness
Who remembers all the controversy about the Public Accounts Committee chairman and his views on the State covering spouses' travel costs? Well you all do now that we've reminded you.
But it's fair to say that McGuinness has reasserted his authority this week by overseeing quite incredible hearings on the Central Remedial Clinic scandal. He also made a very important point that the board at the clinic should not resign until we have all the answers. Will we get them now that it has?
2. Shane Ross
All that said about McGuinness, were it not for the probing questions of this independent TD we would not have had many of the revelations that have come out about the CRC this week.
Ross came upon the alleged 'phantom pension fund' in his interrogation of former CRC chief Paul Kiely right at the end of a marathon session this week, proving that it's always worth having 'one last question'.
3. Peter Mathews
Ask not what Peter Mathews can do for you, but what you can do for Peter Mathews. That's the message political parties will have taken from the Dublin South deputy's interview with us this week.
The former Fine Gaeler is playing a canny game, insisting that it's up to Fianna Fáil to come to him but it appears increasingly likely that he will join the main opposition party in the New Year, which will do much to increase his chances of retaining his seat or, as is more likely, run for the party in the European elections next year.
4. The government…
We're officially exiting the bailout today and though that doesn't really mean much for ordinary folk, the government can justifiably feel that the worst is over for them from a political point of view as another poll this week showed Labour on the rise with Fine Gael not doing too badly either.
There's no complacency yet as evidenced by Michael Noonan's comments this week, but if the economy continues to improve the coalition could start to think that its medium-term economic strategy, published next week, is one it could implement itself all the way to 2020.
5. … and its PR machine
While the CRC scandal has taken on a life of its own, the emergence of the top-ups controversy - which some believe to be a strategic leak at a specific time – just as there was much talk about the HSE Service Plan has successfully deflected from the problems at the Department of Health.
The plan will now not come before Cabinet until Tuesday and the Oireacthas Committee in the New Year, but there's been little notice of this with the events at the PAC, and the people in charge of 'the message' will be pleased about that.
… and the 5 losers of the week are…
1. Fianna Fáil
Éamon Ó Cuív's comments this week should be a warning not just for Micheál Martin but the entire Fianna Fáil party as its poll numbers are, to use the Galway West TD's word, becalmed.
Ó Cuív has made some important points about Fianna Fáil's communications strategy and the lack of ambition among some members. The party has recovered from its general election massacre but is way off its 2009 local election result, and that will be worrying with the vote six months away.
2. Enda Kenny
No doubt Gerry Adams has questions to answer about his past, but the Taoiseach's ongoing reluctance to engage in the process of answering the actual question during Leaders' Question is growing tiresome.
#Open journalism No news is bad news Support The Journal

Your contributions will help us continue to deliver the stories that are important to you

Support us now
Kenny got some headlines by being direct with Adams on his alleged IRA past this week - "nobody believes you" - but what exactly has that got to do with top-ups paid to health executives and calls for a public inquiry?
3. Patrick O'Donovan and others
The Fine Gael TD was one of our winners last week for instigating the 'gotcha' moment with the incoming chairman of Eirgrid, but this week he was among those who voted down a motion by Fianna Fáil to reject John O'Connor's appointment having been "whipped into the line" in the words of Timmy Dooley.
There's no doubt that Fianna Fáil were playing politics on this issue but it says much about the control the government has over the Oireachtas when its own backbenchers can say one thing and then do an almost 180 degree turn as was the case here.
4. Darren Scully
"I said black Africans. Now I really shouldn't have even said black Africans. I should have said certain people from a certain part of Africa." Those are the words this week of the former mayor of Naas who was forced to resign last year over comments about 'black Africans'.
His latest comments to the University Times show that he appears to have learned nothing even though he has been allowed back into the Fine Gael party.
5. Eamon Gilmore
If we're going to hammer Obama and co for this now infamous 'selfie' then we shouldn't forget that the Tánaiste was engaging in some selfie-like behaviour at the Nelson Mandela memorial as well: