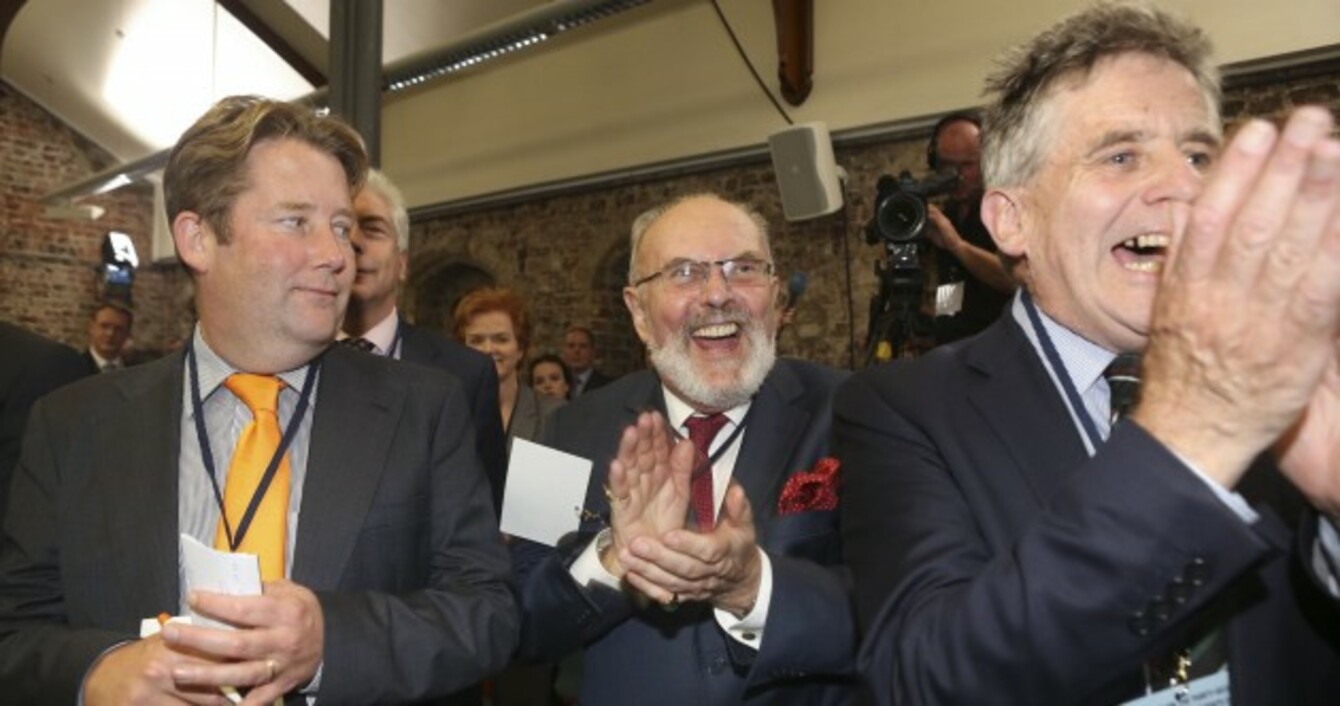 Senators Darragh O'Brien, David Norris and Sean Barrett celebrate the referendum result
Image: Photocall Ireland
Senators Darragh O'Brien, David Norris and Sean Barrett celebrate the referendum result
Image: Photocall Ireland
EVERY WEEK, TheJournal.ie casts its eye over events inside and outside Leinster House that have got people talking.
As the saying goes: 'You win some, you lose some.'
So here are our winners and losers from the past seven days:
The 6 winners of the week are…
1. Fianna Fáil
Having been badly damaged by the abortion bill when the party split and some its senators did themselves no favours during the Seanad debates, the referendum defeat and Fianna Fáil's successful campaign is a boost to Micheál Martin. Meanwhile its campaign director Niall Collins (above right) did his profile no harm at all.
2. Michael McDowell
He hasn't gone away you know. The former Tánaiste will be pleased to have played a part in convincing the public that Seanad abolition was not a good idea and despite what he may say in public, he hasn't given up on politics just yet. This result can't harm the chances of his return to the political scene.
3. Alan Shatter
Forgetting the Seanad debacle, getting the Court of Appeal referendum passed is a boost to the Justice Minister's ambitious reform agenda. If it works and does reduce the Supreme Court backlog considerably by the time he leaves office that will not be a bad legacy for Shatter.
4. David Norris
The veteran senator is battling liver cancer but will have taken great heart from his beloved Seanad being retained. Better still, Norris was in fine form as it became clear the referendum was defeated yesterday and that's nice to see given his health problems:

5. Oireachtas members and their staff
There is no log of internet browsing data for TDs Senators, or their staffs, as we revealed this week. Not that we're suggesting anything untoward but it's nice for them they are not subject to the same sort of surveillance as others usually are in their workplaces.
6. Mary Lou McDonald
Her accomplished performance in the Seanad referendum debate on TV3 on Wednesday night did her own reputation no harm whatsoever. McDonald put forward by far the most convincing arguments for abolition. Perhaps they convinced some voters, but not enough.
… and the 6 losers of the week are…
1. Enda Kenny
On his own initiative, the Taoiseach decided four years ago that it would be a good idea to abolish the Seanad but he could not convince the people and he was not prepared to debate it in front of them on national television. He can defend this decision but ultimately it may have swung it for some people who voted No to Seanad abolition.
2. Fine Gael
The party's campaign was not a good one and many within the party think that, as we report this morning. Its insistence on sticking to the €20 million saving figure – when it had been undermined – was largely criticised, including by plenty of its own TDs.
3. The Labour Party

Though it is left largely unscathed by the referendum result we should not forget the party's spectacular collapse in the Irish Times/Ipsos MRBI poll this week. The genuine sense of shock and acknowledgement of it being a bad survey by senior ministers underlined this and the challenge facing the party with the Budget looming.
4. Peter Mathews
The Dublin South TD's departure from Fine Gael came as no surprise and there were few tears shed. He had already given himself a mountain to climb to retain his seat and that is only exacerbated by this decision.
5. The US political system
Deadlocked, broken and shutdown. Barack Obama and Congress' disputes meant the US government shutown this week costing the economy an estimated €300 million per day. Here's what it all means.
6. Silvio Berlusconi
Was this the last hurrah for the former Italian prime minister? In attempting to engineer the collapse of the current administration, scandal-plagued Berlusconi only succeeded in humiliating himself as incumbent PM Enrico Letta won a key confidence vote leaving Berlusconi doing a bit of this:
Pics: Photocall Ireland, Press Association and TV3 screengrab
Like politics? Then why not 'Like' TheJournal.ie Politics on Facebook to keep up to date with all that's happening in and outside of Leinster House.