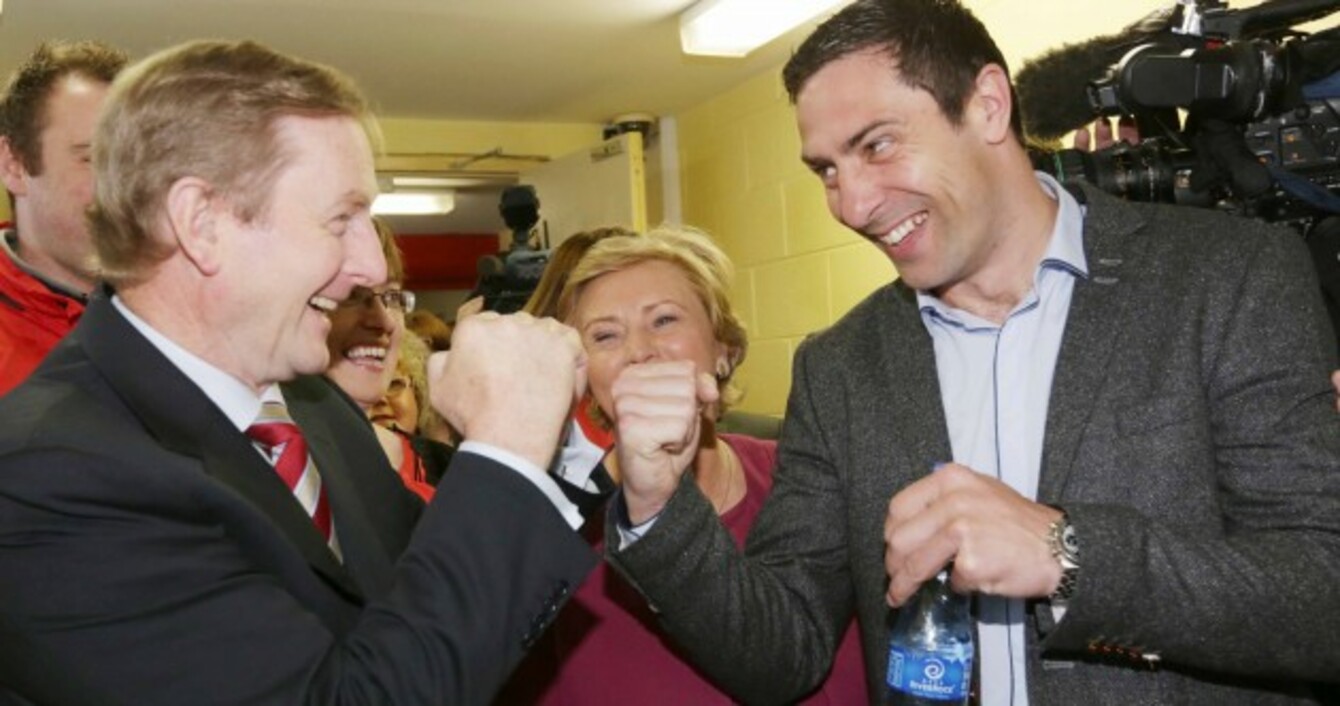 The Taoiseach and Kenny Egan square-up as Frances Fitzgerald looks on just over an hour before she was appointed Justice Minister
Image: Laura Hutton/Photocall Ireland
The Taoiseach and Kenny Egan square-up as Frances Fitzgerald looks on just over an hour before she was appointed Justice Minister
Image: Laura Hutton/Photocall Ireland
EVERY WEEK, TheJournal.ie casts its eye over events inside and outside Leinster House that have got people talking.
As the saying goes: 'You win some, you lose some.'
So here are our political winners and losers from the past seven days:
The 5 winners of the week are…
1. Frances Fitzgerald 
The new Justice Minister can hardly have expected on Wednesday morning that within 24 hours she would be replacing Alan Shatter, but she has. It's a sizeable promotion for the Fine Gael TD who takes on a hefty portfolio that doesn't even include the defence responsibilities that Shatter had. She has a lot on her plate not least, as the Taoiseach said, resorting "confidence and integrity" in the justice system. No small task.
2. Charlie Flanagan 
The other beneficiary of the Shatter departure is Fine Gael's former justice spokesperson who was a notable opponent of various Fianna Fáil and PD justice ministers for many years.
While the new Minister for Children opposed Enda Kenny in the botched heave of June 2010, he has been rewarded this time for his persistence as well as his loyalty to this administration and Shatter through many troubled times in recent weeks.
3. Micheál Martin
Make no mistake, the Fianna Fáil leader's position remains precarious as a result of the Mary Hanafin debacle in Blackrock and other party issues this week, but internal party squabbles don't have as much impact publicly as claiming the scalp of a minister might. Martin doesn't like using the word "vindicated" but he was prepared to use it after Shatter resigned.
It was Martin who first raised the serious allegations put forward by garda whistleblower Maurice McCabe on the Leinster House plinth in February, and it is that dossier, which he gave to the Taoiseach, that ultimately resulted Shatter's departure. Martin said on 19 February that we were headings towards an independent investigation "into all of this". He wasn't wrong:
Source: Hugh O'Connell/YouTube
4. Mick Wallace
Even more so than Martin, Wallace has been a constant thorn in the side of Shatter for months if not years and though he, like others, says he takes no great pleasure in the Minister's demise he has seen off a man who routinely dismissed him on the Dáil floor and revealed personal information about him on live TV.
5. Enda Kenny 
Although he defended Shatter plenty of times in recent months, the Taoiseach also very openly took charge of the McCabe dossier, and its serious allegations, once it landed on his desk in February and got a 300-page report delivered to him less than three months later.
Kenny is viewed by many to have been decisive in reportedly leaving Shatter with no choice but to resign, although he insisted in the Dáil on Wednesday that he accepted the Minister's resignation "with regret".
… and the 5 losers of the week are…
1. Alan Shatter
No surprises here but we have placed the now former justice minister in the losers category this week for one big reason: Despite the very many controversies which undermined him in recent months – and for which he has many questions to answer – Shatter's resignation came not out of remorse for any wrongdoing, but concern for the political and electoral ambitions of this government.
Like so many other politicians, Shatter worried not about the rights and wrongs, but the politics of it all. It's one reason why people are so disillusioned with the political system in this country.
2. Mary Hanafin
She may be on the ballot paper in Blackrock but the former education minister has been completely isolated by the party which, on paper at least, nominated her to contest the local elections. Hanafin should have enough personal profile to do well, but what future does she have in Fianna Fáil?
3. Lorraine Higgins
There was widespread outrage at the Labour European candidate's attempt to criticse her opponent in Midlands North West, Luke Ming Flanagan, this week. There is negative campaigning and then there is just being nasty and this was definitely the latter:
Higgins already faces an uphill, if not impossible, task to be elected on 23 May. That's been made even harder this week.
4. Michael Noonan
The Finance Minister lost his top civil servant this week. John Moran insisted there was nothing "sinister" in him leaving his role as secretary general of the Department of Finance but there is a wide acknowledgement that he will be missed and Noonan and his officials are left searching for a replacement.
5. Paul Murphy
The Socialist Party MEP claimed that no one would be bothered about him erecting posters a day before he was legally allowed to do so. But he'll be more than bothered by the imposition of thousands of euro in fines for the offence, as we revealed this week.