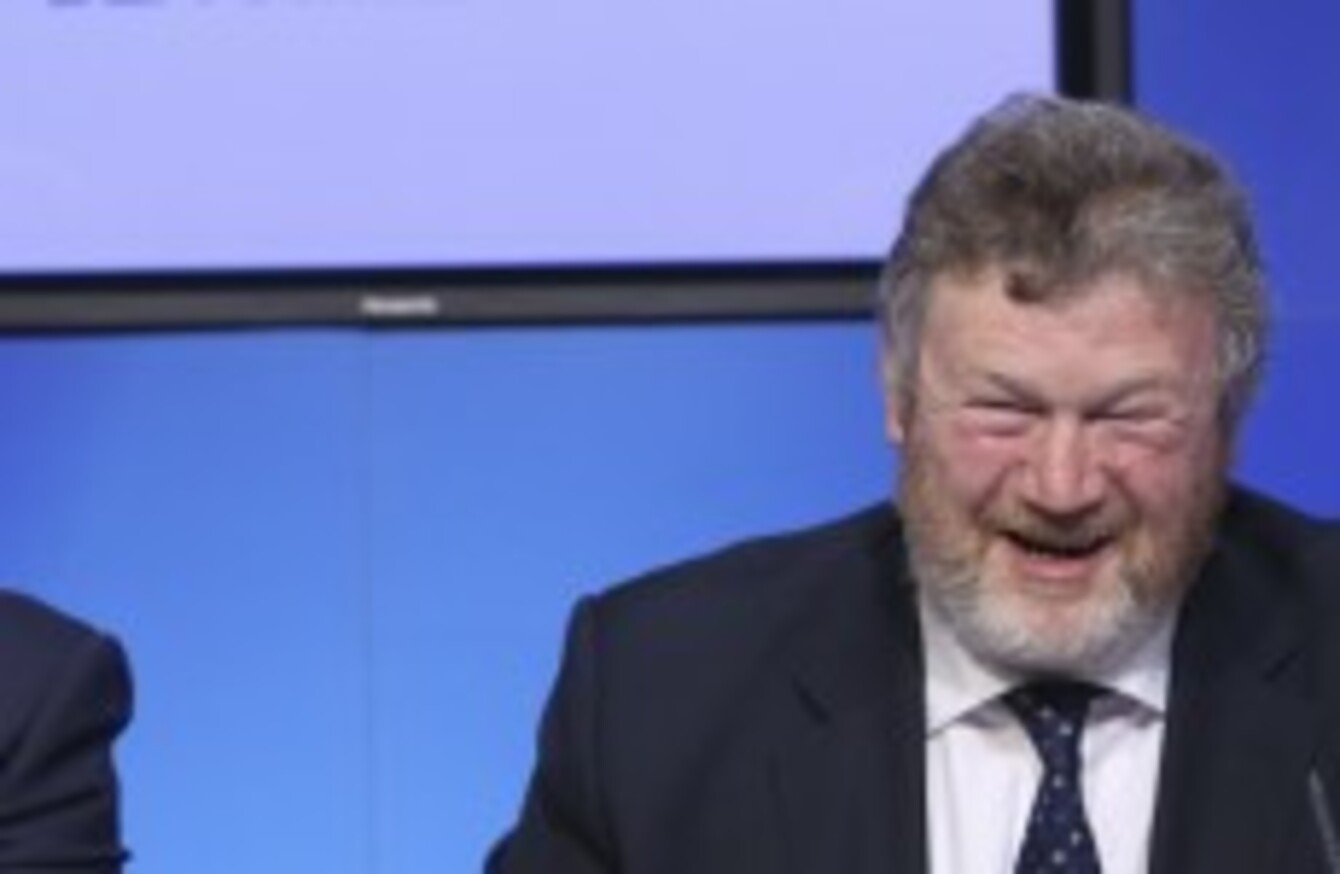 James Reilly announced this week that over 15,000 medical cards will be given back to people with serious medical conditions.
Image: Sam Boal/Photocall Ireland
James Reilly announced this week that over 15,000 medical cards will be given back to people with serious medical conditions.
Image: Sam Boal/Photocall Ireland
EVERY WEEK, TheJournal.ie casts its eye over events inside and outside Leinster House that have got people talking.
As the saying goes: 'You win some, you lose some.'
So here are our political winners and losers from the past seven days:
The 5 winners of the week are…
1. Alan Shatter
The former justice minister isn't going quietly to the backbenches with a blistering attack on the report that led to his resignation earlier this week. Shatter was utterly damning of the Guerin report as he sought to restore a reputation battered by months of controversy.
Whatever you think of him – and a former government colleague described him to us as "sore, pissed off and very bitter" this week – you can't fault Shatter's lengthy, detailed but compelling oratory:
Source: Hugh O'Connell/YouTube
2. The banking inquiry 
Just to have its first meeting was a success given the myriad of problems and controversies the banking inquiry faced in the days and weeks leading up to that first gathering deep in the bowels of Leinster House on Thursday morning. The four-hour meeting was a very preliminary affair with not much emerging from it but that's sure to change in the coming weeks.
3. Joe Higgins
The veteran Socialist Party TD was a late addition to the banking inquiry after the withdrawal of Stephen Donnelly. He's a fan of rhetoric and always delivers a fiery, entertaining and engaging speech in the Dáil but at committee level he is a hard worker and is never afraid to ask the big questions. A welcome addition to the much-maligned committee.
https://vine.co/v/MIxOM2JUXib
4. Joan Burton 
The Labour leadership contender got the backing of the IMF this week, much to the annoyance of Alex White no doubt.
5. Alex White 
That said, the other Labour leadership contender gave what we felt was a very honest and forthright interview to TheJournal.ie this week about everything from Labour's failures to his views on cannabis legalisation (and whether or not he'd inhaled).
Sure it's easy to do such thigns when you're seeking distance from government but a politician who answers the question no matter how unusual it is is a rarity in the era of media training and spin:
Source: Video TheJournal.ie/YouTube
… and the 5 losers of the week are…
1. Niall Collins
No surprises here as the Fianna Fáíl justice spokesperson has been badly damaged by his letter to a judge asking that a drug dealer not be jailed. In short, Collins should not have done what he did and he's paying for it in terms of damage to a reputation that had been steadily growing during the various controversies that engulfed former justice minister Alan Shatter.
2. Micheál Martin
Collins's party leader could have done without the controversy this week given there are already lingering questions about his future as head of the main opposition party. The Collins story was a reminder of all that is wrong with politics and when it's linked to Fianna Fáil that hardly helps the party.
#Open journalism No news is bad news Support The Journal

Your contributions will help us continue to deliver the stories that are important to you

Support us now
3. Public Accounts Committee 
Normally on the front foot when it comes to accountability and putting civil servants through the ringer, the PAC was this week forced to contend with a rejection – for now – from another Dáil committee over its efforts to compel former Rehab executives to come before it.
While it also appeared to be caught on the hop when the long-awaited report into the scandal-hit CRC came out. The report was supposed to be with the committee on Monday but was instead published by the HSE on Thursday.
4. Enda Kenny
The poor Taoiseach was laughed out of it on Tuesday when he suggested in the Dáil that the banking inquiry would be "free of any direction from government". Not really credible when you consider the membership debacle.
Source: Hugh O'Connell/YouTube
5. Mattie McGrath
The outspoken independent TD's efforts to regulate the scrap metal business failed this week for the second time in two years as the government rejected his bill. Though the Friday sitting didn't pass without lots of entertainment. This compelling account from Daragh Brophy is a must read.