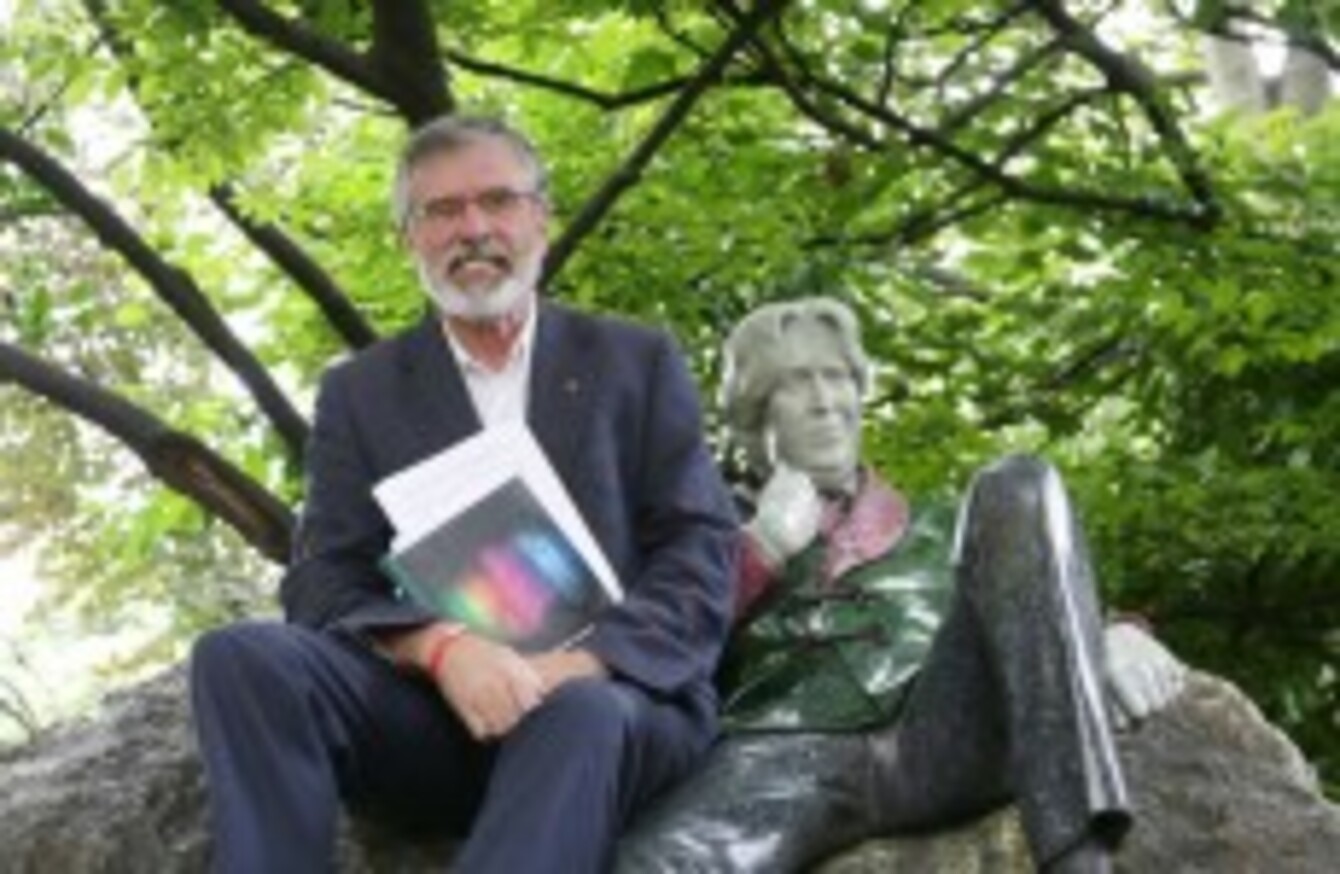 Sinn Féin's Gerry Adams sitting beside Oscar Wilde in Merrion Square this week
Image: Laura Hutton/Photocall Ireland
Sinn Féin's Gerry Adams sitting beside Oscar Wilde in Merrion Square this week
Image: Laura Hutton/Photocall Ireland
EVERY WEEK, TheJournal.ie casts its eye over events inside and outside Leinster House that have got people talking.
As the saying goes: 'You win some, you lose some.'
So here are our political winners and losers from the past seven days:
The 5 winners of the week are…
1. Paul Kehoe
The government chief whip and junior defence minister has got a promotion of sorts as he was assigned more powers over the day-to-day running of the Defence Forces with Taoiseach and Defence Minister Enda Kenny having enough on his plate. Some within Leinster House view this as a precursor to Kehoe being appointed as the actual Defence Minister, a Cabinet level position, in the reshuffle next month.
2. Leo Varadkar
The Transport Minister isn't a stranger to giving unique and entertaining answers to parliamentary questions which are more often than not incredibly mundane.
But this week he excelled himself with this quite frankly brilliant tongue-in-cheek answer to Sinn Féin TD Sandra McLellan:
3. Labour senators 
Efforts by Labour senators to bring an end to forced marriages were bolstered this week as the government accepted a Seanad motion to remove a legal provision that allows under 18s to get married if they get a court exemption. This legal loophole has created fears that young girls in Ireland are being coerced into marriages.
4. Joan Burton
The Social Protection Minister and Labour leadership hopeful spent nearly half-an-hour answering ours and your questions on Monday and displayed a refreshing attitude towards those sometimes unflattering impressions of her by Mario Rosenstock:
Source: Video TheJournal.ie/YouTube
5. Alan Kelly
Whatever the outcome of next week's Labour deputy leadership contest you can't fault the Public Transport Minister for his incredibly savvy media campaign in recent weeks. Kelly has been more prominent in the last three weeks than he has in three years with a string of timely announcements aimed at boosting his profile. But do the grassrooots Labour members care and has it worked? We'll know by this time next week.
… and the 5 losers of the week are…
1. Brian Crowley
The Ireland South MEP has joined, in one of his former parliamentary colleague's words, "a crowd of headbangers" in the European Parliament and as a result lost the Fianna Fáil whip. For Crowley it has never been about party affiliation but personal vote. He is said to have his eye on the presidency but any campaign for the Áras will surely be damaged by his association with a grouping full of racist, xenophobic and anti-gay parties.
2. Micheál Martin
Despite garnering the support of most of his parliamentary party over the Crowley issue, the Fianna Fáil leader again finds himself undermined by one of his own and in this case his party's only MEP. The Soldiers of Destiny are left without a representative in Europe after this week – a blow to Martin's authority as we analysed on Wednesday.
3. Enda Kenny
Two years ago the Taoiseach suggested the sensitive documents about the bank guarantee may have been shredded prior to him taking office in the Department of the Taoiseach:
Source: Video TheJournal.ie/YouTube
Two years on there is no basis for the claim and yet he continues to stand by it refusing to withdraw what Micheál Martin said this week was a "partisan slur".
4. James Reilly
The Health Minister may not be in the job much longer but he was forced to admit this week that the HSE will once more need a supplementary budget for the year. Not unusual even in Fianna Fáil's time in government, but it's not good news for Reilly that he has struggled to reign in costs even at a time of crippling austerity in many other areas of State spending.
5. Banking inquiry
The principal problem for the banking inquiry is that it was undermined right from the start when the government messed around with the membership. Now that it's got under way or at least the initial phases have it is already hitting setbacks after we discovered this week that the Oireachtas committee will be unable to discuss a crucial Cabinet meeting.
In fairness this was always known and the inquiry will have access to everything else including previously unreleased documentation, but this week's news underlines the extent to which it's not been a good start for the long-awaited probe.