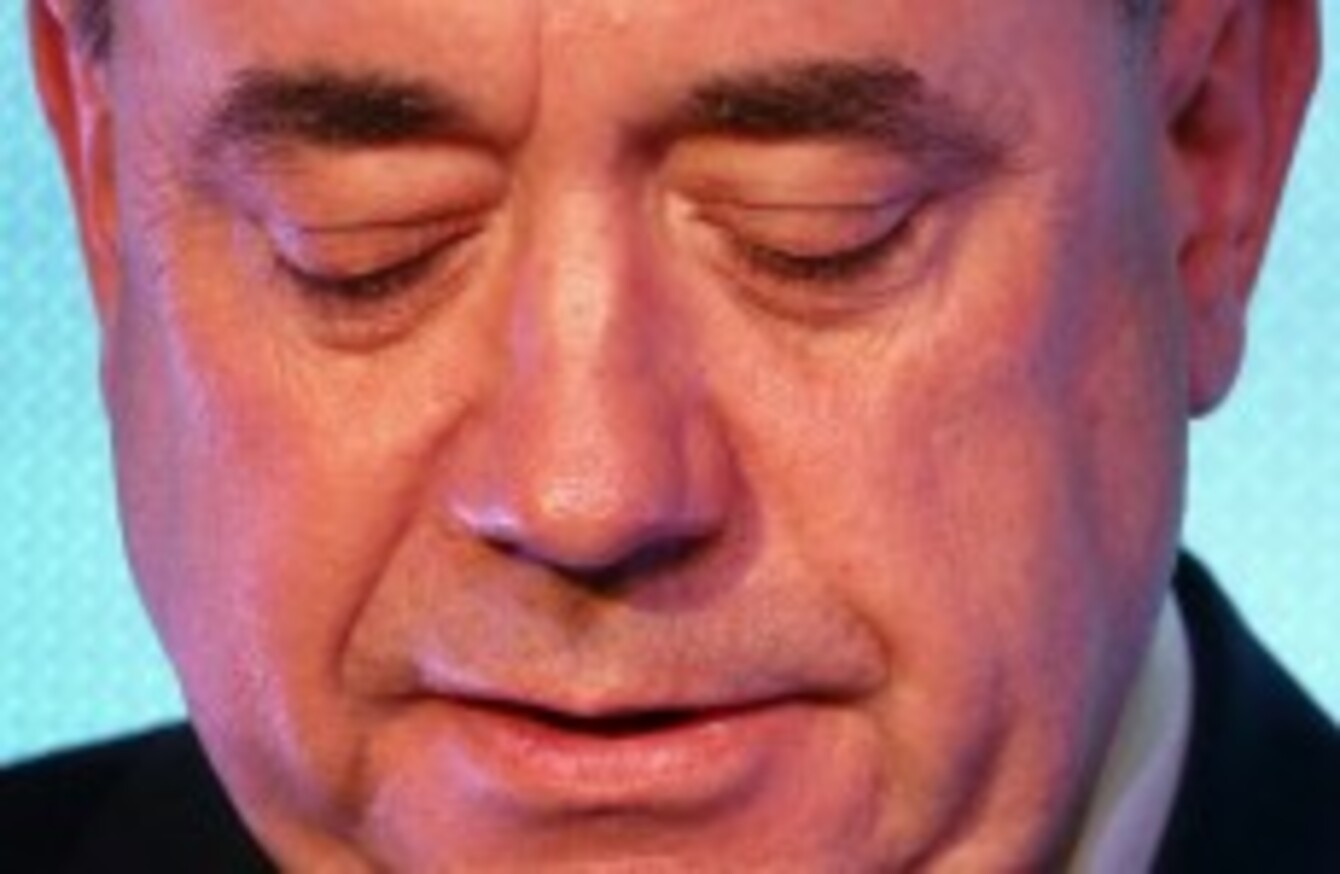 A bad end to the week for Alex Salmond
Image: PA Wire/Press Association Images
A bad end to the week for Alex Salmond
Image: PA Wire/Press Association Images
EVERY WEEK, TheJournal.ie casts its eye over events inside and outside Leinster House that have got people talking.
As the saying goes: 'You win some, you lose some.'
So here are our political winners and losers from the past seven days:
The 4 winners of the week are…
1. David Cameron, Ed Miliband and Nick Clegg
The three main party leaders in the UK will be breathing a huge sigh of relief this weekend as the union was maintained. Cameron in particular was facing possible resignation had he lost Scotland to independence, while Labour leader Miliband will be thankful that Scotland, where his party is particularly strong, remains in the UK.
2. Gordon Brown 
The much-maligned former British prime minister may have secured his legacy by making a timely intervention for the No side included a terrific speech on Wednesday that left people wondering why he was never this passionate when he was in No 10.
Source: LabourList/YouTube
3. Michael Noonan 
In March 2012, the Finance Minister confidentially predicted that the Irish economy could "take off like a rocket" if there was worldwide growth. But it appears Ireland may have taken off all by itself. The economic growth figures shocked everyone this week, including the minister himself. It all bodes well for the Budget though he was cautioning that austerity isn't over
4. John McNulty
This losing local election candidate was Fine Gael's surprise pick for the vacant Seanad seat. The nomination had apparently been on the cards for months despite much talk that Enda Kenny would instead opt for a Dublin-based female.
… and the 4 losers of the week are…
1. Alex Salmond 
The now outgoing Scottish First Minister led a strong and robust campaign for independence, narrowing the gap to the No side in the final weeks of the campaign. But it wasn't to be.
Source: Channel 4 News/YouTube
2. Jan O'Sullivan 
She's new to the job but the Education Minister wasn't inspiring confidence that she could do anything about schools using JobBridge to fill SNA roles. O'Sullivan said it's a matter for individual schools as to how they hire staff, but surely a situation where SNAs and cleaners are being employed by schools on internship schemes is untenable.
3. Lucinda Creighton 
The former minister may have joined the Technical Group but nobody in the Dáil speaking alliance is particularly happy about it. In addition, Creighton appears to have been forced out of the European People's Party.
#Open journalism No news is bad news Support The Journal

Your contributions will help us continue to deliver the stories that are important to you

Support us now
Lucinda's deleted profile page at the EPP website [EPP/Screengrab]
4. Micheál Martin 
The Fianna Fáil leader tied himself in knots trying to explain who he would or would not go into coalition with, appearing to rule out everyone except Labour. At which point Joan Burton delivered this blistering smackdown:
Given that we've been dealing with Fianna Fáil's legacy — the horrors that the country fell into in their last numbers of years in office, I'm not sure that we'd be rushing to that decision.
Ouch.
… and the one we can't decide is…
Alan Shatter
The former justice minister was back in the headlines this week as he called for all three GSOC commissioners to be sacked. Shatter hasn't been shy about airing his grievances since he stepped down, particularly in relation to the Guerin report. Is he right to try and vindicate himself or is it sour grapes?
We can't decide on this one. So what do you think? Is Alan Shatter a winner or a loser?