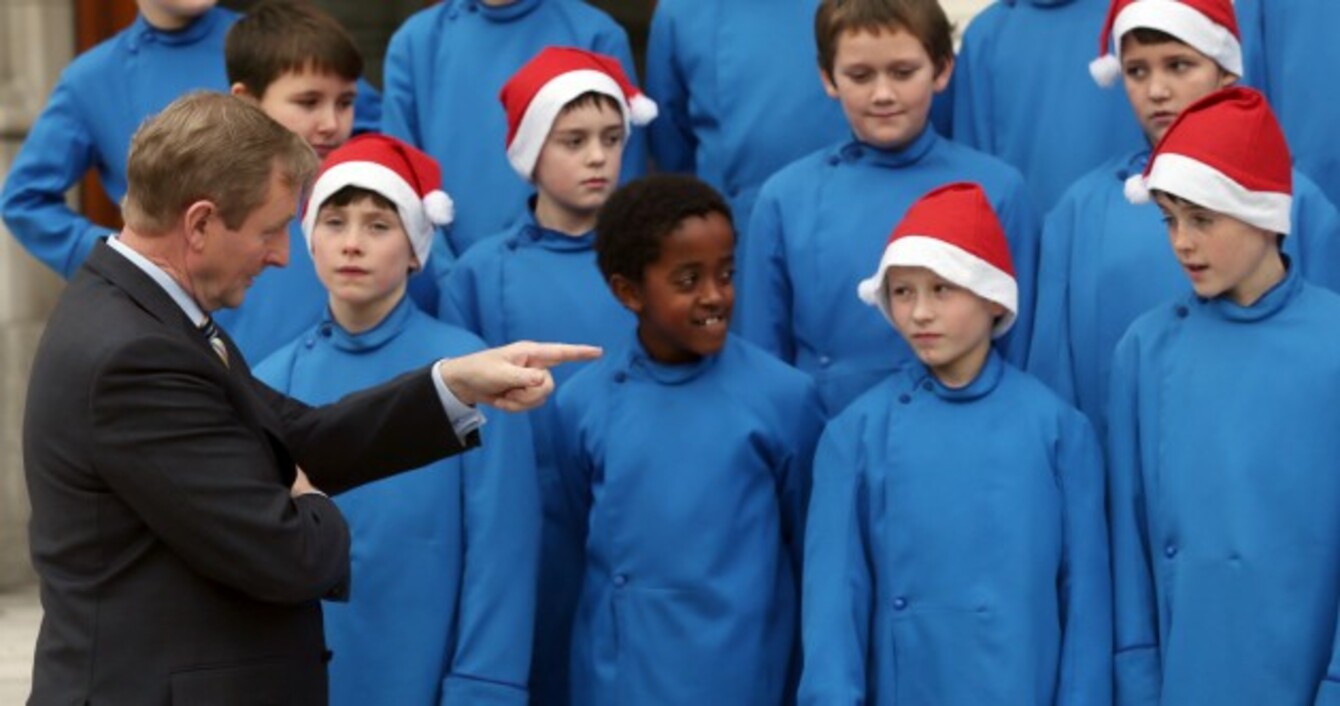 Enda Kenny picking his winners and losers from 2013... maybe.
Image: Laura Hutton/Photocall Ireland
Enda Kenny picking his winners and losers from 2013... maybe.
Image: Laura Hutton/Photocall Ireland
EVERY WEEK SINCE the beginning of the current Dáil term in September, TheJournal.ie has been casting its eye over events inside and outside Leinster House that have got people talking.
Our weekly selection of winners and losers have left our readers in some cases nodding their heads in agreement, in others registering their outrage and confusion at how we could make such selections.
We've made some controversial choices over the last few months and we'll probably make many more in 2014.
But what's our overall take on the winners and losers from 2013? Here are our picks…
The 8 winners of the year are…
1. Michael Noonan
The 'pinstriped buddha', as one commentator referred to him, continues to defy the odds by being the minister responsible for unprecedented austerity while at the same time being widely seen as doing an excellent job in finance.
Questions remains over Noonan's ability to secure a long-term debt deal and that his department will ensure that the mortgage arrears crisis is properly dealt with.
But the veteran Fine Gael TD did deliver on what could have reasonably been expected out of the promissory note debacle and his decision to recommend a bailout exit without a backstop appears, for now, to have been a smart choice.
2. Brendan Howlin
The Public Expenditure and Reform Minister did an extraordinarily good job in bringing the vast majority of public sector unions with him on the Haddington Road Agreement when all looked lost after the defeat of Croke Park II.
There are questions to be asked about what on earth he is doing with Freedom of Information and whether or not he – or anyone – can get a handle on what's happening in the Department of Health's expenditure, but for Haddington Road alone this has been a good year for the Labour TD.
3. Michael McGrath
Facebook debacle aside, this has been another good year for the Fianna Fáil spokesperson on finance who has always come across as knowledgable and reasoned in his criticism of government economic and financial policy.
McGrath put forward a good argument for Ireland taking-up a precautionary credit line after the bailout exit. There was even summer talk of a leadership bid which he smartly dismissed, but there's no doubt his name will come up again.
4. Jerry Buttimer
The chairman of the Oireachtas Health Committee started the year by overseeing three gruelling, but highly informative and enlightening days of committee hearings on the Protection of Life during Pregnancy Bill.
In the unusual setting of the Seanad chamber, the Fine Gael TD ran an incredibly tight ship and kept proceedings on the hugely divisive piece of law respectful at almost all times. A job well done and an example to all of how committee hearings should be run.
5. Richard Bruton
In previous years the Jobs Minister might have landed in the losers column but with unemployment taking a significant fall this year, Bruton can rightfully claim his spin-laden Action Plan for Jobs is working and when you're the Jobs Minister that is what matters most.
6. John Halligan
When Technical Group members get up to question the Taoiseach, it can be a mixed-bag. Some do better than others with certain deputies out to score political points, and others aiming to genuinely ask questions of our leaders.
One of those who falls into the latter category is the Waterford TD who time and again earlier this year raised important issues in the Dáil chamber, and asked questions in a respectful way that usually managed to extract some tangible information from the normally evasive Enda Kenny.
7. John Crown
On the abortion bill and on the Seanad referendum, the oncologist senator spoke passionately and intelligently and made some of the most compelling arguments in both cases, and in both cases he was on the right side of the result.
8. Mary Lou McDonald
The Sinn Féin deputy president continues to be the leading light of the party, hitting the government hard on issues like the Magdalene Laundries and making by far the most compelling arguments for Seanad abolition – even if she may not have truly believed in the cause after the party's late u-turn.
She is open and honest about her desire to lead the party and her chances of that were certainly enhanced this year.
… and the 8 losers of the year are…
1. James Reilly
The Health Minister continues to feel the pressure over budget overruns, medical cards and his reform plans which he defiantly argues are on track but for which there is little evidence that this is the case. There's a huge question mark over the target of delivering free GP care for all by the end of this government.
We do admire Reilly's war on tobacco and he deserves credit for getting the abortion bill through the legislative process, seeing as many of his predecessors failed but it's hard to think he'll still be in health this time next year if there is a reshuffle on the cards.
2. Micheál Martin
The Fianna Fáil leader couldn't bring his party with him on the abortion bill and had to allow a free vote which was, in theory, a progressive move. But in light of whipped votes being in place in all other circumstances it will only truly be progressive if it is allowed again on other issues.
Overall, Martin is still struggling to overcome his links to the previous regime, with the Anglo Tapes raising yet more questions for him and his role in Cabinet, five years on from the bank guarantee.
3. Gerry Adams
Though at times the most popular party leader in the country, this has not been a good year for the Sinn Féin president and his party is beginning to suffer as a result. A number of separate investigations (politically motivated if you believe him) into his handling of abuse allegations by his niece Aine hang over him.
Furthermore there has been a renewed focus on his past in the wake of a landmark programme about The Disappeared and his botched response to the Smithwick  Tribunal report.
Questions now arise about how long Adams can continue as leader of Sinn Féin. He remains adamant that he will go to 2016 but that's less certain than it was at the start of the year.
4. Pat Rabbitte
The Minister for Communications has been the subject of much criticism over his 'isn't that what you do' remark (which he actually told us was misinterpreted), but there is also a growing feeling among some colleagues that the veteran Labour TD is ignoring concerns over the contentious pylons issue and is too dismissive of, well, everyone.
5. Alan Shatter
The Justice Minister continues to get through an enormous amount of his legislative agenda – even if the Legal Services Bill is delayed – but this was the year when Shatter really didn't handle the penalty points debacle well at all.
He is not doing enough to address genuine concerns about how accountable gardaí are to the Ombudsman and added to that, the attack on Mick Wallace was unjustified, unfair and not very smart.
6. Jim Walsh
There is an argument against abortion, but the Fianna Fáil senator didn't make it. Instead he launched into a vile and disgusting diatribe about arcane abortion techniques that did nothing except upset a lot of people.
(Warning: Some viewers may find the language used in this video upsetting)

7. Enda Kenny
We can talk about bailout exit, economic recovery and all of that, but let's not forget that the Taoiseach failed to get his own personal initiative of abolishing the Seanad over the line.
His failure to debate the issue on national television put the spotlight on an ongoing issue about how prepared Kenny is to engage in debate and combative interviews. Kenny knows that it's 'the economy stupid' that he will ultimately be assessed on, but this was not his finest year, even if it was probably his busiest.
8. John Perry
The Minister for Small Business who could not get his own business affairs in order and ended up before the courts. John Perry appears to have sorted out his issues with Danske Bank, but not before some embarrassing disclosures.
He survived the controversy, retaining the support of his Taoiseach but it's not been a good year for the Sligo-based deputy.
…And 4 we couldn't make our mind up on…
1. Eamon Gilmore
Labour has lost nearly ten per cent of its councillors, the party had an embarrassing defeat in Meath East, has had to deal with speculation of a split between Gilmore and his deputy and has taken the brunt of the criticism over the government's policies.
The Tánaiste is also the most unpopular party leader in the country, BUT as the year draws the a close he can probably see a chink of light in recovering poll numbers, falling unemployment and a conference where the mood was good.
2. Joan Burton
It's clearer now than ever before that Burton has missed an opportunity to be leader of the Labour Party. She does not have support in the parliamentary party for such a bid and should know that any move would destabilise Labour badly.
But Labour's deputy leader did have a good Budget in getting her overall level of cuts down to €290 million, from €440 million and is the most popular minister in the country.
3. Luke Ming Flanagan
The Roscommon South Leitrim TD is to be praised for bringing a cannabis legalisation debate to the Dáil chamber, where the contributions were generally insightful and informative, even if his bill itself had some deficiencies. We also admired his "glorified piss" stunt which raised a very important issue.
But Ming also spent the earlier part of this year explaining why he had penalty points cancelled on his licence as he vociferously spoke out about the abuse of such practices by gardaí. The hypocrisy was clear for all to see and did him no favours.
4. Lucinda Creighton
The now Reform Alliance TD deserves a huge amount of credit for being prepared to act on her principles and beliefs about abortion (unlike Michelle Mulherin for example).
But, she did lose her job as junior minister and her immediate political ambitions have been set back by a few years at least. No one is quite sure what 'The RA' is or what it plans to do and Creighton will probably have to make her intentions clear one way or another next year.
Pics: Photocall Ireland, PA