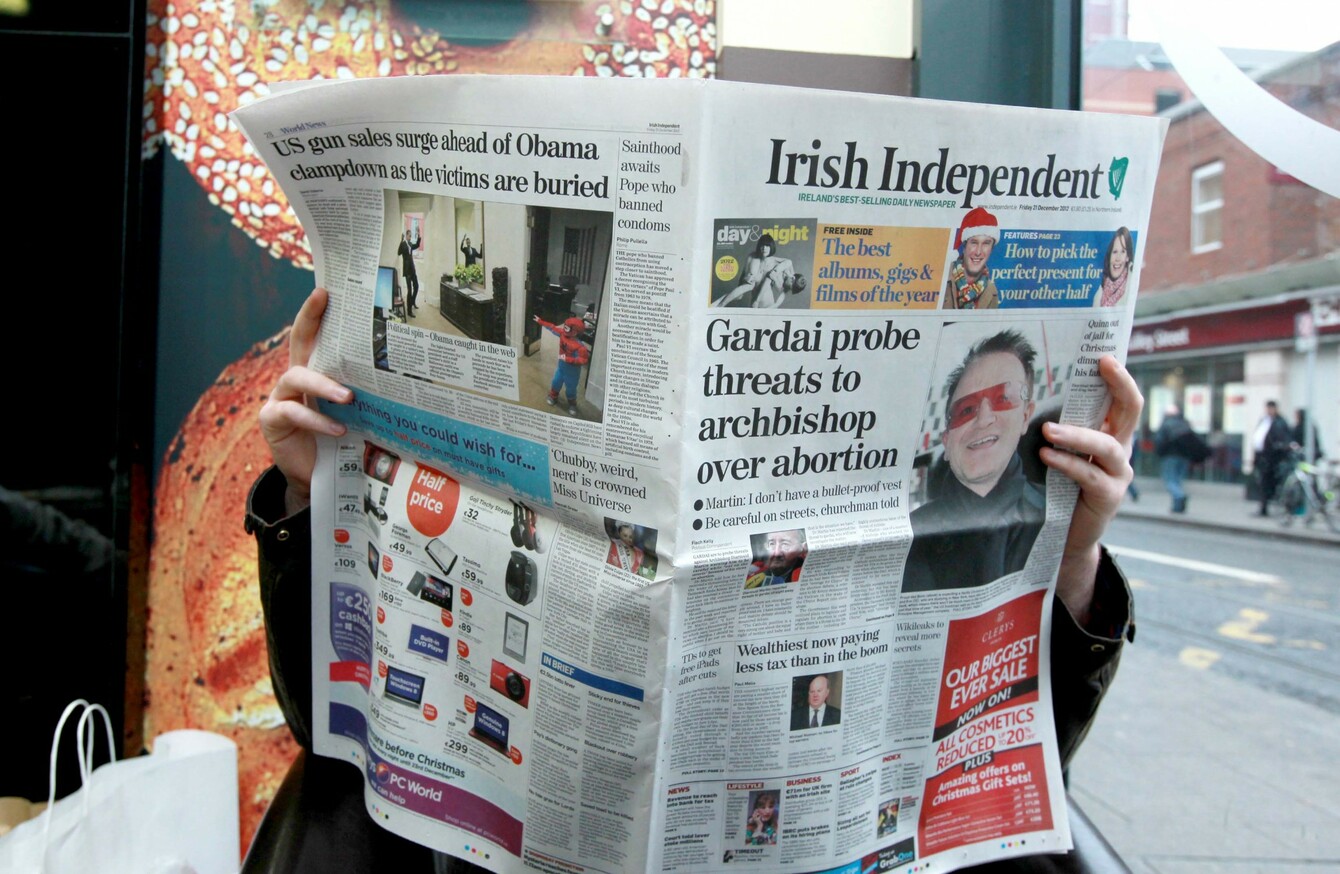 File photo: Man reading The Irish Independent newspaper
Image: Sam Boal/Photocall Ireland
File photo: Man reading The Irish Independent newspaper
Image: Sam Boal/Photocall Ireland
INDEPENDENT TD CATHERINE Murphy has said it is right to ask questions about media ownership in Ireland.
Speaking to TheJournal.ie in a wide-ranging interview, Murphy said "you have different layers of checks and balances in a democracy".
One of those layers is the role of the media, she said.
It is not the first time Catherine Murphy has raised the issue of media ownership and, speaking under privilege, the issue of the sale of Siteserv (a company associated with Denis O'Brien) to IBRC (formerly Anglo Irish Bank).
Subsequently, O'Brien launched legal proceedings against members of the Dáil Committee on Procedure and Privileges over the panel's decision that Murphy did not abuse her parliamentary privilege when making claims about his banking deals.
The Social Democrats TD backs a renewed call from the National Union of Journalists (NUJ) for the establishment of a commission on the future of the sector, arguing that the media in Ireland is at a transition point.
Earlier this year, the Guardian reported how NUJ's Irish secretary Séamus Dooley told Limerick University students that media dominance in Ireland is not a new issue.
During his talk, he noted how a former NUJ president, John Devine, raised the problem with the government in the mid-1970s following the acquisition of Independent Newspapers by Tony O'Reilly.
Today, Murphy believes the landscape of the media in Ireland is changing once again due to the rise of online media and the pressure on funds and resources that is impacting on the output of strong investigative journalism.
The media has a role in holding people to account and we have an issue with our defamation laws that needs to be properly evaluated.
Ireland's tough defamation laws were also called into question on World Press Freedom Day this year.
The representative body for the national newspaper industry, NewsBrands Ireland, highlighted the significant challenge they pose to freedom of expression. It said the level of awards made in defamation cases are concerning as they are much higher in Ireland compared with the rest of Europe.
"Where lawyers are playing a stronger role in the outcome rather than journalists, you do have to stop and say 'hold on here a second, some of our checks and balances are skewed'," said Murphy.
I think the ownership of the media is important whether that is Rupert Murdoch or Denis O'Brien or whoever.
"I think you have to keep the balance of that right and I think it is valid to question that, because it is one of the checks and balances."
Read the full interview with Catherine Murphy on TheJournal.ie tomorrow at 7.45am.