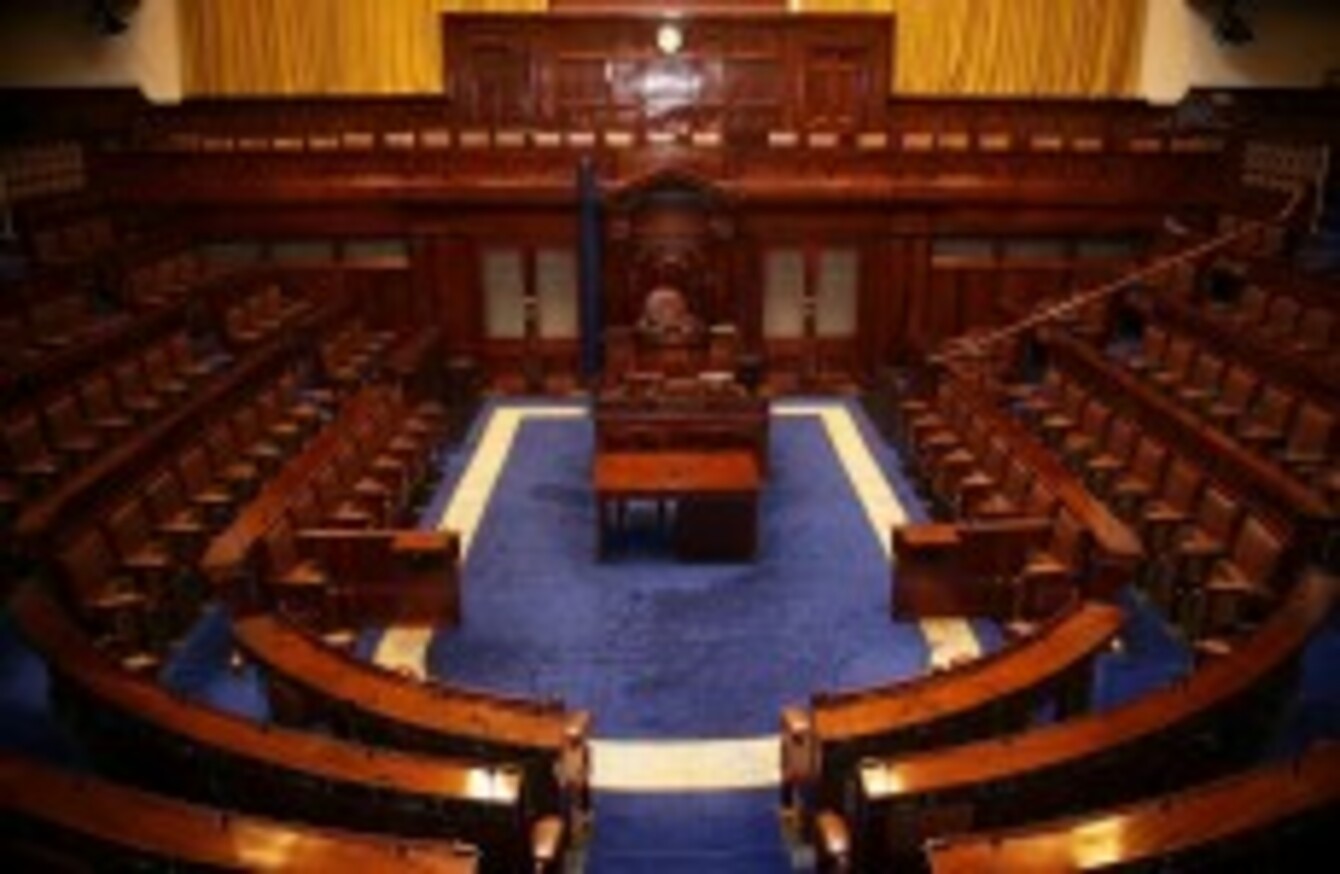 JUST OVER 130 TDs were paid less than €50,000 each in vouched and unvouched expenses from the Oireachtas during the course of the current Dáil last year.
Details of travel and accommodation allowances as well as an allowance known as the public representation allowance (PRA) – used for the likes of office rent, stationary, utilities, insurance – are published every month on the Oireachtas website.
The release of the December 2011 figures has allowed us to construct a full picture of the money paid to TDs since the 31st Dáil was elected in February of last year. The money is paid on a pro-rata basis meaning that in some cases deputies will return money that went unspent on the purpose it was intended for.
The figures show that in total 35 TDs were paid less than €18,500 in expenses during the 31st Dáil last year.
These figures include money paid to the late Brian Lenihan, the former Finance Minister and Fianna Fáil TD for Dublin West, who died in June and the Labour TD Patrick Nulty who took his seat in October – he has since lost the party whip. Their expenses were €9,189.88 and €6,790.06 respectively.
The list also includes Eamon Maloney, the Labour TD in Dublin South-West, who does not claim any expenses.
Between €0 and 18,327.86
That leaves a total of 32 TDs who were paid under €18,500 in allowances last year – including most of the cabinet as well as junior ministers and the Dáil Ceann Comhairle Seán Barrett.
Under Oireachtas standard allowance rules Ministers, Ministers of State and the Ceann Comhairle are not entitled to a travel allowance. Ministers instead claim these travel and accommodation expenses through their own departments.
Ministers and Ministers of State are also entitled to €9,709.68 for unvouched expenditure and a maximum amount for vouched expenditure (subject to audit) of €16,182.80 which is paid on a pro-rata basis as part of the PRA.
This helps explain why most senior and junior ministers claimed the least amount. They range from Jobs Minister Richard Bruton (€10,684.33) to Housing Minister Jan O'Sullivan (€18,327.86) who only became a junior minister in December.
The non-ministerial TDs who feature in the €0-18,327.86 bracket are Robert Dowds, Labour TD for Dublin Mid-West, and Willie Penrose, Labour TD  for Longford-Westmeath who was Minister of State for Housing until he resigned over the closure of the Mullingar army barracks.
This list details the payments for those who claimed between €0 and 18,327.86 excluding the aforementioned Maloney, Nulty and Lenihan (Note: The 'Y' and 'N' denote whether or not the expenses are vouched (Y) or unvouched):
Between €21,722.65 and €31, 865.51
Then there are 34 TDs who were paid between €21,722.65 and €31, 865.51 whose single unifying characteristic is that they are all defined as being in the Dublin band for travel allowances.
This means that they are less than 25 kilometres from Leinster House  so are therefore entitled to an unvouched allowance of €12,000 for travel and accommodation.
The maximum that can be claimed for travel by deputies is  €37,850 for those who live 360km or more from Leinster House. Only one TD falls into this bracket, Fine Gael's Noel Harrington in Cork South-West
Deputies are also entitled to claim a minimum certified amount for unvouched expenditure of €12,678.57 and a maximum amount for vouched expenditure (subject to audit) of €21,722.62.
Interestingly, Independent TD Mick Wallace is among the group of deputies who is classified as being in the Dublin band for travel allowance claims. Even though his constituency is Wexford, his expenses are based on his accommodation being in Dublin according to the figures.
#Open journalism No news is bad news Support The Journal

Your contributions will help us continue to deliver the stories that are important to you

Support us now
A spokesperson in his office told TheJournal.ie: "Mick lives in Dublin. His two children are in full-time education in Dublin so he lives there."
Wallace is among a group of 13 TDs who claimed exactly €22,821.43 including Labour, Independent and Fine Gael deputies:
There are 15 TDs who were paid €31,865.51 exactly including the two People Before Profit TDs as well as Labour, Fine Gael and Sinn Féin deputies. In the case of all 15 of these TDs their expenses are vouched for and they are all based in the Dublin area.
Between €35, 981.22 and €49,911.37
There are 63 TDs who were paid between €35, 981.22 and €49,911.37. There is no single unifying characteristic of these TDs' expenses claims but the majority of them fall outside the Dublin bands for the travel allowances.
However, there is a group of eight TDs who are classified as being in the Dublin for travel allowances – meaning they can claim €12,000 for travel and accomodation – who were each paid exactly €45,478.95 – all in vouched expenses.
One of these included independent TD for Wicklow Stephen Donnelly. It is understood that while he has been paid this amount, he intends to return around €11,000 of the money as he did not use the money he was able to claim for travel and accommodation for that purpose.
While the travel and accommodation allowance for deputies is set aside solely for that purpose and is based on the distance from their "declared normal place of residence to Leinster House", it does not have to be vouched for. So it could technically be used for other purposes.