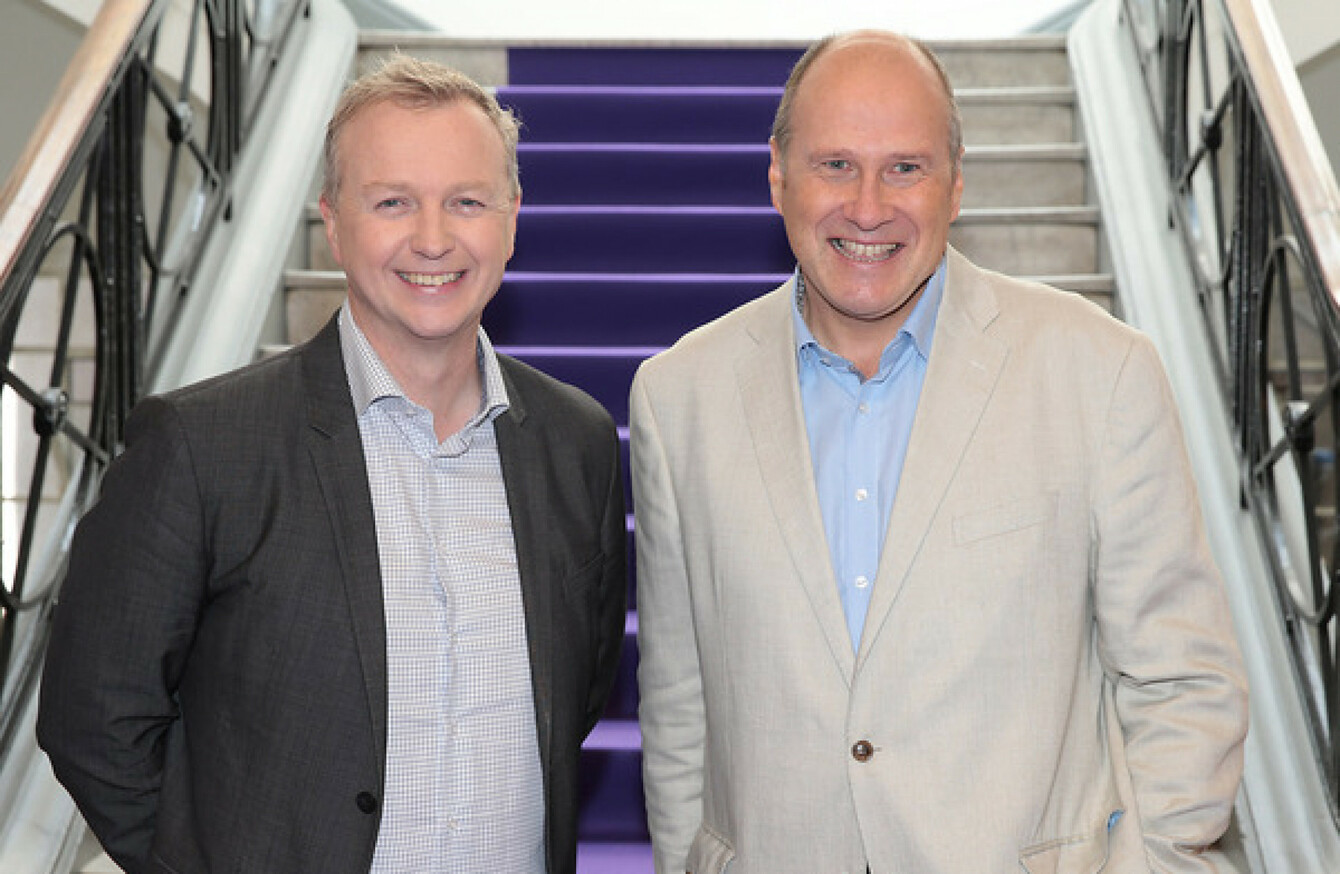 "IT WON'T BE a table and four talking heads. I think it will have much more depth to it and I think it will be more interactive and less predictable."
That's how Ivan Yates compares The Tonight Show to Tonight with Vincent Browne, which it is replacing from tonight.
Matt Cooper and Ivan Yates will co-present the new current affairs show on TV3 every Tuesday, Wednesday and Thursday from 11pm. Speaking to reporters ahead of the first live programme, the pair describe how the setup will be 'a bit different' from what Irish television audiences are accustomed to.
"It's a bit more of an American way of doing it," says Cooper.
"The two of us are going to be on-screen together at all times. We're conducting the interviews together."
Yates adds, "Matt's background is as a journalist and professional editor and so on.
I see myself very much as an analyst, a commentator, maybe an opinion leader and therefore I'm most comfortable actually asserting things whereas maybe Matt is trying to present things…
"Or find out things," interjects Cooper, trying to give us journalists a flavour of what they are going for with the new format.
"I come from a background as a journalist, I like finding things out. I like hearing people, I like asking questions of them and getting the answers."
Cooper, who was the former editor of the Sunday Tribune before becoming a Today FM presenter, is used to carrying out his interviews alone – a task he expects may be difficult to share:
"It's a new challenge for me to be working with someone. Professionally it's going to be very challenging to make sure we do it properly.
It will take a certain amount of discipline on both of our parts. There may be occasions when I'm dying to ask the follow-on question and Ivan has something else he wants to ask… But that doesn't mean that what he's going to ask isn't actually the right question.
"That will create a certain dynamic, a certain energy to the programme and then we can just beat each other up afterwards."
Source: TheJournal.ie/YouTube
Yates has experience of co-presenting and feels it gives him more freedom:
When you're on your own there's a kind of obligation to chair a panel debate. Whereas with two, you can be much more terrorist in your approach.
He also says it will take a bit of time for the pair to get in-sync, adding, "I do think it is a task for the production team in our ears to synchronise everything at the beginning."
Yates describes himself as a "performing monkey", saying the selection of the guests and content matter is entirely up to the production team.
Asked how much of his own opinion he'll bring to the programme, Yates said, "Oh 100%", before laughing, "I jest."
I think that's the whole point of debate, whether its guests, whether it's presenters, there will be a [mix] of opinion.
When asked about the difference between The Tonight Show and Tonight with Vincent Browne – which ran for almost 10 years, Yates said:
"I think it is different, I think Vincent was his own man. Vincent was an iconic institution and the programme was built around him.
This is completely different, in so far as it's built around the production team and it's going to be faster paced. It's going to have much better technology.
"Whatever the news of the day is – we'll provide analysis of the news, maybe it's analysis you disagree with but hopefully it provokes a reaction and a conversation."
TheJournal.ie understands the show will comprise – amongst other surprises – a panel on the topic of the day and a news review, which will involve trending topics rather than a look ahead at the next day's front pages. There will also be an option to bring in an external guest through a Skype call on an interactive wall in studio.
Work schedules
A lot of commentary since the decision to replace Browne with Cooper and Yates has been around their competing drivetime shows on Today FM and Newstalk.
Cooper has been heading up The Last Word for the past 15 years while Yates recently took over the 4pm Drive slot, replacing Chris Donoghue and Sarah McInerney.
When asked if they are concerned about their busy work schedules, both presenters seemed optimistic about the extra load.
"I just manage my time so I'm not actually particularly worried as long as I stay fit and stay off the drink," said Cooper, who noted that when he stepped in for Browne in the past, he managed to be "home in bed and asleep by 12.30 after the programme".
I don't live too far away, I can get home and just go straight to bed and that's it – I'm asleep. I don't like getting my sleep interrupted.
Yates, who previously co-presented the Newstalk breakfast show, said, "It's such a relief not to be getting up at 4.45am, I would work into the middle of the night so for me this is actually a natural fit.
There's no doubt a media programme is a performance, it does require a particular commitment and energy but for me anything is better than getting up at 4.45 in the morning, I found that really difficult.
Source: TheJournal.ie/YouTube
As both of them present drivetime shows, they compete for the same radio audience every day. So how will they feel coming in to work with each other on the days the Joint National Listenership Research (JNLR) figures are released?
#Open journalism No news is bad news Support The Journal

Your contributions will help us continue to deliver the stories that are important to you

Support us now
"The Last Word on Today FM will win," said Cooper.
But if it turns out that Yates is taking listenership away from his show?
"We won't talk about it."
Yates took a different approach, pitting commercial radio against the State broadcaster, saying he's committed to the independent commercial sector.
"I'm committed to an alternative to RTÉ. I try to do everything to create a point of difference to RTÉ, who I regard as the anchor tenant of news and information with €160 million of taxpayers funds.
"I'm a supporter of TV3, I'm a supporter of Communicorp and I make no apology for that.
From that point of view I regard RTÉ as the enemy, not Matt Cooper. So Mary Wilson: God love ya.
Pre-show nerves 
Seasoned performers both, neither are nerve-free 24 hours out from going live.
"If you don't feel nervous than your being complacent and you're going to mess it up," believes Cooper.
I think that will certainly be the way for the first few weeks as we find our feet trying to bed ourselves in… I'll be nervous and I'll be cautious and looking back saying, 'Did we do that the right way or do we need to improve it?'.
Yates says he's looking forward to the show starting and added that he has great respect for Cooper.
"I would regard Matt as an authority on many subjects and I have a great respect for him. I think I'm going to learn a lot from Matt.
"We're doing everything together, I'm really looking forward to it and I know deep down he's a feisty Cork guy."
Cooper added:
It will take time, you try to hit the ground running as much as you possibly can but these things will take a little bit of time to develop.
"It's going to take a bit of time before we get comfortable with it so we have to ask our audience to give us that bit of leeway."