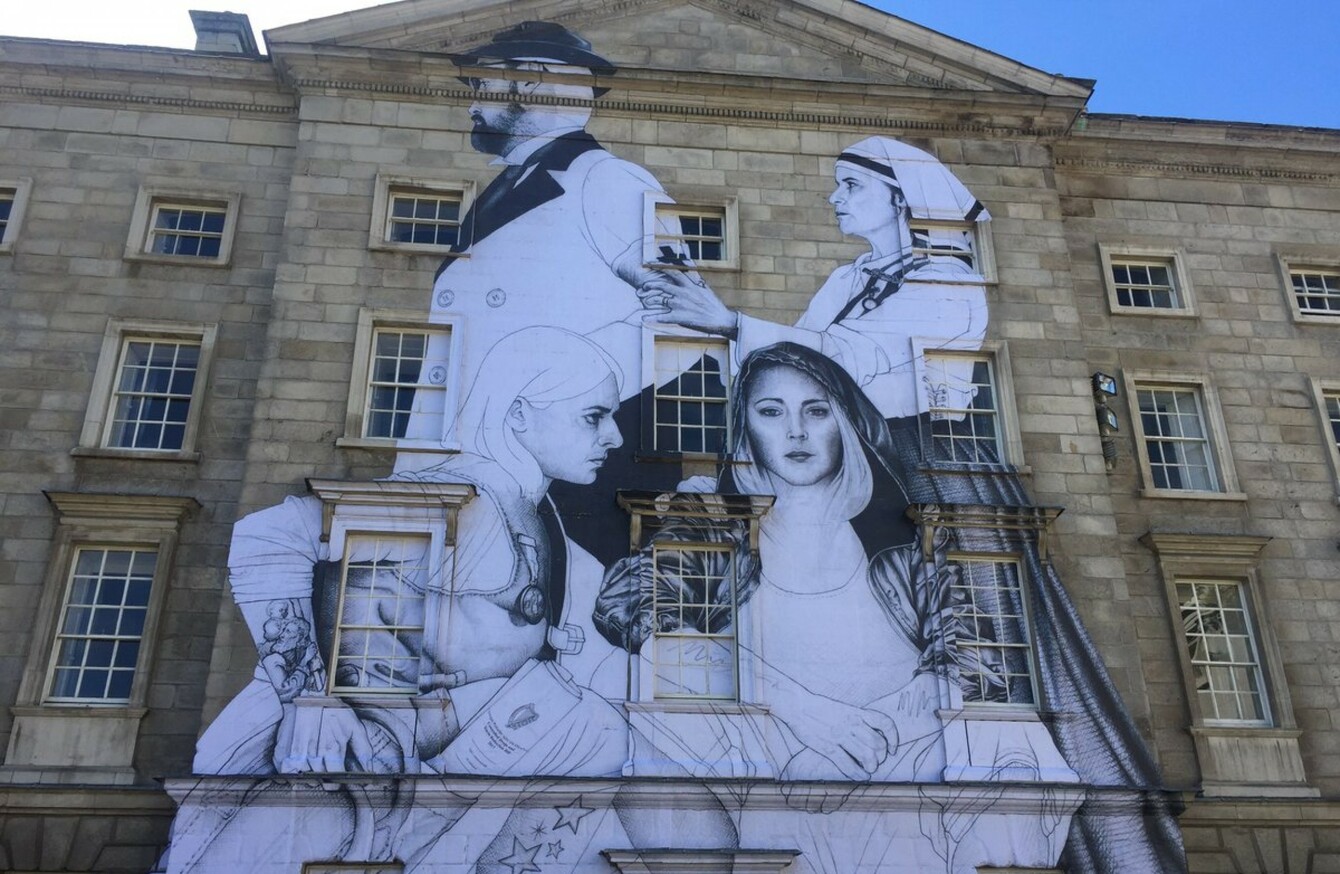 THE ART PIECE towers above the Front Square in Trinity College.
Four drawn characters span the height of the Trinity building – a man and three women.
Two of the women hunch down. One woman stares in the direction of the other, who herself stares out into square. Above them, the third woman pulls on the elbow of a man, who is turned away from her.
The giant mural is the latest piece of work from Offaly street artist Joe Caslin.
It is the first of three pieces of the The Volunteers, the second and third of which will be be unveiled later this year.
The three pieces will have as their central theme volunteerism and the people who volunteer.
A poem by Erin Fornoff – We will let no life be worth less - accompanies the piece. A video around it is due to be released next week.
Speaking to TheJournal.ie, Caslin – who works as a teacher in a Tullamore – said that the project had been "about two and half years in the pipeline".
He said it was part in response the the 1916 centenary and the commemorations of the volunteers involved in the Easter Rising.
"I was looking at how and what similarities are between then and now," Caslin told TheJournal.ie.
"And there was this kind of striking piece that stood out and it was the idea of volunteerism.
"100 years ago there were these people that took it upon themselves to look at a huge social issue at the time and take it upon themselves to take up arms and to become volunteers and to change our country for the better.
So I looked at how volunteerism was set up in Ireland and I look at the huge work that is done right across the island by volunteers.
Caslin said that he then looked at what the most prevalent and pressing social issues in Ireland today are – what issues the volunteers of 100 years ago would be fighting if they were alive today. He said he settled on three:
Drug addiction
Mental health
Direct provision
Each issue will have a piece dedicated to it.
Drug addiction 
Aside from the man in Caslin's Trinity College art piece, the characters are all real life people.
The standing woman is Fiona O'Reilly – managing director of SafetyNet, a primary care service for people who are homeless.
In the centre of the piece is Rachel Keogh, an advocate recovering from heroin addiction. The third woman is Senator Lynn Ruane, who recently introduced a bill to the Seanad that would decriminalise drug possession.
The unidentified man with his back turned represents the medical establishment shirking its responsibilities, as it has historically played less of a role than the criminal justice system in tackling drug addiction.
While part of the piece is to honour those involved in assisting and advocating for those caught up in drug addiction, Caslin said it has a strong political message. It is a call out for the transferring of drug addiction from a criminal justice issue to a medical one.
"It's a call to arms to the wider general public to look at volunteerism and how imperative it is and how important it is," he said.
"But also how they can interact with the social issues. The piece itself is to provoke and to create a discussion around certain themes.
And this theme is the movement of drug addiction away from the criminal justice system and into a primary healthcare approach.
Socially engaged art
While The Volunteers is his newest work, Caslin's previous pieces too have focussed on prevalent social issues in Irish society.
Perhaps his most famous work was the mural advocating for same-sex marriage which appeared on George's Street in 2015.
#Open journalism No news is bad news Support The Journal

Your contributions will help us continue to deliver the stories that are important to you

Support us now
Another series of works – Our Nation's Sons – looked at the issues facing boys and young men in the state.
For Caslin, it's important that his art is socially engaged – that it reflects and deals with the issues of the times in which we live.
"I would consider myself political but not in a political party type of sense," he said.
I believe that the project is a social awareness project, slightly more than political. Sometimes politicians dance around the most necessary social issues that need to be engaged with or looked at.
Art has always been political and always will be political.
In terms of his latest piece, Caslin said he has been affected personally by addiction, which is what motivated him to focus on it.
"I would have had friends and family that would have had suffered addiction in different guises so I would have lived through addiction or experienced addiction through my lifetime," he said.
In terms of the current approach, Caslin said it has failed repeatedly to address the social issue of addiction, and that a new one was needed.
"Since the first drug intervention policy came in in this state, we have had 16 successive governments that have allowed addiction to be completed through the court system and through the criminal justice system," he said.
"So for 16 successive governments and 50 years it has not worked.
"If you look out and any street that is in any city centre in Ireland, it has not worked. It is fundamentally not capable of solving the drug addiction issue that is in Ireland.
Caslin said the piece is to start a conversation around moving away from this and towards a more compassionate, humane approach.
"It just makes sense to move in that direction," he said. "Like, why would you continue and perpetuate something that is wrong?"
If I was within my classroom where I work every single day and I did something wrong and continued to do it wrong, it wouldn't make any sense.