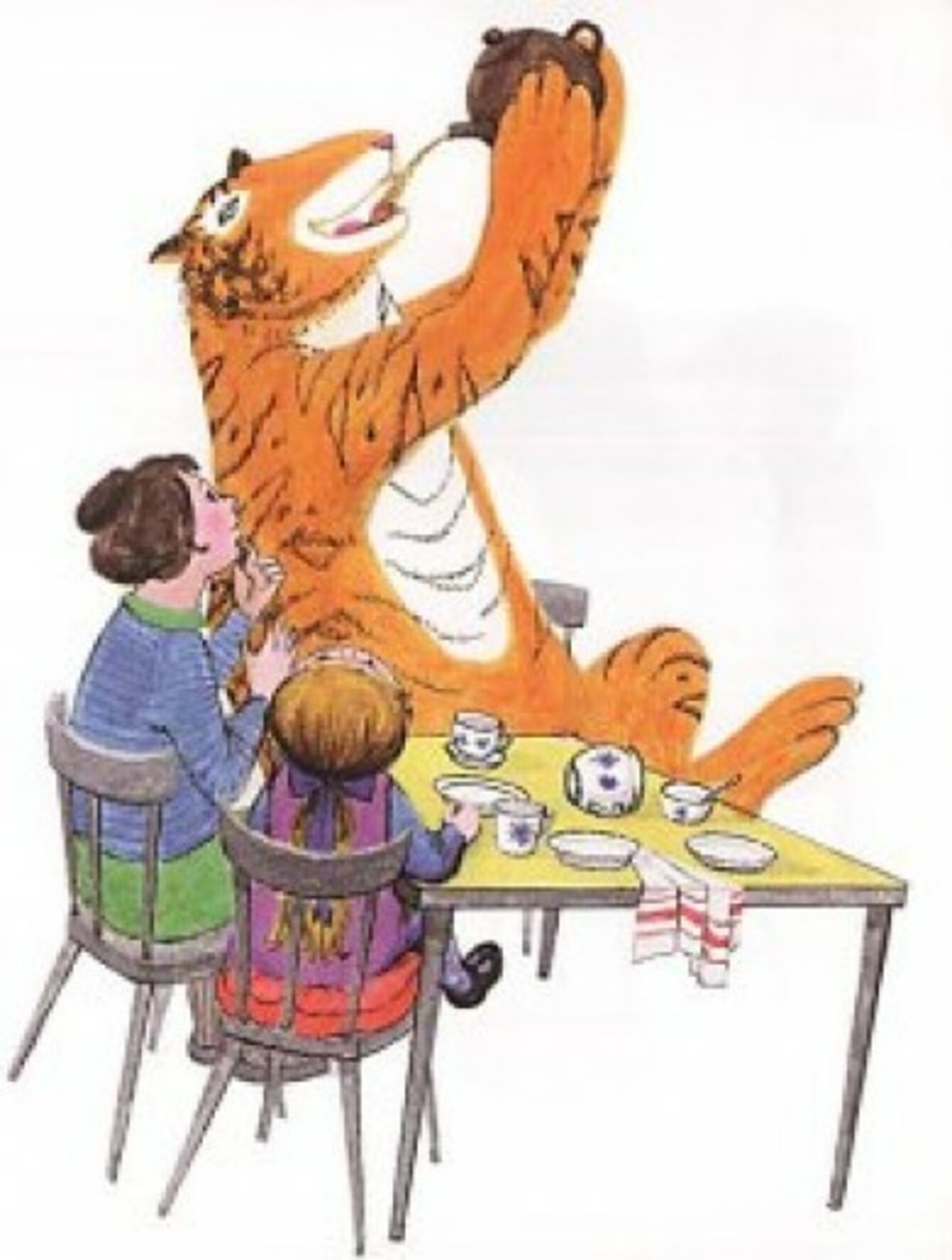 Reproduced from The Tiger Who Came to Tea by Judith Kerr
Reproduced from The Tiger Who Came to Tea by Judith Kerr
"THE CELTIC TIGER long ago collected its hat and coat and disappeared into the night. And what a bill it left behind." That's the opening line of today's Lex column in the Financial Times.
It may be borrowing an image from Judith Kerr's iconic children's book, but the tale that follows does not make for comfortable bedtime reading. The article goes on:
There were trade union demonstrations in Dublin this week as part of Europe-wide strikes against austerity, but they were modest compared with the continent. Perhaps a deep sense of guilt about the excesses of the boom years explains why Irish taxpayers seem willing to accept that they must bear the cost.
But the column does welcome the reduction in the yields on Irish 10 year debt.
That is something to be grateful for, as is the certainty that Irish people who die will go straight to Heaven from now on, because right now they are caught between hell and purgatory.
Elsewhere in the Financial Times, however, John Murray Brown writes that "Ireland appears to have ridden out the immediate storm over the banking crisis, with Irish bonds rallying after the government announced a further capital bail-out to keep the country's institutions afloat."
The New York Times Deal Book blog, meanwhile, reports with alarm on the fact that our budget deficit will be 32 per cent of gross domestic product in 2010.
While the figure is a one-time charge — stripping out the banks, the deficit shrinks to 11 percent of G.D.P. — it remains shocking and is the largest fiscal deficit recorded by a major European country.
The Washington Post reveals the fears of  some economic analysts that "Dublin's emergency effort to shore up banks brought low by a mountain of bad real estate loans could provoke a national fiscal crisis, making Ireland a new source of turmoil in global markets."
By postponing the NTMA auctions scheduled for October and November, the paper adds, Ireland has merely put off its day of reckoning.
Ireland, unlike Greece, has money in the bank and does not need to borrow money on the markets until June 2011 to fund basic operations. That has put Ireland's day of reckoning off by months, one reason for the lack of a market panic after Thursday's announcement. But doubts are already growing among investors over whether Ireland will be able raise fresh funds when it goes back into the market. Irish officials said they would not return to the markets before January.
The Post's reporter, Anthony Faiola, described how the Ringsend glass bottle site "on the emerald coastline" contributed to the demise of Anglo:
Once a sleepy mortgage lender, Anglo Irish in particular became emblematic of the real estate rush here in the 2000s, with deals like one on the shores of the Irish Sea just south of Dublin. There, it helped finance the purchase of an abandoned glass factory for close to half a billion dollars, envisioning a bustling new high-rise urban quarter within million-euro views of the emerald coastline.
#Open journalism No news is bad news Support The Journal

Your contributions will help us continue to deliver the stories that are important to you

Support us now
"Ireland: Busted" is the Guardian's uncompromising editorial headline this morning, but it sets the tone for an article that will make very grim reading for Irish taxpayers.
When financiers joked in 2008 that the only difference between bankrupt Iceland and hard-up Ireland was one letter and a few days, they got it wrong – the mess the Emerald Isle is now in is so much worse. And all the way down, Dublin ministers have promised voters that things are about to get better. Those emergency loans to the banks – that would sort it. These savage spending cuts – that would do the job. That decision to pretty much guarantee the entire banking system (with practically no questions asked) – this time for sure. Wrong, wrong, wrong. Like a body flung off the roof of a skyscraper, the Irish economy has just kept on falling.

The Irish finance minister, Brian Lenihan, promised voters that the national "nightmare" they have had to live with for the past couple of years would soon be over: "We are now bringing closure to that." He did not convince financiers, who have heard a similar form of words from Mr Lenihan every time he has brought forth another ill-advised plan…Ireland cannot unilaterally devalue its currency. Its only road back to competitiveness is to cut workers' living standards. Which means that, whatever Mr Lenihan claims, the Irish economy has further to fall.
Further afield, The Australian carries a report by Sam Fleming of The Times who claims that "Ireland's attempt to stop the bleeding in its banking sector has failed to stanch fears that it will be forced to seek a euro-zone rescue." It quotes Michael Dicks, chief economist of Barclays:
Ireland is now approaching the point where Greece was before its problems blew up and it remains to be seen whether today's measures draw a line under it.
If there is a glimmer of hope in this morning's international coverage of Black Thursday, it was the statement by International Monetary Fund Chief Dominique Strauss-Kahn to a German newspaper that he does not expect to the euro rescue fund to be activated due to Ireland.