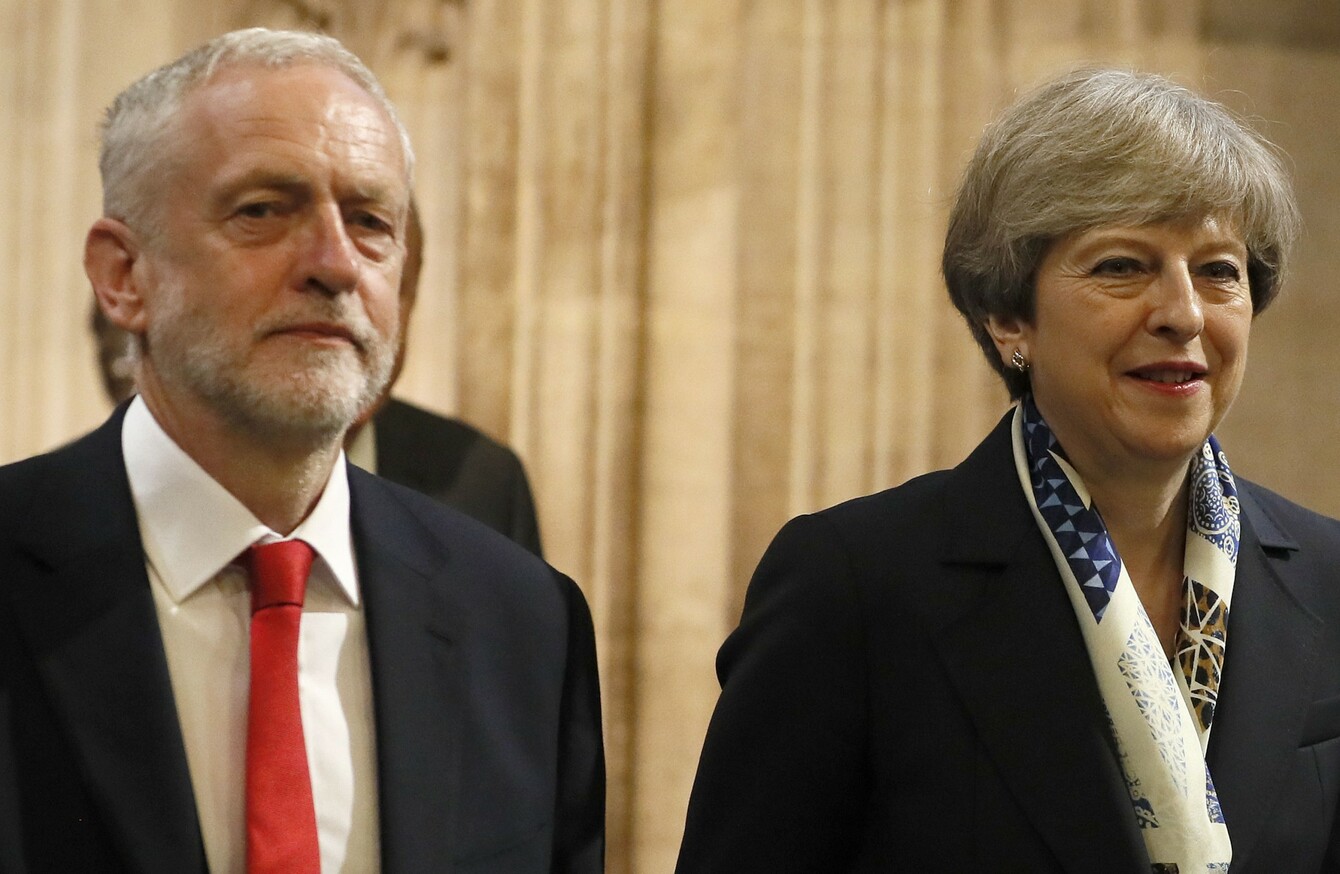 Labour leader Jeremy Corbyn and UK Prime Minister Theresa May.
Image: Kirsty Wigglesworth
Labour leader Jeremy Corbyn and UK Prime Minister Theresa May.
Image: Kirsty Wigglesworth
BRITISH PRIME MINISTER Theresa May will seek to reimpose order on her ministers after a series of damaging leaks pointing to cabinet splits on Brexit, her spokesman has said.
The Conservative leader will use Tuesday's regular cabinet meeting to "remind" colleagues to keep their discussions private and urge them to focus on the job of government, he said.
Ahead of the resumption of key Brexit negotiations in Brussels today, the weekend newspapers were filled with stories about warring ministers, as well as leaks targeting Finance Minister Philip Hammond.
"Cabinet must be able to hold discussions on government policy in private and the prime minister will be reminding her colleagues of that at the cabinet meeting tomorrow," May's spokesman said.
"She will just be reminding them of their responsibilities," he said, adding that each minister's job is to focus "on delivering for the British public."
Hammond hit back yesterday, blaming the "noise" on rivals who disagreed with his position that Britain must be careful to prioritise the economy when it withdraws from the European Union.
But his words seemed only to fuel the fire, with an unnamed cabinet minister accusing him in Monday's Daily Telegraph of trying to "frustrate" Brexit.
"What's really going on is that the establishment, the Treasury, is trying to f*** it up. They want to frustrate Brexit," the minister said.
This is a critical moment. That's why we have to keep Theresa there. Otherwise the whole thing will fall apart.
Blair on Corbyn
Source: BBC Newsnight/YouTube
Tony Blair has also conceded that it is conceivable the Jeremy Corbyn could become Prime Minister, despite repeatedly refusing to back the man who now leads his former party.
In his first round of TV interviews since last month's general election, Blair said that he "can't rule anything out in today's politics".
"I still believe that if the centre puts forward strong, radical solutions but which are based in what I'd call solutions that align with the future, I still think that position aligns with the future," he told BBC Newsnight.
For most of my political life I've been saying this is the right way to go and it's the only way to win an election, I have to qualify that now. I have to say "I think it's possible you end up with Jeremy Corbyn as Prime Minister.
"I can't rule anything out anything in today's politics, but it doesn't stop me believing that if we deliver Brexit and at the same time deliver the programme that he has at the moment, unreconstructed, unchanged, we will be in for a very rough time as a country," Blair added.
© – AFP with reporting by Rónán Duffy