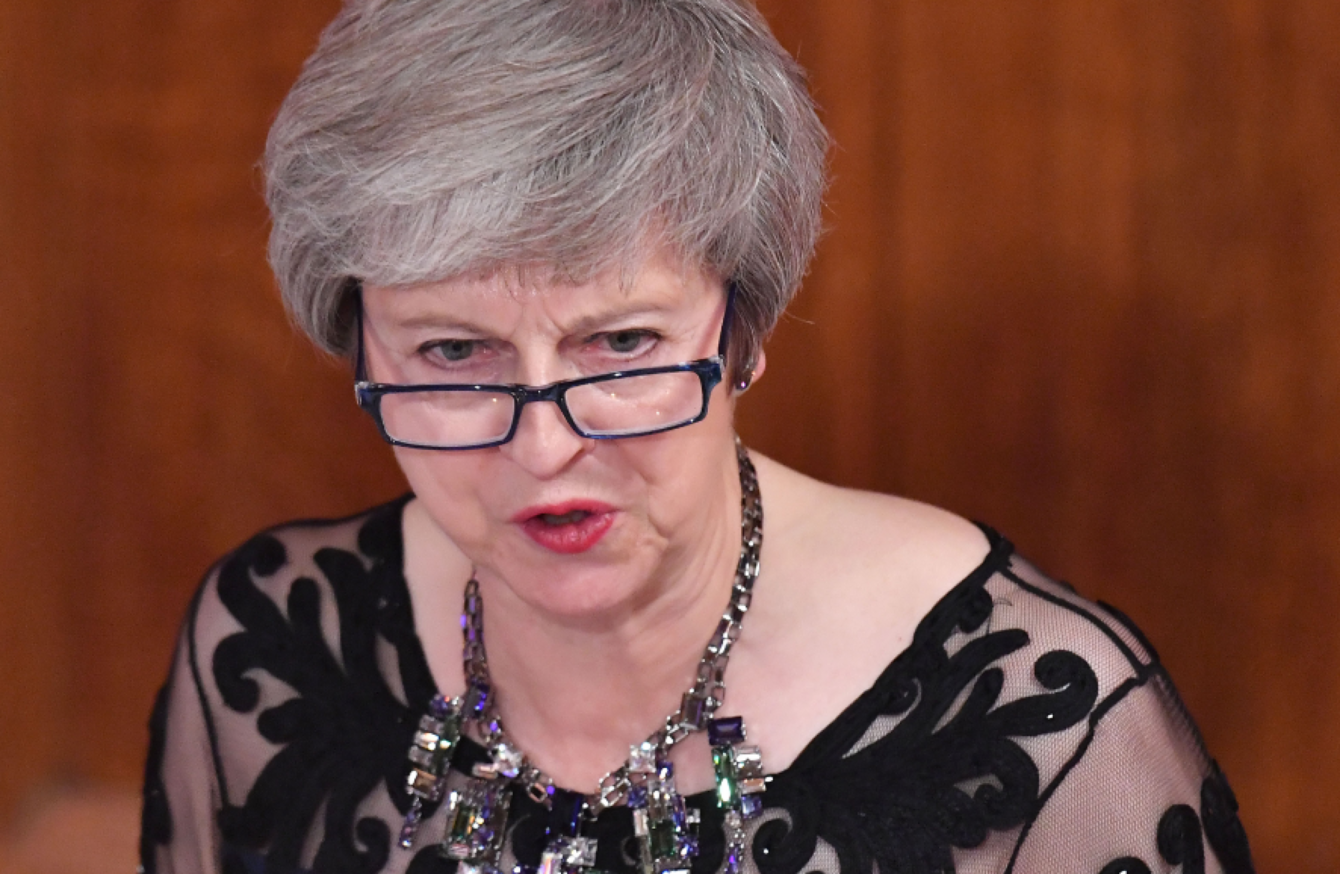 Prime Minister Theresa May speaking at the Lord Mayor's Banquet at the Guildhall in London yesterday.
Image: Dominic Lipinski/PA Wire/PA Images
Prime Minister Theresa May speaking at the Lord Mayor's Banquet at the Guildhall in London yesterday.
Image: Dominic Lipinski/PA Wire/PA Images
Updated Nov 13th 2018, 12:50 PM
SINN FÉIN LEADER Mary Lou McDonald has said she is writing to the Taoiseach today seeking a private briefing for all party leaders on the state-of-play in the Brexit talks. 
British Prime Minister Theresa May has said Brexit negotiations are now "in the endgame" as a deal continues slipping out of grasp despite intense talks between her government and the European Union.
May spoke to leaders of London's City financial district with anxiety mounting over the doomsday possibility of Britain leaving the soon-to-be 27-nation bloc in March without an agreement.
The British prime minister hopes to seal divorce terms that can maintain frictionless trade — and assure there is no panic on the markets — by the end of November.
But the latest in a series of crunch meetings between top negotiators in Brussels broke up without a breakthrough in the early hours of yesterday morning.
"The negotiations for our departure are now in the endgame," May's office quoted her as telling a reception in the heart of London's financial district.
"And we are working extremely hard, through the night, to make progress on the remaining issues in the withdrawal agreement, which are significant."
When?
A UK government source has said a deal must happen by tomorrow if there is any hope of an extraordinary EU summit this month to sign the withdrawal agreement.
The crisis could otherwise drag on until a regular EU summit on 13 December.
This would dramatically curtail the time May will have to get any agreement past a rebellious British parliament before Brexit day on 29 March.
The pound dropped to $1.285 from Friday's close of $1.297 amid fears of the saga ending in a messy divorce that fails to establish short-term trading rules between one of Europe's biggest economies and the rest of the bloc.
Not at any cost
The talks are stuck on the question of a "backstop" arrangement to prevent the return of border checks between Northern Ireland and the Republic if the sides fail to agree a free trade pact.
"Some key issues remain under discussion, in particular a solution to avoid a hard border between Ireland and Northern Ireland," the European Commission said yesterday.
The Financial Times briefly lifted markets by reporting yesterday that chief EU negotiator Michel Barnier told European ministers that the outlines of a deal were now "very largely defined".
But both British and EU officials took pains to quickly play down the report.
Tániste and Foreign Affairs Minister Simon Coveney saw no substantive progress after meeting Barnier.
"The two teams have really intensified their engagement," Coveney said yesterday.
We'll have to wait to see where that goes. The issues aren't new. We need to give the teams the time and space now.
Britain's latest concerns are focused on how it might be able to exit the "backstop" arrangement and start negotiating its own trade deals.
But signs last week that the sides were nearing a compromise looked far less promising after May came under attack from key British players for giving away too much ground.
May's Northern Irish allies in the Democratic Unionist Party — a group of 10 MPs that props up her government — and eurosceptics in her own party have accused the prime minister of negotiating away Britain's sovereignty.
#Open journalism No news is bad news Support The Journal

Your contributions will help us continue to deliver the stories that are important to you

Support us now
Their main fear is that Northern Ireland will be left partially under EU regulation after the rest of Britain breaks free.
May appeared to be addressing those fears by telling City officials yesterday that there "will not be an agreement at any cost".
Mystery Cabinet meeting 
May will host a weekly Cabinet meeting today that she had initially hoped would sign off on a deal struck over the weekend with the EU.
But a British source has said there is "no agreement for them to discuss" Brexit after the talks fell through. The deal is meant to finalise Britain's exit bill of around £39 billion (€45 billion).
It must also guarantee citizens' rights and launch a 21-month transition during which London will follow EU rules.
British and European negotiators will launch more ambitious talks during this transition period on future trading and legal relationship. But May is facing increasing pressure from all sides in her Conservative party over the mooted plan.
Eurosceptics have long warned against staying too close to the Brussels. There are also growing indications that pro-Europeans are gearing up to block the Brexit deal and seek a brand new referendum on the country's future course.
- © AFP 2018 with reporting by Christina Finn