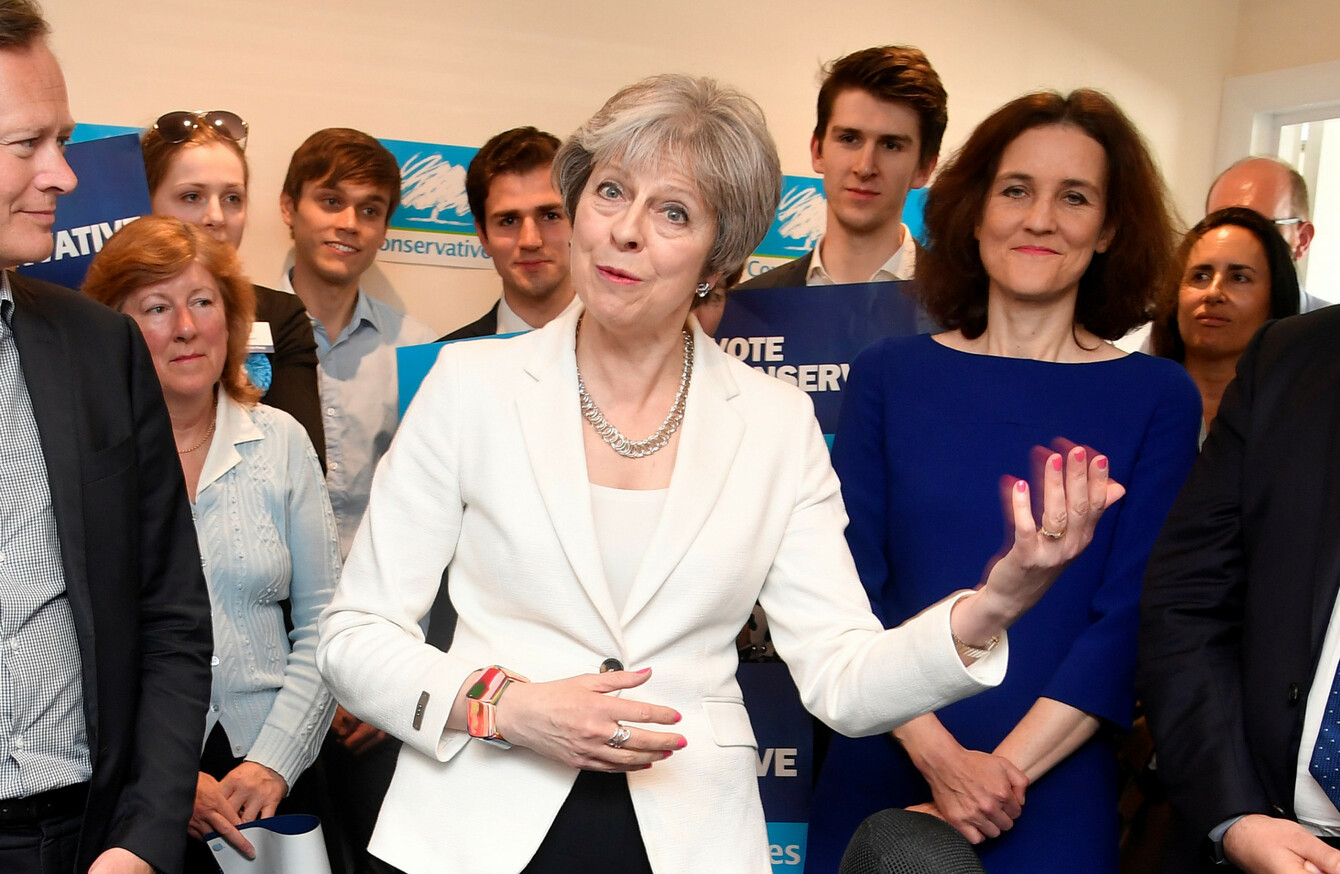 Image: Toby Melville/PA Images
Image: Toby Melville/PA Images
Updated 1.02pm
AFTER A WEEK in which her authority has been challenged from all sides over Brexit, British Prime Minister Theresa May was today spared an election drubbing but still faces intensifying pressure.
May's Conservatives performed better than expected in yesterday's local council elections in England, the first poll test since she called a snap general election last year and lost her parliamentary majority.
The party held on to key London councils despite a big push by the main opposition Labour party, which admitted its results so far had been "mixed".
The UK Independence Party (UKIP), which has seen its support collapse since the 2016 vote for Brexit, were all but wiped out, while the pro-European Liberal Democrat party made gains.
Labour's leftist leader Jeremy Corbyn had sought to make the vote about national spending cuts, building on a campaign that deprived the government of its majority in parliament in last year's general election.
"We've done better than expected," Conservative party chairman Brandon Lewis told Sky News.
"We have seen Labour — who thought they would be sweeping the board in London — thus far not gaining a single council in London."
Labour's national election coordinator, Andrew Gwynne, admitted it was a "mixed picture" and said the Conservatives had benefited from the collapse of UKIP.
But the results do not change the balance of pro- and anti-Brexit forces in May's own party and the wider House of Commons, which have been steadily turning the screw as key decisions on Britain's future loom.
The European Union is expecting Britain to present its plan for new customs arrangements after Brexit before a June summit in Brussels, ahead of a hoped-for agreement on future trading ties by October.
London last year put forward two possible options to ease cross-border trade, but May's preferred proposal has been rejected by the EU and, this week, by a majority of her own cabinet ministers.
Pro-European MPs meanwhile are pressing the prime minister to abandon altogether plans to leave the EU's customs union, and are gathering numbers for Commons votes in the coming months that could force her hand.
"The result of the local elections, had they been bad, would have really piled on the pressure," said Tim Bale, politics professor at Queen Mary University of London.
But they don't change the parliamentary arithmetic and they don't change what she is proposing in terms of the customs relationships with the EU.
He added: "She's not in any worse position, but the position she is in is still pretty nightmarish."
Eurosceptics' challenge
Since taking office after the referendum vote to leave the EU in July 2016, May has balanced competing forces in her party by avoiding the most controversial decisions about Britain's future.
But as Brexit approaches – Britain is on course to leave the bloc on March 29, 2019, followed by a 21-month transition period – she must take firm decisions that could cause a revolt on either side.
"The prime minister's challenge used to be deciding which way to move. Now, she will be wondering if she can move in any direction at all," wrote commentator James Forsyth of The Spectator magazine.
At a meeting this week of her senior ministers intended to thrash out the customs issue, May's preferred option for a new "customs partnership" were reportedly rejected by most of them.
Her defeat came after a pro-Brexit grouping of up to 60 Conservative MPs warned the idea was unacceptable.
Brussels had already rejected as "magical thinking" the plan, which would involve Britain collecting EU tariffs on goods transitioning to the rest of the bloc, but charging its own on UK-destined products.
It has been described by critics as a bureaucratic nightmare.
The second option, so-called "maximum facilitation", would involve using technology to ease trade, but could require some infrastructure, which Britain has promised not to introduce on the Irish border.
Officials admit they are now "refining" their plans.
Brexit and anti-Semitism
Labour's goal to win Conservative strongholds such as Westminster and Wandsworth in London was always going to be hard and though the party gained seats, it failed to take control.
Its failure to take Barnet, a northern suburb with a large Jewish population that was Labour's top target in the capital, is likely to be more heavily scrutinised in the context of an ongoing row over anti-Semitism in the party.
The Conservatives held Kensington and Chelsea, where they had faced severe criticism over last year's devastating Grenfell Tower fire that killed 71 people, but with a smaller majority.
However, May's party lost control of Trafford, its flagship council in northwestern England, where no party won a majority in what Labour described as a "huge coup".
It also lost the strongly anti-Brexit London borough of Richmond upon Thames to the Liberal Democrats, which had courted EU citizens' vote.
"At present it looks like a better night for the Conservatives than many would have anticipated, while Labour results have not quite lived up to expectations," said Jonathan Carr-West, chief executive of the LGiU, a local government think tank.
"The picture emerging is that Labour has gone backwards slightly from 2014," when these council seats were last contested, added Matt Singh of Number Cruncher Politics.
"Opposition parties are supposed to do well in mid-term contests, and these aren't the results of one that's about to storm the next general election," he said.
National issues often factor in the local elections, but so too do questions of local tax rates, bin collection and the state of the roads.
It was too early to assess turnout but it is normally low – only around one third of voters cast their ballot in last year's local elections, compared to 69% in the national vote in June.
Full results are not expected until late today.
With reporting from Sean Murray