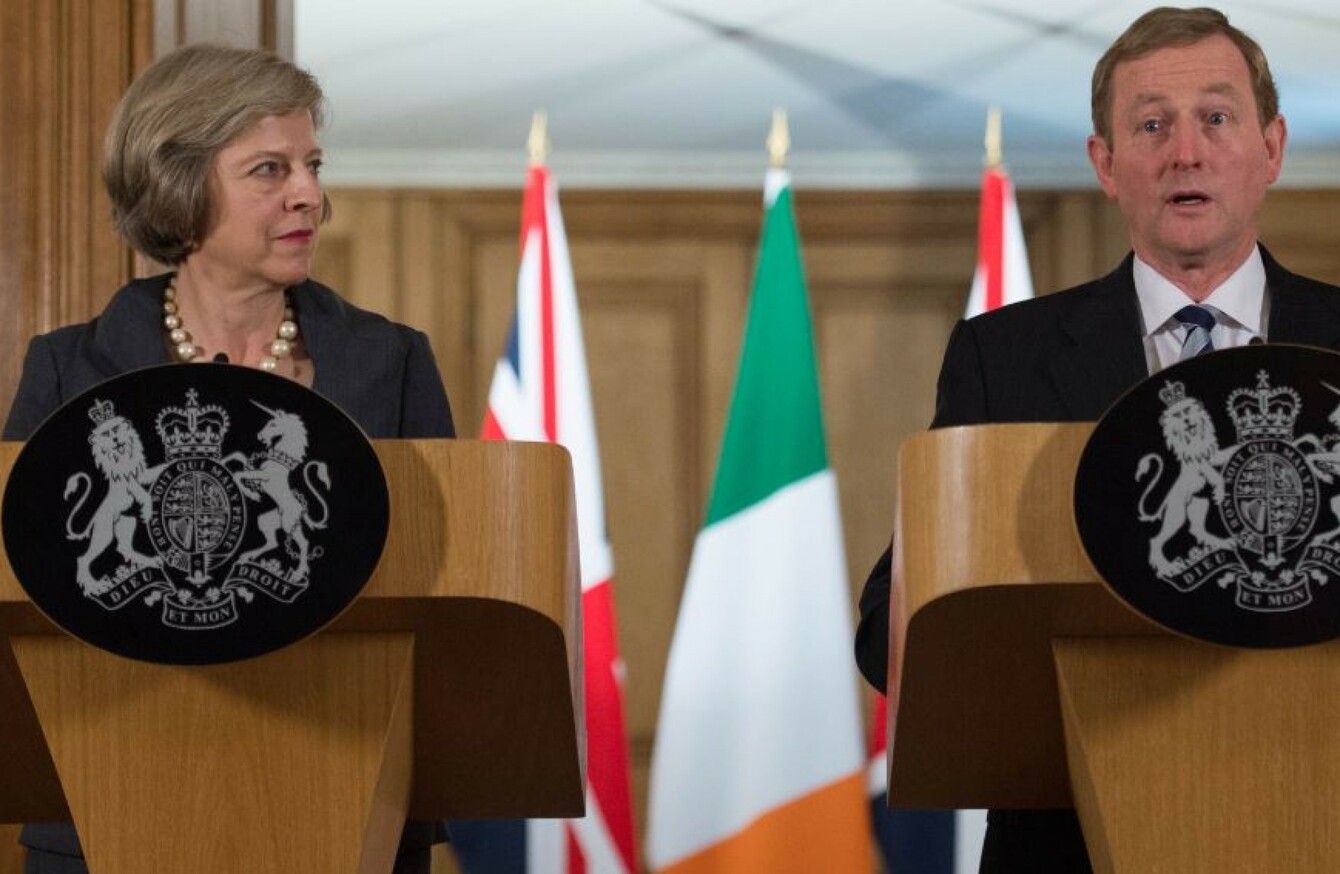 May and Kenny speaking to the media inside 10 Downing Street in July
Image: Stefan Rousseau PA Wire/PA Images
May and Kenny speaking to the media inside 10 Downing Street in July
Image: Stefan Rousseau PA Wire/PA Images
ENDA KENNY TOLD reporters today he will be holding a meeting with UK Prime Minister Theresa May in Ireland next month.
The meeting is expected to take place in Dublin.
Earlier this week, May said the status of Irish people in the UK might change after Britain leaves the EU.
When asked about May's comments, the Taoiseach said: "Theresa May has declined to rule out a change in the status of Irish nationals living in Britain, suggesting the issue is part of a broader negotiation about the rights of EU citizens after Brexit.
"After Britain leaves the EU, it will be free to choose what rights to offer Irish citizens in the UK, including a continuation of the current arrangement under which they have most of the same rights as British citizens."
Government sources today said that May's remarks may have conflated two different questions: the status of other EU citizens in Britain and the status of Irish citizens living in Britain.
It is understood the British government has no intention of making the status of Irish citizens living in the UK conditional on the outcome of talks in relation to citizens from other EU countries.
Article 50 
Kenny continued: "When Article 50 is triggered, we will then know what kind of future relationship the UK wants with Europe, because that is what this is all about.
What we need to know is: what is the proposition for the future in relation to the UK with Europe because we will be on the European side of the table and negotiating from that position.
"And in those discussions, what I intend to see happen is very clear. The Good Friday Agreement contains the future option and potential for a united Ireland.
"That can only be triggered if there are sufficient support for a referendum North and South. It is the peoples North and South who will decide to join Ireland, in a new Republic. So it is very important that that understanding of that principle is enshrined it the language of negotiations to be concluded."
Kenny said that in previous discussions with May they "agreed a few things".
One: no return to a hard border. Two: no derogation from the benefits of the Common Travel Area – and these are very important principles that have been built up between Britain and Ireland for a very, very long time indeed…
"She did ask that when the negotiations would start that a question of European Union people, living in Britain, and British people living in Europe, would be dealt with at an early part of those discussions. And that is separate from the rights and relationship that Ireland has with the UK."
With reporting by Christina Finn