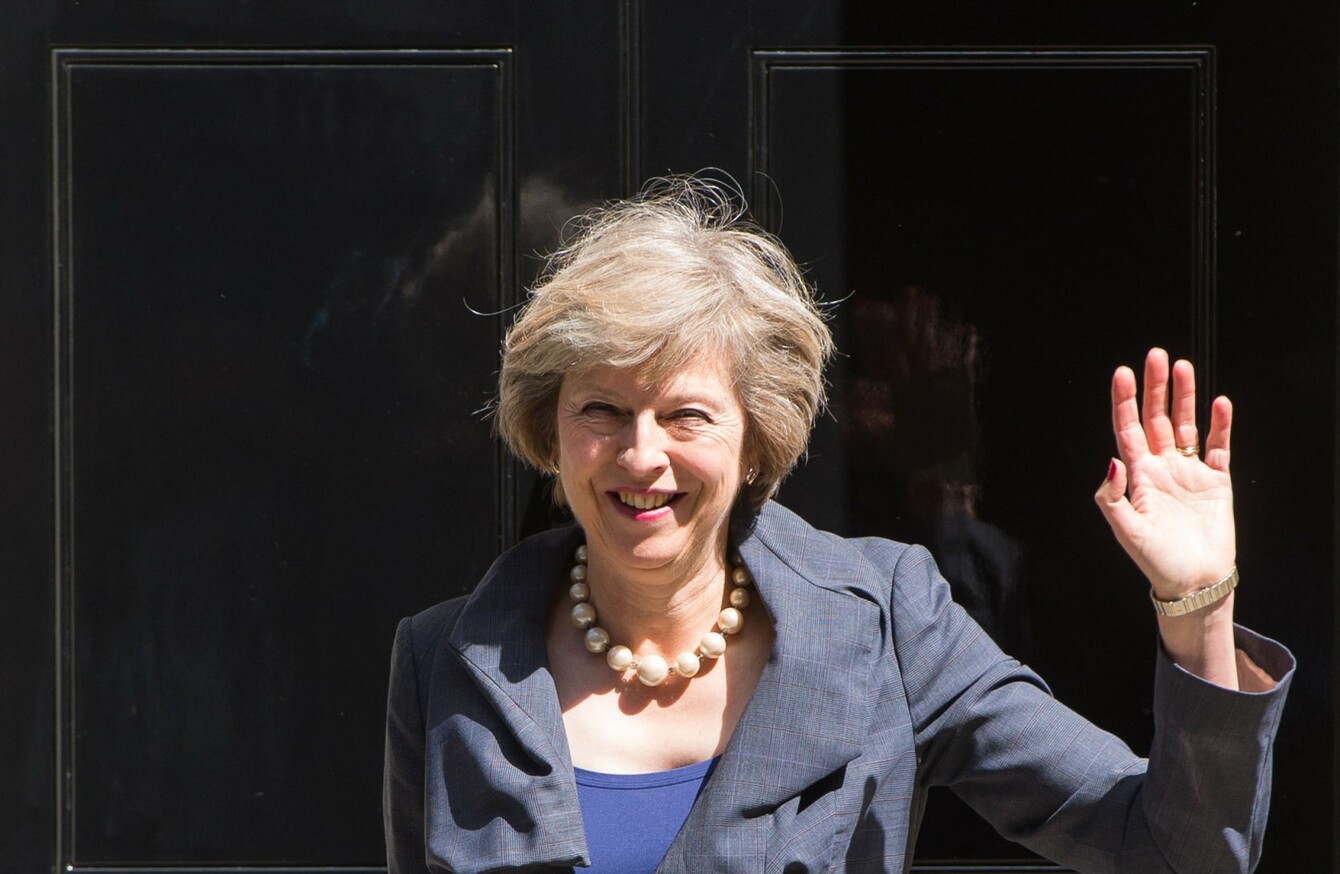 Home Secretary Theresa May leaves 10 Downing Street, London today, after the final Cabinet meeting with David Cameron as Prime Minister.
Image: Dominic Lipinski/PA
Home Secretary Theresa May leaves 10 Downing Street, London today, after the final Cabinet meeting with David Cameron as Prime Minister.
Image: Dominic Lipinski/PA
AS THE LONGEST-SERVING British home secretary for over a century, Theresa May is well versed with security issues, including the Irish peace process.
Over the past six years, May has weathered riots, sat in on a decision to go to war and, like Cameron, (quietly) campaigned to Remain in the EU.
She now insists that Brexit 'means Brexit'.
Described as a "bloody difficult woman" by Tory grandee Ken Clarke, May has promised that the next man to find out how "bloody difficult" she could be will be Jean-Claude Juncker.
As president of the EU Commission, Juncker will be tasked with negotiating the terms of trade and immigration with the new prime minister, often described as Britain's Merkel.
Just how bloody difficult these negotiations prove will have a huge bearing on Irish people's freedom of movement, the peace process, and trade in general.
Common Travel Area
Prior to Britain's momentous decision to leave the EU, May predicted border controls across the island of Ireland if the referendum carried.
She said it was "inconceivable" that the invisible border would not be affected.
While she acknowledged that the British-Irish Common Travel Area pre-dated the EU, she insisted that Brexit would lead to tariffs and some form of controls between the Republic and the North.
Immigration has been identified as one of the main drivers of the Leave vote, particularly among working-class strongholds in the north of England.
The big question for Irish people is whether she will end the right for EU citizens – including Irish citizens – to work in the UK.
On Sunday 3 July, May stressed the importance of 'controlling' free movement of people:
It's important we get the right deal about controlling free movement, but it's also about ensuring that we get the best deal possible on the trade of goods and services.
That could mean the end of the soft border between the 26 and six counties, and a return of checkpoints between, say Derry and Letterkenny, and Newry and Dundalk.
Yet so far European leaders have baulked at allowing the UK to cherry-pick three of the EU's four freedoms (also comprising free movement of goods, capital and of services respectively).
Although tougher on immigration than former Tory rival Boris Johnson (who played down the issue), May's time at the Home Office has still seen annual net immigration to the UK rise to 330,000 (184,000 of whom came from other EU countries like Ireland).
Moreover, with Britain's economy seriously affected by Brexit, she could end up softening her stance on immigration in return for EU free trade concessions.
Trade
Although the value of Irish exports to Britain now lags behind those to Belgium, overall trade with the UK (including the North) remains second only to Ireland's trade links with the United States.
It's possible that, in return for May's wish to limit immigration, the EU will impose tariffs on the UK's trade with the remaining member states.
In any case, Britain is preparing for a fresh recession due to the economic uncertainty triggered by Brexit, which is bound to hit Ireland hard.
The peace process
May had previously said that the UK should withdraw from the European Convention of Human Rights, which underpins much of the Good Friday Agreement.
Yet she backed away from that position when asked directly at the launch of her Tory leadership bid last week.
Sinn Fein has expressed grave concern over May's appointment, and the repercussions for the peace process.
Leader Gerry Adams said Cameron had been "remiss in fulfilling his obligations under the Good Friday Agreement, under the Stormont House Agreement, and under the Fresh Start agreement".
He said May's appointment will present difficulties for the peace process and Anglo-Irish relations.
"Unfortunately, that focus has not been there as much as it needs to be.
So, the upcoming period is going to be particularly difficult and particularly challenging.
Adams also reiterated his call for a border poll, and warned that any attempt to tamper with the ECHR would be "bad".
This week Northern Ireland secretary Theresa Villiers paid tribute to May's engagement with the Stormont executive.
Theresa May has a positive history of working with the Northern Ireland administration across a range of Justice issues, including the NCA [National Crime Agency] becoming fully operational in Northern Ireland.
Yet the peace process has been partly assisted by EU and Westminster funding, while the soft border with the Republic has made living in the UK more palatable for many Northern nationalists.
Berlin meets
As much as Ireland has a unique relationship with the UK, the government is also trying to ensure its 'special friendship' with the continental powers remains.
In a one-on-one meeting with Angela Merkel in Berlin this afternoon, Enda Kenny set forward his reasons for why Ireland will be adversely affected by Brexit – and thus should get some special treatment.
The German Chancellor didn't bite, telling the Taoiseach that Ireland's voice will be one of many heard when Article 50 is invoked.
There are positives for Ireland, though.
Unlike Michael Gove, at least May hasn't compared the Good Friday agreement to appeasement.
And unlike rivals like Andrea Leadsom, May plans on triggering Article 50 some time in 2017, in order to prepare Britain's negotiating position.
Whether Ireland can use that time usefully depends as much on the political situation in Dublin as it does in London.