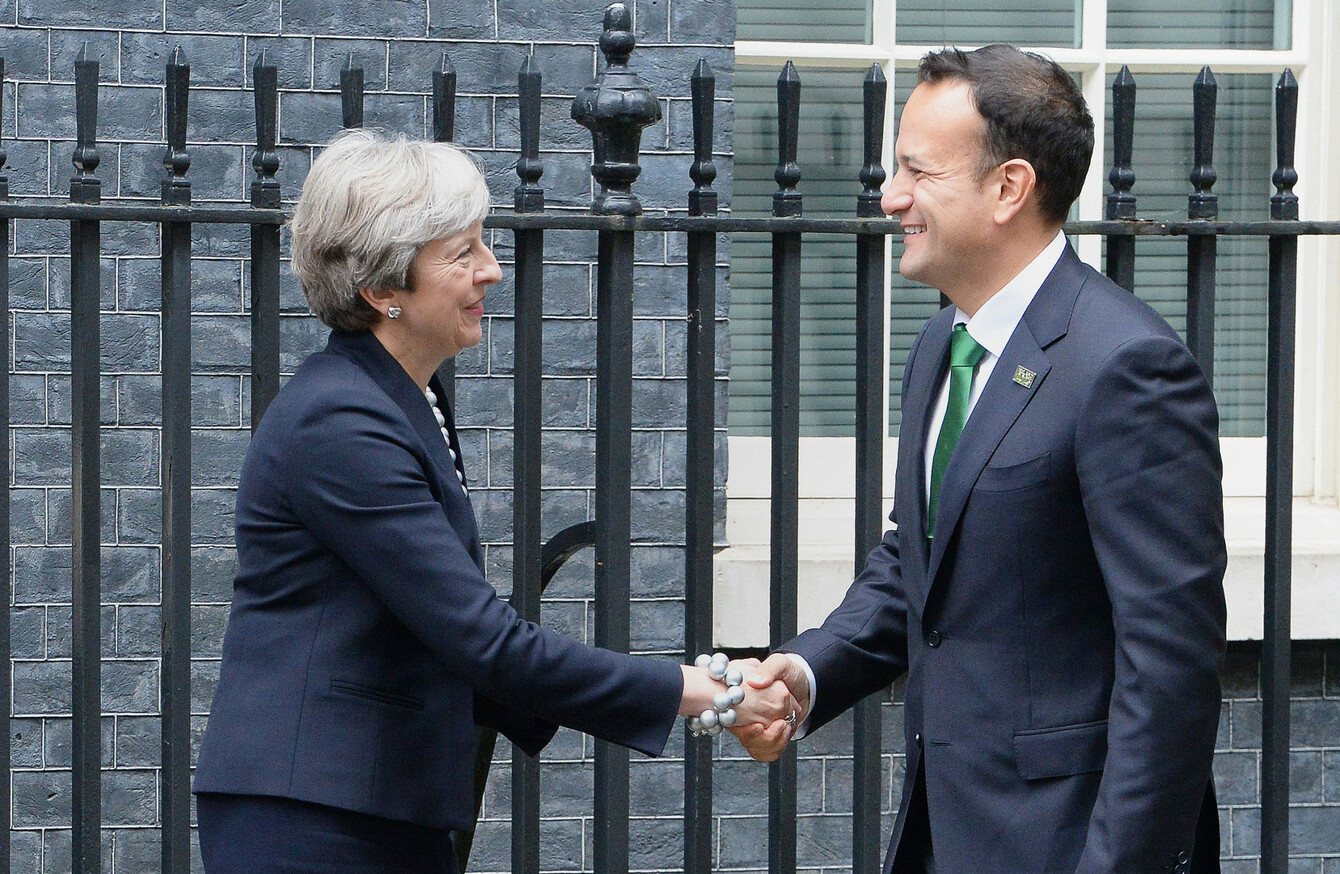 Image: John Stillwell
Image: John Stillwell
Updated 20.45
TAOISEACH LEO VARADKAR and British Prime Minister Theresa May talked over the phone this afternoon, and both agreed on the importance of a post-Brexit soft border in Northern Ireland.
A statement from Number 10 said that both "agreed about the paramount importance of no hard border or physical infrastructure at the border between Ireland and Northern Ireland".
The Prime Minister said how she recognised the significance of this issue to the people of Northern Ireland and Ireland and how this remained a joint priority for both Governments, and the EU, to resolve.
"The Prime Minister said we are working hard to find a specific solution to the unique circumstances in Northern Ireland that respects the integrity of the UK, the European Union and the Belfast Agreement," said the statement.
"She added that we are committed to moving together to achieve a positive result on this as well as restoring devolved Government to Northern Ireland. Both leaders looked forward to continuing relations as close neighbours and allies as the negotiations progress."
This evening, Varadkar had a meeting at Government Buildings with the Prime Minister of the Netherlands Mark Rutte.
The leaders discussed a number of issues in advance of next week's European Council meeting.
Varadkar told reporters afterwards that Ireland and the Netherlands had a lot in common as we are "both small countries with big neighbours".
He said Ireland and the Netherlands want to move the Brexit negotiations onto the second phase "maybe more than any other member state".
Rutte agreed it was a "very good discussion", adding: "Everyone is working very hard to reach an agreement – it is difficult but it's doable."
Source: MerrionStreetNews/YouTube
Varadkar also gave his party an update on this week's Brexit developments at tonight's Fine Gael Parliamentary Party meeting.
The party leader said he believes that it can be brought back on track and that both the Irish and British Governments want to move to Phase 2 of the negotiations.
However, he reiterated that prior to this we want assurances written down in black and white.
Party colleagues heard that Ireland has the full support of our EU colleagues. The Taoiseach said European leaders across the continent see this as a test of Europe and the value of the European Union to smaller member States.
Tánaiste Simon Coveney said the good work done by his predecessor Charlie Flanagan, former Taoiseach Enda Kenny and Minister Helen McEntee along with Irish civil servants across the EU over the last 18 months was bearing fruit.
'Bunch of jellyfish' 
Earlier today, British Labour leader Jeremy Corbyn lambasted Theresa May over the collapse of Brexit negotiations this week, as the PM took questions in the Commons.
At one point, Corbyn referred to May and her ministers as a "bunch of jellyfish masquerading as a cabinet".
May gave assurances that all sides were still talking to each other, and that progress had been made.
She had spoken to the DUP's leader Arlene Foster by phone in advance of Prime Minister's Questions – but there were no major breakthroughs during their discussion.
"We will ensure that there is no hard border between Northern Ireland and the Republic of Ireland," she said during Prime Minister's Questions.
"We will do that while we respect the constitutional integrity of the United Kingdom and we will be able to do that while we respect the internal market of the United Kingdom."
European leaders have given May a deadline of the end of this week to resolve outstanding issues in order to draft an agenda in time for a crucial EU summit next Thursday and Friday and open the second phase of Brexit talks.
Additional reporting by Cliódhna Russell.