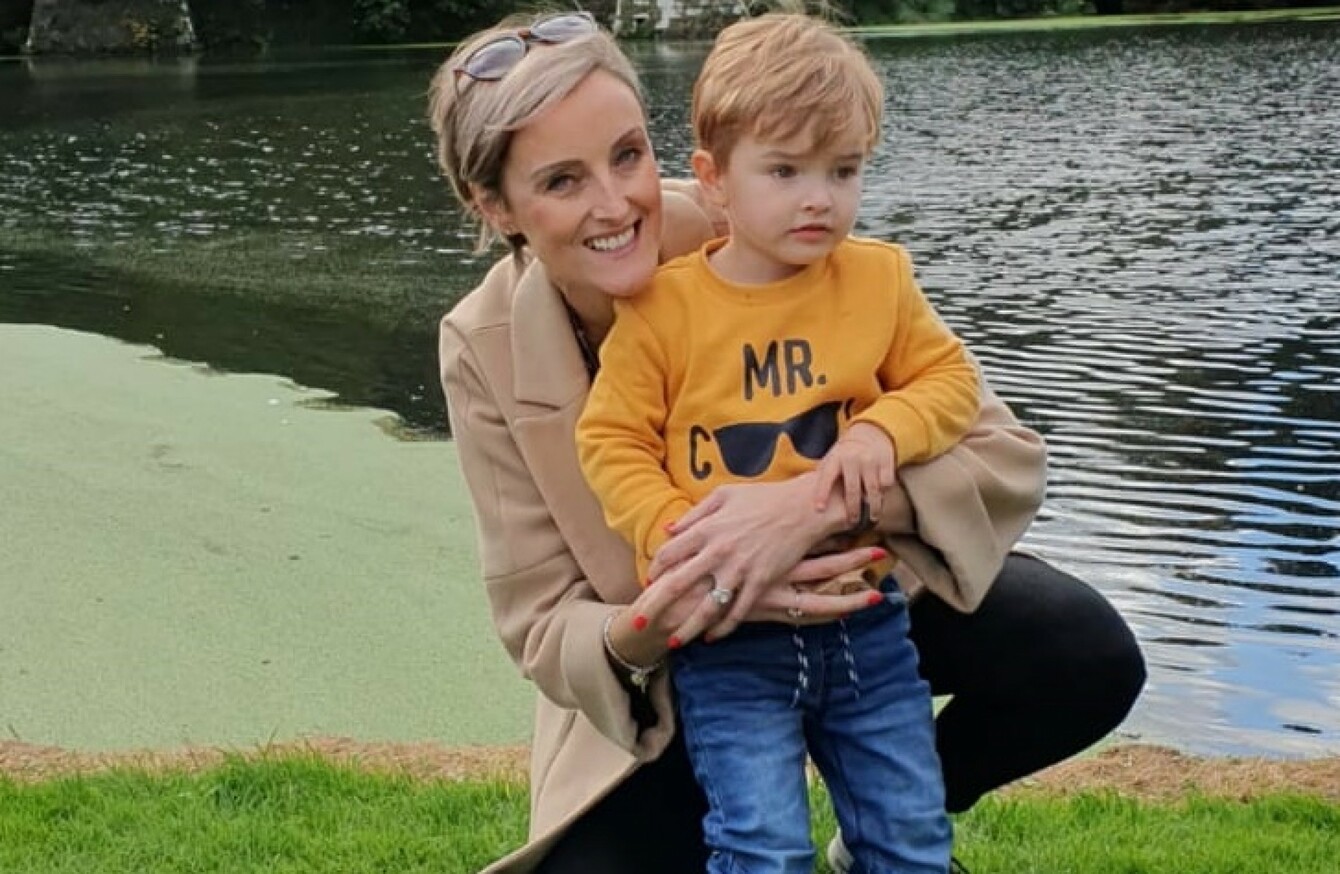 Dianne with her son, Harrison.
Dianne with her son, Harrison.
"They decided to wait until I was 24 weeks pregnant and do surgery for a lumpectomy."
Dianne Fitzharris Doyle was 38 when she discovered a lump in her breast – while she was 16 weeks pregnant with her second child. She underwent two surgeries, then a C-section to deliver her son four weeks early, followed by chemotherapy and radiation treatment. 
Dianne is back at work as an insurance broker now, and enjoying life with her husband, two-year-old son and six-year-old daughter. 
We're now less than two weeks out from Cups Against Breast Cancer – an Irish Cancer Society appeal to the public to hold a coffee morning on October 11. It's all to raise much-needed funds for people affected by breast cancer, just like Dianne.
Here, the mum of two shares her story, from diagnosis to treatment – and a baby in between. 
It was January 2017 and I was about 16 or 17 weeks pregnant when I found a lump. I went to my GP and she wasn't overly concerned about it at the time, but she referred me anyway. 
I went down alone, naive, thinking it was just routine. 
They did a triple assessment, but when they proceeded to do the biopsy on the day, alarm bells did start ringing. They sent me home, and two weeks later, they confirmed it was stage two breast cancer. 
My daughter, Ellen, was four and a half at the time, and we had had a yearlong IVF journey in order to get to this stage where we were pregnant with our second. It had been one of our last attempts to get pregnant. It was really shocking to get the news that I had cancer so soon after such an emotional journey.
A plan for treatment during pregnancy
They decided to wait until I was 24 weeks pregnant and do surgery for a lumpectomy. That went ahead in mid-March and surgery went really well. I was kept in overnight and monitored to make sure the baby was okay. 
They called me back two weeks later and said they didn't get clear margins, so they recommended a further surgery. So we went back again and had the surgery repeated. 
At that point, I was five or six months pregnant, and the only thing I could take after surgery was paracetamol. Sometimes that just didn't cut it, but look, we did it. 
Before the baby was born, we had an appointment with the oncologist, and that was the first time that anyone had mentioned chemo to us. That morning with the oncologist resonated with us more than the initial diagnosis. The fear of how to mind a newborn and do chemo at the same time became very real.
They delivered our baby four weeks early – he was a big baby, 8 pounds 9 ounces, so they were happy with how he was developing. He was unaffected by it at all, he was really flying it. 
Harrison was born on the 26th of May, and it was just bittersweet to have him delivered and then to go straight into treatment. But if I hadn't been pregnant, I might not have discovered the lump in the first place. 
A healthy baby, now on to chemotherapy
When I was three weeks postpartum, I started six months of chemo. 
We had to get my mum to take me to the appointments so my husband could mind the baby. I went once every three weeks, and the day of treatment was nearly the easiest part. It was the downtime afterward that was so hard, because it could last three or four days to a week, where you're literally stuck in bed. 
Not being able to look after my own baby was torture. 
Both our families took it in turns and minded the baby. Ellen had started school, so she was gone every day until 2pm and after school clubs, and everyone just rallied around and helped where they could. 
Ellen was oblivious until I lost my hair, really, because until then it didn't need to be brought up. But I knew that we would need to have a conversation about it. We were watching an episode of Bubble Guppies and they were heading to a wig shop. My husband is actually bald, so she suggested we get him one! 
I thought, here's my cue now. We had a chat about it, how I was in hospital and had medicine that was making me feel better – but that would make me lose my hair for a while so I would need a wig. 
We never mentioned cancer, and she never asked. She just took it. "So you're going to be having a wig – can I try it on?" She was so oblivious to it. She just believed everything she was told and happy with the answers we gave her. She was the perfect age really.
Daily radiation – with a baby at home
Initially, everything was so manic, we were just struggling to get through each day. After my six months of chemo, I did five weeks of radiotherapy. That was a little more intense to travel from Wexford to Waterford daily, five days a week every week. The creche took the baby from six months and again, we just relied on our families doing school pick ups and the after school club as well. 
After chemo and radiation, I was getting regular infusions up until July 2018, when I properly finished treatment. I'll have yearly MRI appointments and mammograms, but I'm otherwise done with treatment.  
It affected my husband a lot more afterward. He wanted to do more, but he felt helpless watching me go through this. Every follow up appointment, I can see the fear in him. It just brings you back there and you're hoping everything is okay. The fear just never leaves you. 
When I was at home a good bit, I called the Irish Cancer Society's Cancer Nurseline and found the service absolutely amazing. I couldn't just pop down to the doctor if I had a concern because I had a small baby at home. I would just call the freephone number and the cancer nurses were ready to help.
I found the Daffodil Centre in the hospital brilliant as well. The Irish Cancer Society runs them in most hospitals where cancer treatment is offered, and they give information and advice on anything to do with cancer.
Resuming normal activities
I went back to work as an insurance broker in October. The people I work for made it so amazingly easy as well, they really helped me ease back in. I'm finally starting to feel like I've got more energy these days. The fatigue from radiotherapy seems to have lifted. 
I've started doing things for me, like yoga and exercise. I'm hosting a coffee morning with Cups Against Breast Cancer to give back to the Irish Cancer Society for the help they gave me, and I've started a closed Facebook group aimed at younger mums affected by cancer who just need support like I did. 
My advice to anyone going through cancer is just to digest it slowly and take it one day at a time. If you try to look ahead, it becomes very overwhelming. If I had known I was going to have chemo, I probably wouldn't have coped as well. 
Within your relationship, talk to each other as a couple about your feelings – it's not just the person who's diagnosed going through it. Don't be afraid to burden each other because it affects everyone around you. 
It's doable if you just accept as much help as is offered. 
Want to do what you can to help people like Dianne when they really need it? The Irish Cancer Society's Cups Against Breast Cancer campaign raises much-needed funds for people affected by breast cancer. Get your cups out for a good cause on Friday, October 11th. Find out how you can host a coffee morning in your community, workplace or office or check some other event ideas here.